Update (March 19): Jonne Koski and Johanna Julia Juliusdottir have been crowned winners of the CrossFit Open workout 21.1. Watch their performances here.
Andrea Solberg and Felipe Costa won the CrossFit Open workout 21.1 with scores of 10:50 and 10:54 minutes respectively.
Solberg was 12 seconds faster than second place Johanna Julia Juliusdottir from Iceland and 15 seconds faster than Danielle Brandon, who's currently ranked third.
Costa was five seconds faster than Australian Jacob Wheeler and 12 seconds faster than third place Jonne Koski.
As a baseline, Kari Pearce finished 21.1 with a time of 13:05 during the workout live announcement.
CrossFit Open workout 21.1
For time:
1 Wall Walk
10 Double-Unders
3 Wall Walks
30 Double-Unders
6 Wall Walks
60 Double-Unders
9 Wall Walks
90 Double-Unders
15 Wall Walks
150 Double-Unders
21 Wall Walks
210 Double-Unders
Time cap: 15 min.
CrossFit Open Workout 21.1 Winners (Unofficial)
Andrea Solberg is a Norwegian athlete and medical student. She first qualified to the CrossFit Games in 2020 after finishing fourth at the Filthy 150 Sanctional. She would go on to rank 27th overall after Stage 1 on her rookie year.
View this post on Instagram
According to CrossFit's athlete page, this is the first time Felipe Costa has done the CrossFit Open. The 20-year-old athlete from Argentina did the first CrossFit Open workout at Q21 CrossFit.
The leaderboards haven't been verified by CrossFit  yet, but the results should become official before the start of the individual Quarterfinals starting on April 8, 2021.
CrossFit Open 21.1 Women's Leaderboard
CrossFit Open 21.1 Men's Leaderboard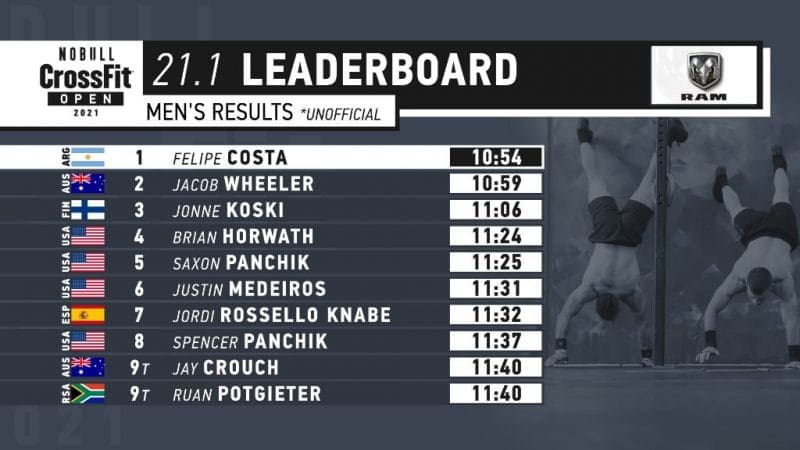 2021 CrossFit Open Prize Purse
As the winners of the CrossFit Open workout 21.1, once the review process has been finalised, both athletes will receive $2,021 as prize money.
In addition to cash prizes for the weekly workout winners, there will be cash prizes for the top 5 individual male and top 5 individual female athletes at the conclusion of the Open.
These top performers on the worldwide leaderboard will receive:
First Place: $15,000
Second Place: $10,000
Third Place: $7,500
Fourth Place: $6,000
Fifth Place: $5,000