RECAP OF THE 2017 CROSSFIT GAMES
Firstly check out this awesome highlight reel that CrossFit put together.
The first year of competition in Madison saw many exciting moments of grit, honour, fitness, emotion, sportsmanship and pure dedication. Here are 10 of our favourites.
1. MASTERS ATHLETE SAVES THE LIFE OF DROWNING COMPETITOR DURING THE RUN SWIM RUN EVENT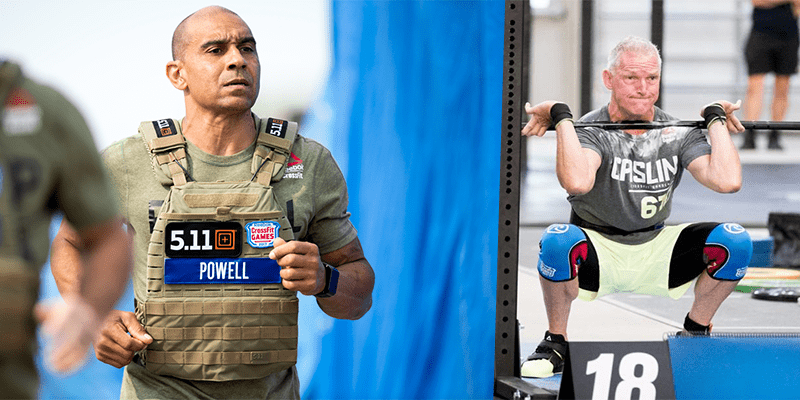 Robert Caslin was about 100 meters away from the shore at Lake Monona when he heard a sputtering scream about 20 meters behind him."Help! Help! I'm drowning!"
Caslin—a two-time CrossFit Games athlete in the Masters 60+ Division—had to make a decision: Keep moving and leave it to someone else to come to the rescue, or turn back and throw away his first score of the 2017 Reebok CrossFit Games.
Caslin, 62, met Will Powell, four-time CrossFit Games masters athlete and three-time champion, two years ago in his first CrossFit Games appearance. The two became fast friends.
When Run Swim Run—a 500-m swim sandwiched by two 1.5-mile runs—was announced as the masters' first event, Powell and Caslin both were concerned about how Powell would fare.
"I can survive in the water, but I'm not a very good swimmer," Powell said.
But it's not just that. Powell, 57, is host to a 12-cm tumor growing in the outside lining of the lower lobe of his right lung. As the mass—which is benign—grows, it pushes further into his lung, decreasing his lung capacity and resulting in shortness of breath. Powell has surgery scheduled on Wednesday to remove the tumor. 
"Basically I have a lung and a half," he said.
Caslin suggested Powell end the event after the first 1.5-mile run.
"But I decided to at least give it a try," Powell said.
For the first dozen meters, he moved through Lake Monona's gentle waves with a decidedly slow sidestroke. Caslin cast him a wary eye as he overtook his friend about halfway to the first buoy.
A few moments later, he heard Powell's cries.
2. THE FIGHT BETWEEN TIA-CLAIR TOOMEY AND KARA WEBB IN THE FINAL EVENT
Ti-Clair Toomey had spent the majority of the 4 days in the top spot. Going into the final event only a few points separated her and fellow Aussie Kara Webb. Basically it came down to whoever won this event would win the 2017 CrossFit Games. The end was too close to call after Tia was no repped right next to the line! After an agonising 5 minutes, Dave Castro announced that Tia had won.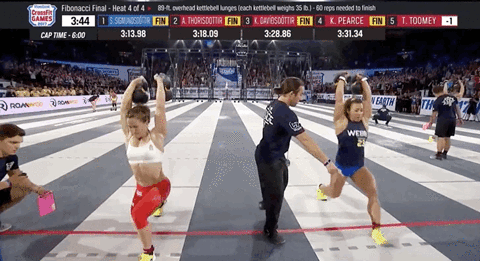 3. STACIE TOVAR BREAKS DOWN IN TEARS AFTER HER LAST EVER EVENT AT THE CROSSFIT GAMES
After 8 years of competition, Stacie Tovar is retiring from The CrossFit Games
4. EZ MUHAMMAD DISPLAYS STYLE AND CLASS WITH HIS 292 LB SNATCH
5…AND SO DOES BRENT FIKOWSKI
6. BUT THE REAL STAR OF THE 1RM SNATCH EVENT IS 17 YR OLD GUILHERME MALHEIROS WITH HIS 292 LB LIFT!
At just 83 kg this was an incredible lift for the athlete. Just to put this into perspective, here are the results from The Male Individual 1RM Snatch Event:
Garret Fisher – 305 lb / 138 kg
Tommy Vinas – 302 lb / 137 kg
Brent Fikowski – 300 lb / 136 kg
Elijah EZ Muhammad – 297 lb / 135 kg
Mat Fraser – 291 lb / 131 kg
Ben Smith – 290 lb / 13o.5 kg
Ricky Garard – 287 lb / 130 kg
Jason Smith – 287 lb / 130 kg
BK Gudmundsson – 286 lb / 129.5 kg
Samuel Kwant – 285 lb / 129 kg
7. CROSSFIT GAMES ROOKIE JASON CARROLL PROPOSES TO HIS GIRLFRIEND 
Congratulations to #CrossFitGames competitor Jason Carroll and Cassie Alvarado.

Posted by The CrossFit Games on Samstag, 5. August 2017
8. AFTER FINISHING IN THIRD PLACE, ANNIE THORISDOTTIR ADDRESSES ALL THE CRITICS THAT COUNTED HER OUT
"In May 2009 at age 19 I won a small competition in Iceland and won a spot at something called the @crossfitgames. 
I decided to travel to California, mostly because I wanted to go to the USA, but it turned out to be the best decision I ever made. This move was what made me fall in love with the sport. 
8 years have gone by, 2 gold medals, two silver and yesterday I got my fifth medal. This one has great significance as this marks two years of struggle. Two years of doubts, questions and self evaluation. Two years of trying not to listen to the doubters. Tonight I put those voices to rest. 
As a competitor I always strive to be the best version of myself and looking back at the last 4 days I left everything I had on the floor. I can go to bed knowing that I did all I could. 
Now it's time to rest, recover and look towards 2018.."
9. CODY ANDERSON CLEANS TWICE HIS BW TWICE TO FINISH THE MU CLEAN LADDER EVENT!
10. SAM BRIGGS WINS ASSAULT BANGER EVENT
This former Games winner just seems completely unstoppable! She is old enough to compete as a Masters Athlete yet is still killing it as an Individual. This year she won The Assault Banger Event in style! 
More action:
Mat Fraser Responds to Winning The 2017 CrossFit Games
Tia-Clair Toomey Responds to Winning The 2017 CrossFit Games
---