Box Jump CrossFit workouts are a great way to train cardio, speed and power output. In addition, they will strengthen your lower body and core, help you improve your balance and encourage better posture and mechanics.
The concept is simple: box jumps require you to jump from the ground and land on the elevated surface with both feet at the same time.
Box jumps are a great exercise to train your:
Glutes
Quads
Claves
Hamstrings
Core
Generally speaking, if doing a workout with many box jumps, you'll be better off using lower boxes, as a shorter jumping distance will allow you to perform the movement efficiently and reach the intended stimulus of the box jump.
Read More: How to Perfect Your Technique for Box Jumps
Box jumps aren't about testing how fast you can bend your legs after you jump, but about lifting your centre of mass. Which means the higher your hips travel the better the training effect of the box jumps. Sound mechanics are better achieved with boxes that aren't a real challenge to jump up to for each particular athlete.
Build explosive strength, vertical jumping power, speed strength and increase your cardiovascular conditioning with these box jump CrossFit WODs.
Box Jump CrossFit Workouts – WOD 1
AMRAP in 10 Minutes:
100 meter Row
10 Box Jumps (24/20 in)
200 meter Row
20 Box Jumps (24/20 in)
300 meter Row
30 Box Jumps (24/20 in)
etc.
Add 100-meter row and 10 box jumps after each round.
Jump up the box and extend your knees and hips at the top. If you can't jump the prescribed height safely, scale down to a height you can do.
This is the thirtieth workout in the Training Think Tank Throwdown Series.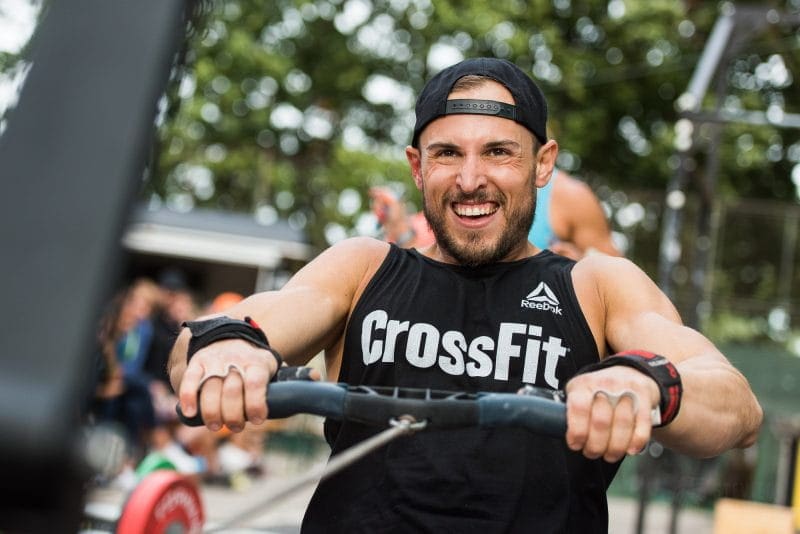 Betty Box Jump Benchmark WOD
5 Rounds for Time:
12 Push Presses (135/95 lb)
20 Box Jumps (24/20 in)
The Push Press develops shoulder strength and muscular development. Unlike many other overhead upper body exercises, the Push Press also utilises the legs. Therefore, heavier weights can be lifted in comparison to other overhead shoulder exercises that disregard the involvement of the lower body.
Push Press: How to Develop Explosive Strength and Power

McGhee Hero Workout
AMRAP in 30 Minutes:
5 Deadlifts (275/185 lb)
13 Push-Ups
9 Box Jumps (24/20 in)
The "McGhee" Hero WOD was first posted on crossfit.com as the workout of the day for 2010/04/15. It also added a note with James Hobart's score: 23 rounds.
Try to stay as efficient as possible on the box jumps, especially as you move towards the end of the timer and your body is fatigued.
This is a long and hard workout, so break the reps as needed from the start and aim to stay consistent throughout the half hour.
Choose a weight on the deadlift that you can maintain great form with.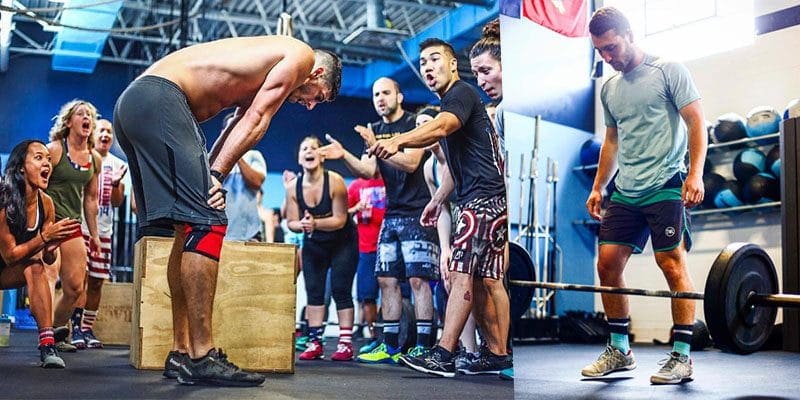 Yack Attack – Box Jump Partner Workout
EMOM for as Long as Possible:
5 Hang Power Cleans (135/95 lb)
5 Front Squats (135/95 lb)
5 Box Jump Overs (24/20 in)
Continue with this pattern, adding 1 rep to each movement every round.
With a running clock, every minute on the minute (EMOM) perform 5 hang power cleans, 5 front squats and 5 box jump overs. This work needs to be performed within a minute. Continue performing the prescribed work in the order written, adding one rep to each movement in every round.
The workout finishes when the work is not completed within the 1-minute timeframe or when the athletes reach 20 rounds.
Score is the total number of repetitions completed.
This workout was created by Matt Chan, CrossFit L4 coach, as a challenge to high-level athletes to complete 20 rounds.

Gymnastics Mood
3 Rounds for Time
12 Box Jump Overs (24/20 in)
10 Toes Through Rings
8 Ring Muscle-Ups
This gymnastics-heavy workout is intended to showcase your ability to dominate your bodyweight. The main limiter will be core strength, as well as the lack of muscle-up proficiency.
Score is the time it took you to complete the three rounds.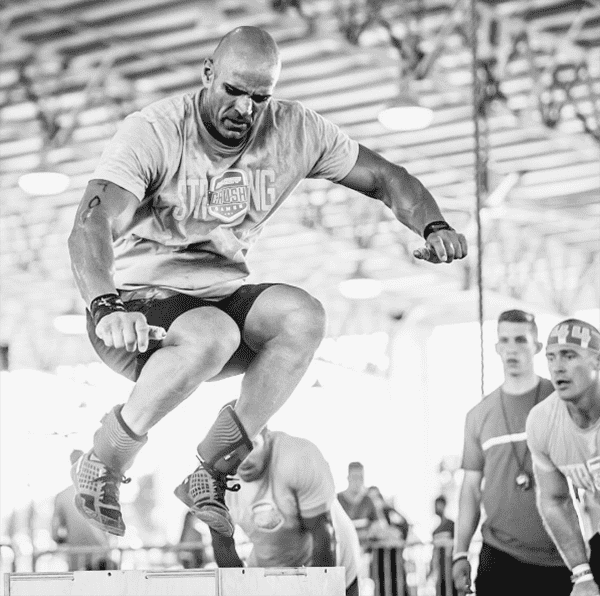 A Walk to Remember – Bodyweight WOD
AMRAP in 15 Minutes:
10 Box Jumps (24/20 in)
30-foot Handstand Walk
10 Toes-to-Bars
30-foot Handstand Walk
Score is the total number of rounds and repetitions completed before 15 minutes.
Just like the workout above, the main limiter on this workout will be each athlete's ability to control their bodyweight.
This is a full-body workout, taxing both the upper body with the handstand walk as well as the lower body with the box jumps. Your grip and core strength will be tested mostly during the toes-to-bar.
This workout was first posted by Ham Plan.
Box Jump Partner WOD 2
For Time (With a Partner):
5,000 meter Row
50 Front Squats
60 Box Jumps
Break up the reps as you like, playing to each other's strengths or partitioning the work evenly. While one partner is working, the other is holding a plank.
Switch when a partner is done with their set of exercises or as soon as the resting partner's plank is broken.
This is a fun leg-heavy workout to perform with a partner.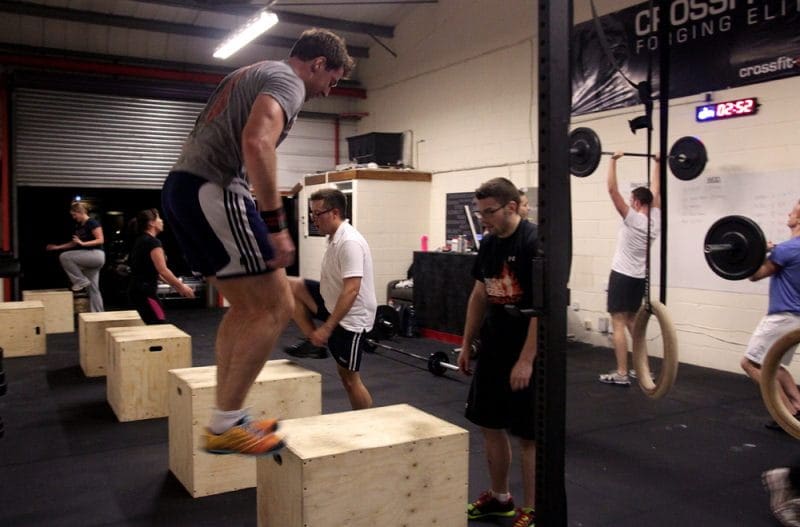 Icon 5 Benchmark WOD
AMRAP in 12 Minutes:
2 Rope Climbs
6 Deadlifts (275/185 lb)
9 Box Jumps (24/20 in)
This is one of Chris Spealler's eight Icon Athlete benchmark tests. The idea behind these workouts was to test a variety of time domains, reps, and movements. Those athletes showing excellent capacity across all 8 workouts can be sure they're well-rounded.
See more Icon Athlete workouts here.

Daniel Brethel Box Jump Couplet
24-18-12-6 Reps for Time:
Burpee Box Jumps (24/20 in)
Abmat Sit-Ups with Medicine Ball (20/14 lb)
With a running clock, as fast as possible, perform 24 burpee box jumps and 24 abmat sit-ups with a medicine ball, followed by 18 reps of both exercises and so on.
Score is the time on the clock when the last round of Abmat sit-ups is completed.
This Firefighter Hero WOD is dedicated to Daniel Brethel.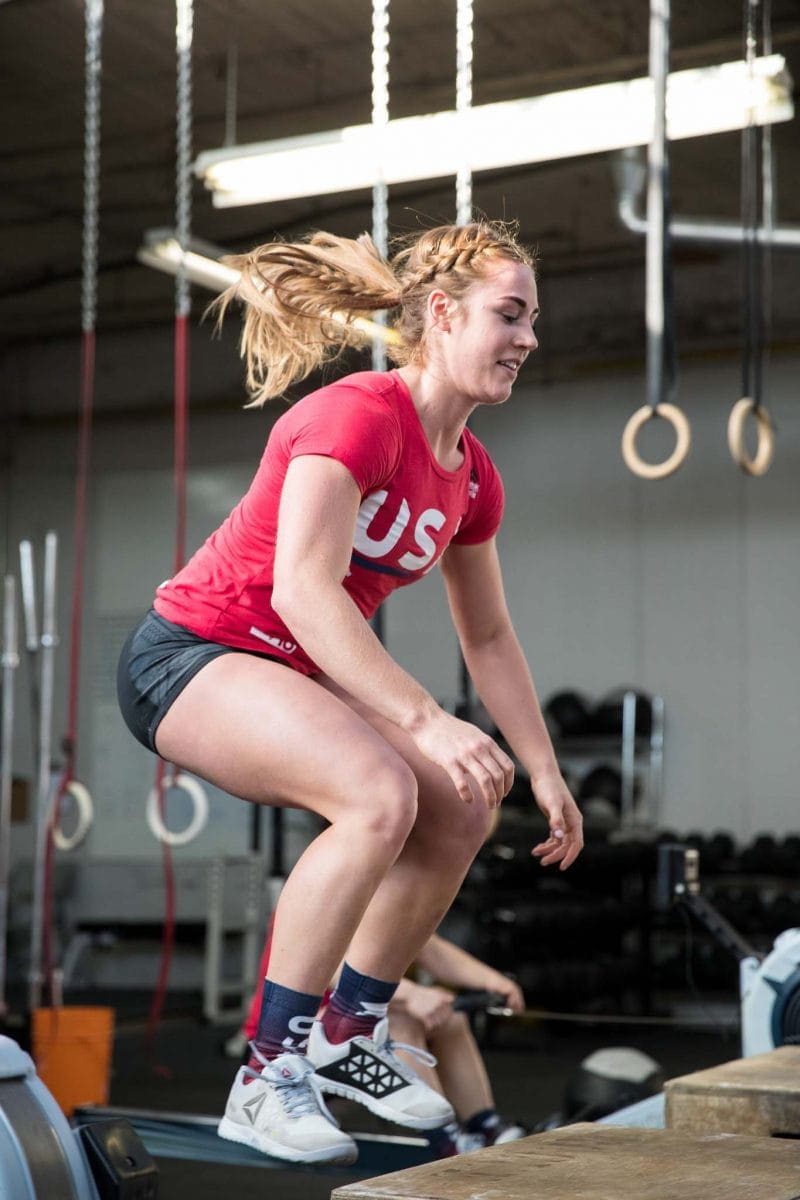 Kelly – CrossFit Girl Box Jump Triplet
5 Rounds for Time:
400 meter Run
30 Box Jumps (24/20 in)
30 Wall Ball Shots (20/14 lb)
Score is the time on the clock when the last round of wall ball shots is completed.
Elite athletes will complete this workout in under 18 minutes, while intermediate athletes will be around the 25-minute mark and beginners above the half hour.
Keep a consistent pace and try to recover during the wall balls, focusing on keeping your breathing steady.
This workout is on the longer side, with a high-volume rep scheme. You'll want to push yourself to the point where all you'll want is for the workout to end, while working hard on keeping going. If modifying, keep a high number of reps and rounds, but decrease the skill and overall workload. This should be a tough workout on the body and mind either way.
Scale load or volume if one round will take longer than seven minutes.
Read More: 10 Different Types of Burpee For Athletes Looking For a Challenge