Christmas is about food, friends, family and fun. For some, it is also about working out. Here are 5 tips to design your own Christmas WOD party.
5 Tips to Design your Own Christmas WOD Party
1: It's all about the music
The one thing Christmas and CrossFit most definitely have in common is music. Everywhere you go during the pre-Christmas weeks, you will probably hear some form of Christmas songs, most likely Jingle-Bells or Last Christmas. During your WODs you will listen to music also, but quite different in style.
While ripping your heart out during a WOD you need music with a rhythm that gets you into the right mood. Again, that's a thing Christmas and CrossFit music have in common. If you are planning a Christmas WOD, the right music will be crucial for success. Think of it as a big Christmas party – with a lot of sports!
Therefore, you should get music for the party that is Christmassy and CrossFit-friendly also. The easiest way to do this is to look for Dubstep or similar versions of Christmas-Songs on Youtube – things people will recognise, and that will put a big grin on their face. Get together a nice, heavy playlist and you're on your way to a great Christmas-WOD.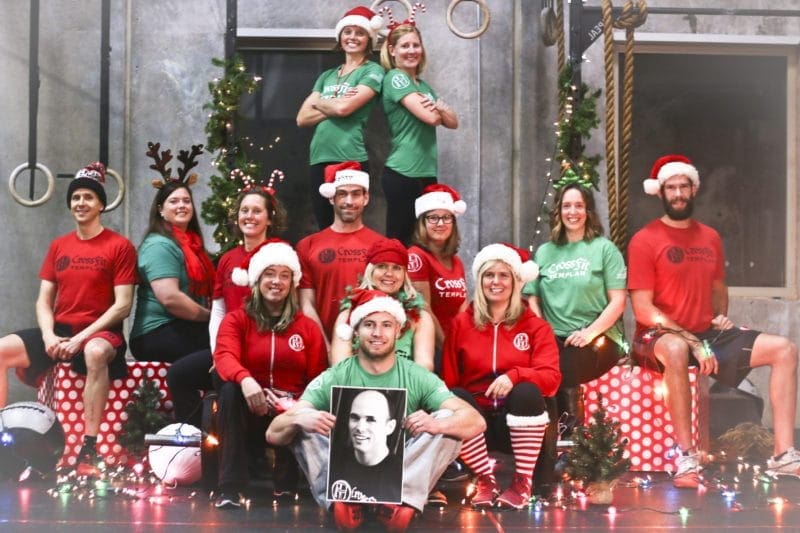 2. Costumes, baby!
Every good party requires a twist – so why not let people attend your Christmas WOD dressed in season-themed costumes? The costumes don't necessarily need to be fancy – a little makeup and a Santa hat or elf ears will do the trick. Ask people to be creative and maybe even put up a little costume contest (the prize could be a personal training session with your coach or something similar).
People doing your Christmas WOD in costumes will be loads of fun and most definitely be the source of many happy box memories. Something like "Do you remember when Tom came with that Grinch-Costume to our Christmas WOD?" will be a perfect opportunity to bring people in your box closer together.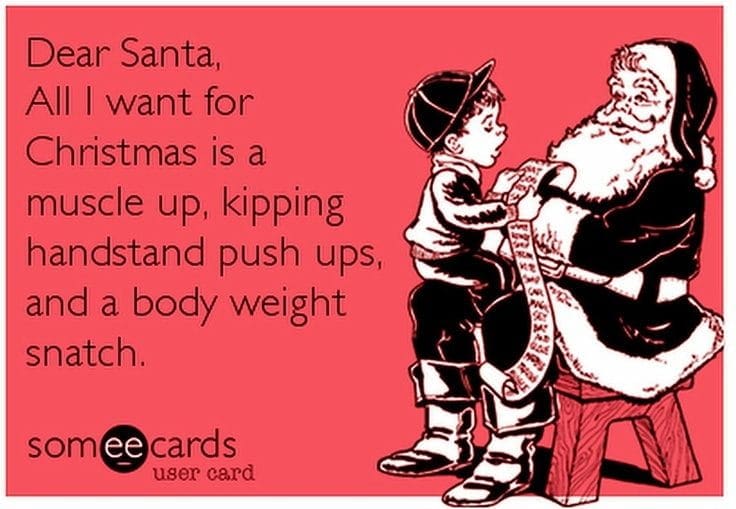 3. Christmas WOD Party? Piece of cake!
Every good party also needs food, right? So why not ask people to bring some Christmas (and also CrossFit) themed food to the Christmas WOD Party? Things like kettlebell-shaped cookies (you can even buy cookie-cutters for that) or other yummy baked goods in CrossFit forms will work, but also savoury foods like meatballs formed like dumbells can do the trick.
Just consider if there are people at your box doing Paleo or similar diets – and maybe even ask them to bring paleo-friendly food themselves. There are so many cookie- and baking recipes on the Internet which are incorporating the idea of paleo-eating, therefore that shouldn't be a problem.
The same goes with drinks: Punch or hot spiced wine or even the german Feuerzangenbowle (mulled wine with a rum-soaked sugarloaf lit above it) are awesome for bringing loads of Christmas scent and atmosphere into your CrossFit Box – just ask about fire regulations before trying out Feuerzangenbowle…
4. Christmas WOD Party Design: Part 1
Your WOD is the main star of your Christmas WOD Party. Overall, you have got two options on how to design your Christmas WOD: make an existing WOD all christmassy, or write your own.
The trick for making your Christmas WOD a success is writing a little story around it. If you want to take an existing WOD, there are three which qualify best for this quest: Hollywood, Daniel and Fight gone Bad. You can pretty easily implement these into a little story about how you have to help Santa to deliver his presents on time
Hollywood:
Run 2km,
22 Wall-Balls,
22 Muscle-Ups (or scale down),
22 Wall-Balls,
22 Power Cleans,
22 Wall-Balls
2km Run again.
This is a nice christmas WOD because you can tell your fellow CrossFitters, they gotta run to catch Santa's sledge. But Santa lost a couple of presents because he was riding off to fiercely and now you have to throw the presents back onto the sledge. But now, Santa doesn't care waiting for you – you're only able to manage grabbing one of the sledges skids and pull yourself back up.
The next rounds of Wall-Balls and Power Cleans can be thought of as helping Santa delivering the presents by throwing them up to him on top of the roof. After that, you need to run again, because the children at one house woke up and you have to get out of there before they see you.
Daniel consists of:
50 pull-ups,
400m Run,
21 Thrusters,
800m Run,
21 Thrusters,
400m Run and
50 Pull-Ups.
Just use the segments of the story above for tinkering your X-mas-WOD.
The same goes for Fight gone bad:
3 rounds of wall balls
sumo deadlift high pulls
box jumps
push presses
row
You move from each station to another after one minute and take another minute as a break after each round. Wall-Balls are delivering presents, Deadlift-High-Pulls can be helping pull the sledge out of a ditch, Box jumps are you getting from one roof to another or avoiding obstacles on the way and rowing suits as "fuelling" the sledge because the reindeer are too exhausted.
Read More: 5 Fun and Festive Christmas CrossFit Workouts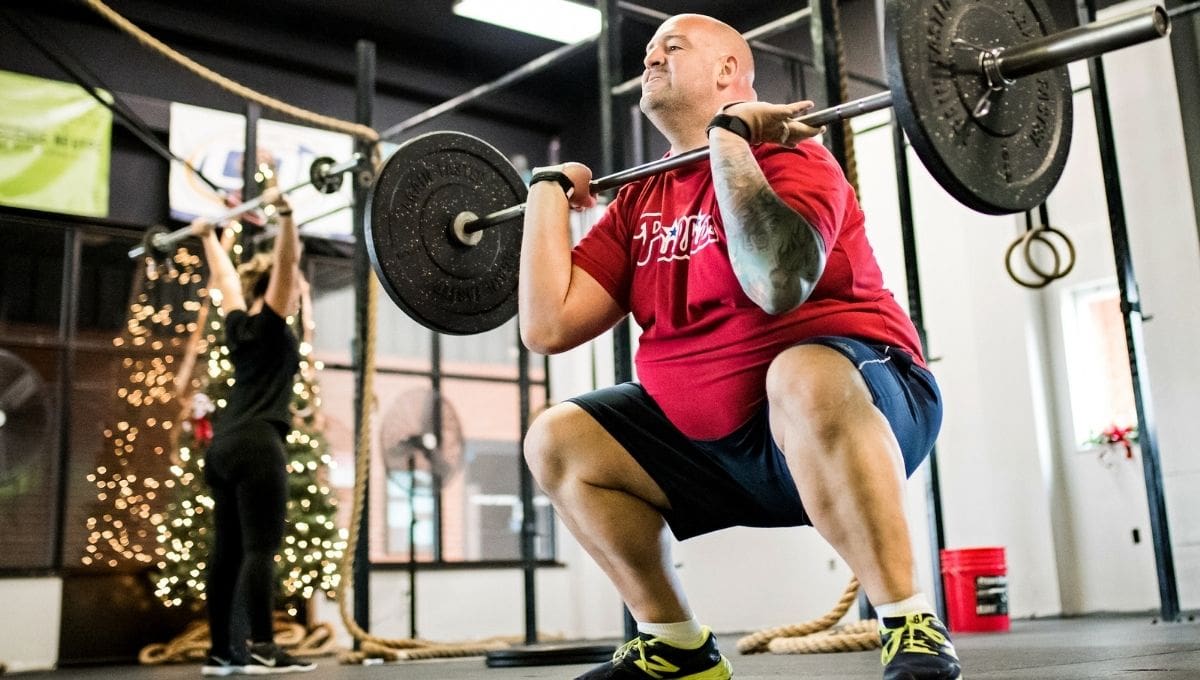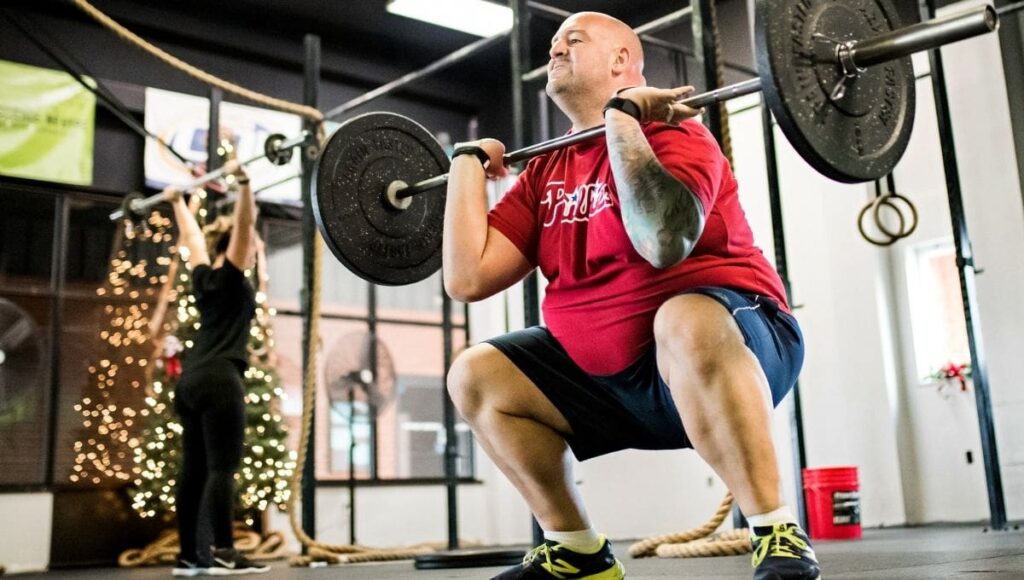 5. Christmas WOD Party Design: Part 2
If you want to design your own Christmas WOD party, you should also think of a little Christmas story surrounding it. If you don't want to do that Santa thing, but you're not that creative, you can always look up Christmas stories on the internet. The best exercises to implement into a Christmas WOD are sledge-pull, rope-climb, thrusters, wall-balls, running or other cardio, clean+jerk, snatch, pull-ups and planks.
If you are really having a hard time thinking of some Christmas versions of these exercises, here's a little help: everything that involves pushes can be used for things like "throwing presents", while climbing and hanging is best for getting up on the roof and stuff.
Also, you can do challenges like sledge-races (different Santas in competition with each other) or putting a chocolate Santa at the top of a rope and having people who want the chocolate treat to climb up the rope. Possibilities are almost endless – but with a little creativity, you are bound to make that Christmas WOD Party a huge success.
Merry WODmas everyone!