In view of the current world health situation, the CrossFit Games have been moved online, CrossFit HQ announced.
"CrossFit has always advocated for health and the CrossFit Games are no exception," the company issued in a press release.
"After careful consideration of all possibilities and scenarios, we concluded it would not be reasonable to hold the CrossFit Games in their original format."
The Games are a celebration of fitness bringing together athletes from over 127 countries to compete for the title Fittest on Earth. The online CrossFit Games are set to take place on the same weekend they were originally scheduled for, from July 29 to August 2.
The 2020 CrossFit Games will be streamed to the world from the athlete's location. In order to provide a level playing field, CrossFit revealed they'll deliver standardised antifreeze jugs to competing athletes.
"What began as a move to mirror the realities of CrossFit Boxes around the world has evolved into the perfect competition format with commensurate attention paid to athlete and spectator safety," CrossFit wrote.
"We believe we can still deliver a unique event. The CrossFit Games season starts online and now will end online, with everyone able to take part."
It is not yet clear what will happen to the team competition, but seeing as only eight teams have qualified so far a decision might be made to cancel this division until next year.
CrossFit have been preparing for this scenario for over a year. Almost daily, videos of older people working out with antifreeze jugs have been posted on crossfit.com.
"Our understanding is that the needs of Olympic athletes and our grandparents differ by degree, not kind," Greg Glassman once told CNBC.
Athletes like Lukas Hogberg have proved challenging movements can be created even with energy drink cans, so we're excited to see what CrossFit comes up with.
https://www.instagram.com/p/B-DJ0BqH5dT/
If this all sounds like a joke it's because it is – happy April Fool's day!
Since you're here, this is something you could do to help struggling affiliates around the world: sign up for CrossFit's Open competition. It's free, but donations can be made and proceeds go to the affiliate of your choice. Registration opens today.
Or find out more here.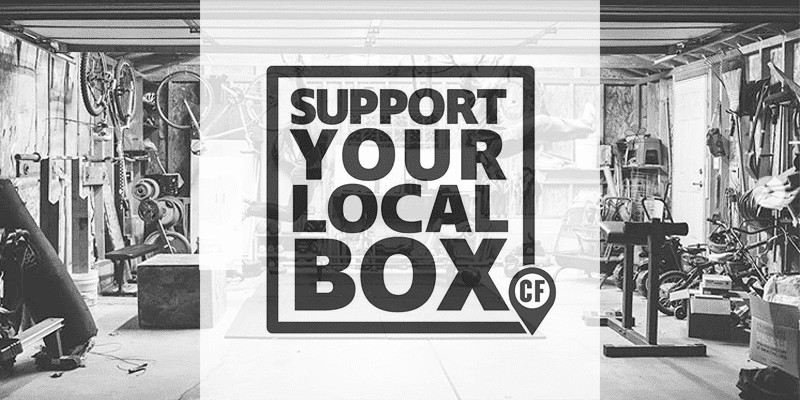 Source: Photos courtesy of CrossFit Inc