WEDNESDAY
AG BATTLEGROUND
500-meter run
O-course run
HANDSTAND WALK
14-15 / 16-17 / 35-49 Divisions
40-ft. HS obstacle course
20 wall-ball shots
40-ft. HS obstacle course
50+ Divisions
40-ft. HS walk
20 wall-ball shots
40-ft. HS walk
DOUBLES & OLY
16-17 / 35-49 Divisions
4 rounds:
50 double-unders
5-4-3-2 squat snatches
14-15 / 50+ Divisions
4 rounds:
50 double-unders
5-4-3-2 squat cleans
Yet the Competition contained some suprises.
First Surprise:
Sam Briggs made it!
https://www.instagram.com/p/Bl4I96uBraq/?taken-by=bicepslikebriggs
Second Surprise:
Sam Briggs is far away from the Podium!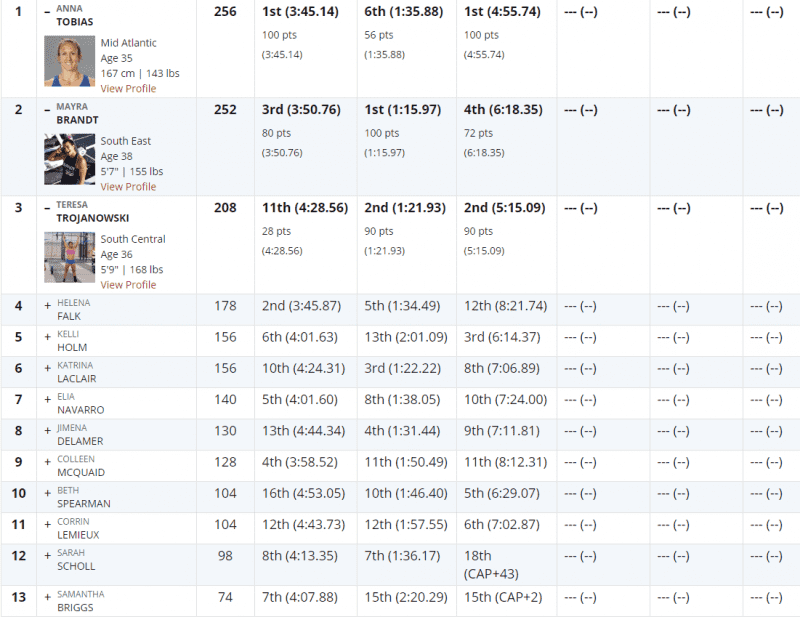 Currently on Place 13, Briggs finished 7th, 15th and 15th. That just shows how packed is the Masters Division!
Leader after Day 1 is Anna Tobias
5x CrossFit Games athlete.

 Former elite sailor and Olympic Gold Medalist.

Finished 25th in the Elite Division last year.
https://www.instagram.com/p/Bl9mBV9AC9z/?taken-by=atunnicliffetobias