The Down Under CrossFit Championship kicked off today and is the first competition on this CrossFit events-filled weekend.
Held in Wollongong, Australia, the Down Under CrossFit Championship is the largest CrossFit event in the Southern Hemisphere.
It will see athletes like New Zealand's National Champion Jamie Greene and second fittest in the USA, Jacob Heppner, compete against the best Australians for the top spot. In total, 80 males, 80 female and 40 teams will battle each other on the floor.
https://www.instagram.com/p/BxhN9AEHWmi/
The competition is directed by Mick Shaw, who has also run Sectionals in the Pacific and the Australian Regional.
Athletes qualified via their placement in the Open, with Australia's top 40 male and female athletes respectively – who expressed their interest in competing – facing off the top 40 international athletes who signed up to compete.
You can watch the action here.
SCHEDULE
The competition has already kicked off and saw individual athletes attempt their max effort of clean and jerk, as well as ring muscle ups, DB squat cleans and double unders.
https://www.instagram.com/p/BxjaOfBH5HB/
Standings after Day 1
Team
1. X-Terminators (282)
2. Project X (258)
3. 64 Army Black (250)
4. Raw Strength and Conditioning (216)
5. Renegade Z (210)
Male Individual
1. Luke Fiso (168)
2. Matt Mcleod (156)
3. Jacob Heppner (155)
4. Luke De Jonge (153)
5. Drew Wayman (150)
https://www.instagram.com/p/Bxj2Hx9nihz/
Female Individual
1. Jamie Greene (185)
2. Amanda Barnhart (182)
3. Tia Wright (166)
4. Alethea Boon (155)
5. Sam Drescher (152)
Additionally, Jaime Greene was the only woman to finish the second workout within the time cap.
The Event will run through Saturday and Sunday from 9:00am to 5:15pm AEST (UTC + 10h).
Saturday
Battle of the Beach
Individual Event 4
40 Strict HSPU
80 Wall Ball 20/14lbs
120 Cal Male / 80 Female Echo Bike
Individual Event 5
30 Bar Muscle ups
30 Cal Males / 20 Cal Females Row
30 Snatch 135lbs Males / 95lbs Females
30 Cal Males / 20 Cal Ski Erg
Sunday
Individual Event 6
30 Sandbag Cleans Males 150lbs Female 100lbs
Handstand Walk to Finish
Individual Event 7
7 Rope Climbs
21 Toes to Bar
7 Pistol Squats (each leg) Male 24kg Females 16kg
5 Rope Climbs
15 Toes to Bar
5 Pistol Squats (each leg)
3 Rope Climbs
9 Toes to Bar
3 Pistol Squats (each leg)
Over Head Lung to finish matt with Kettlebell
Click here for full workouts details, team workouts and specific individual and team timings.
Down Under CrossFit Championship – ATHLTES
Big names this weekend include:
Jacob Heppner – probably the favourite to win this weekend, Jacob finished 3rd at the 2019 Open and is the second fittest in the USA
Jamie Greene – the favourite on the women's field, Jamie finished 4th at the Open and is New Zealand's National Champion
Amanda Barnhart – 9th at the Open and 4th fittest in the USA
Matt Mcleod – 64th at the Open 5th fittest in Australia
Luke De Jonge – 19-year old CrossFit Games teens competitor
Rochelle Steinbergs – 75th at the Open and 6th fittest in Australia
Luke Fiso – 83rd at the Open and New Zealand's National Champion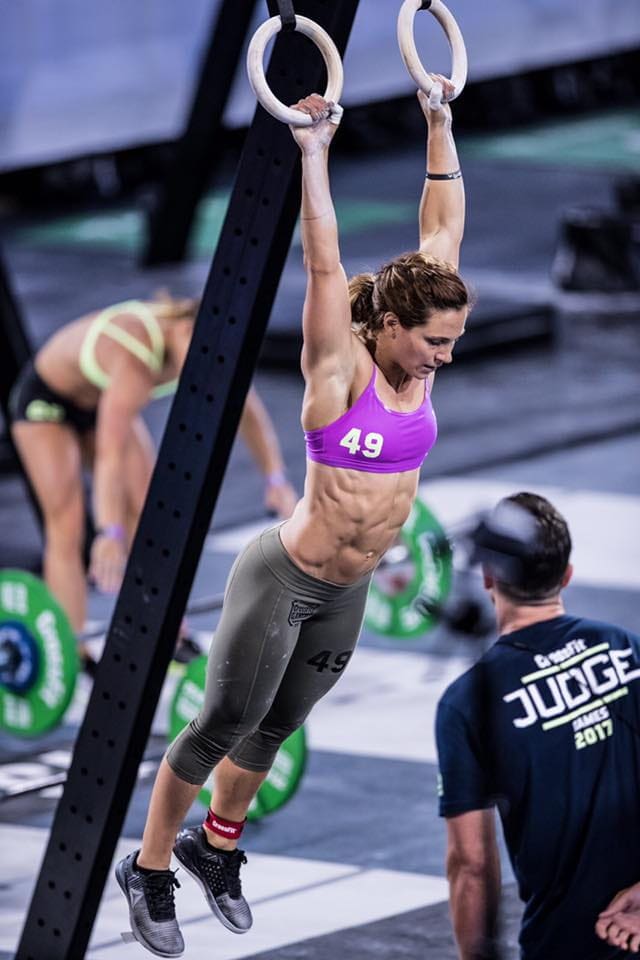 Have a look at the leaderboard here.
Down Under CrossFit Championship – HOW TO FOLLOW
Every event is being live streamed and you can catch all the action here.
You can also follow the Down Under Instagram and Facebook pages for highlights of the event.