Gabriela Perez will be the first Honduran athlete to participate at the CrossFit Games, and she's excited to find out where she stands and what she's capable of at the biggest competition in the sport.
"It's not the same, doing an Open workout than participating at a competition with such great opponents," Gabriela, Honduras' National Champion since 2017, said. "In competitions I lift heavier, do the workouts quicker – the adrenaline that you feel is incredible."
https://www.instagram.com/p/BxSoTXSHhVv/
Unlike most CrossFit athletes, Gabriela didn't have an extensive athletic background before starting in the sport. She used to work out at a conventional gym to keep healthy, and that was about it. Eventually, her gym opened a CrossFit Box and she was intrigued.
"CrossFit caught my attention, but I never imagined I'd be good at it, that I'd compete in the sport or even if I'd like it. I used to do it simply to keep healthy and do some exercise."
This was back in 2015, and Gabriela has gone from working out for one hour three times a week to quitting her job as a mechatronic engineer and become a CrossFit coach, training twice a day and waking up at 4:30am every day to fit it all in.
LEARNING AND PROGRESS
She first participated in the Open in 2016, where she finished 3rd in her country, but went on to lose all the competitions she participated in afterwards. Instead of losing motivation, her defeats spurred her on to keep improving and she started stepping onto the podium in national competitions.
"I've learnt a lot from local competitions in terms of how to behave with judges and the attitude one ought to have – I used to get incredibly nervous, but that's changed to excitement about competing now."
However, holding on to her National Champion title has been harder every year as CrossFit in Honduras gains popularity and the competition increases. "It's not that it was easy before, but definitely less fought for. My friends have woken up and started training really hard, so I've had to repeat Open workouts up to three times to ensure I have the best score."
https://www.instagram.com/p/ByEVQZujeiv/
Gabriela says that, even though CrossFit is relatively new in Honduras, it's incredibly trendy at the moment and is seeing rapid growth. There used to be only two affiliates in the whole country, now there are six and a few more coming.
FACING FEARS
In preparation for the Games, Gabriela has started serious swimming lessons. "I know how to swim but not competitively, and I know there's the possibility of an open water swim event coming up at the Games. That really frightens me," she told me. "I've swallowed a lot of water and it's been hard for me, but I slowly feel more comfortable in the water.
"I'm most excited about the opportunity to measure myself and seeing what I can achieve at the biggest competition. I'd like to see where I stand against all the other Latin American athletes; I feel like we're more in tune compared to the American or Icelandic athletes, who are incredibly advanced in the sport. I'd like to be on the top on a Latin American level."
Honduras' "Fittest Woman" was born in San Pedro Sula and has lived in the country all her life, getting her bachelor's and master's degrees there. She says she's loved the experience of qualifying to the Games, especially the support she's gotten from the community, which has come together to run events to help her fundraise for the trip to Madison. Sadly, her coach and boyfriend won't be able to go with her.
https://www.instagram.com/p/Bws96d0HoIg/
"We Hondurans have a lot of problems trying to get visas for the US at the moment because of politics and internal problems, so the US isn't issuing or even renewing visas for us. Thanks God I didn't have any problems, but my boyfriend and my coach can't be there because of it.
"The political and economic situation in the country is extremely complicated, but that's another story, and in spite of this Honduras is full of wonderful things, both in terms of natural wonders and people.
"I'm really excited and proud because I'd never competed internationally until recently and no other feeling is as beautiful as being able to hold your flag up high. You feel identified and proud of your nationality."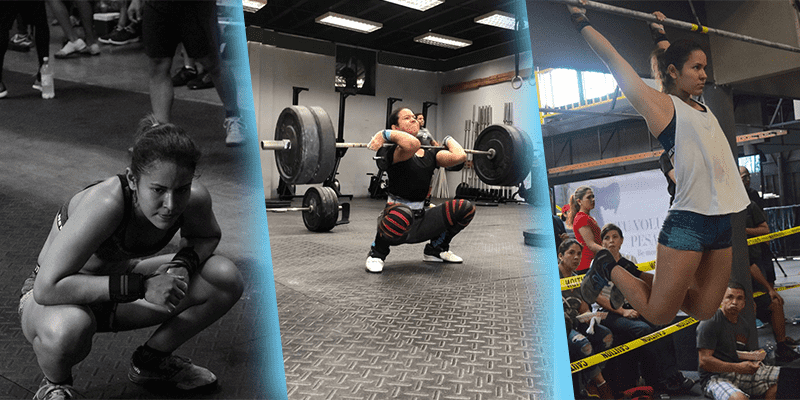 LOVING THE WORK
Gabriela counts her macros and weights all her food. She likes short workouts, where you finish the same way you started. If she could program a workout for the Games, it'd be a 6-minute AMRAP with bar muscle ups and dumbbells, and stay as far away from deadlifts as possible.
https://www.instagram.com/p/BwGENlJHtLf/
The Honduran star says CrossFit is a never-ending job, and that's what she enjoys the most about it: "One never stops learning; every single day there's an opportunity to learn something new and to improve. One can never know all the moves, there's always something to work on, something to polish. I love that.
"I'm really motivated and excited, I want to go far and reach high – we'll see what happens!"
Follow Gabriela's journey on her Instagram: @kgabrielapr.
Want to know more about Latin America's National Champions? We also talked to two-times Fittest in Paraguay Diego Kemp – read his story here.
This interview was originally conducted in Spanish and was translated by Caro Kyllmann.