But for me, inspiration is a very true and insanely strong catalyst that has lead me down a road that I, nor anyone I've ever known, would have ever expected me to take.
My inspiration has a name, or two, or five.  Jackson is one of them. He's my 2 year old son, and if it wasn't for him, I'd be a much fatter, unhappy, unfulfilled, and all around un-anything-better-than-before. Gemma is another. She's my loving, caring, and no BS taking partner, with whom I would surely be lost without. And there's  Jessica, Maisie, and Samuel.  My three step kids, that no matter what I say, always have a way to keep me on my toes. I wouldn't have it any other way to be honest.
Gemma told me in 2012 that I was to be a dad, and I loved it! I went head first into soon to be fatherhood, and relished every last second of it. But something was wrong. Very wrong indeed, I was 36, and had ballooned to 110 kilos, couldn't run to save my life, and was in no way, shape or form ready to be the dad I wanted for my son.
I wanted be the man that could run, jump and play with my boy.
Not like so many dads I saw around. You all know the ones I'm talking about. But I swore, that wouldn't be me.
So I did what anyone would do. I got on the interwebnet thing ama jig, and got to learning. Now I'm not a rocket scientist, nor am I the dullest tool in the shed, so I thought I'd see what was what, and figure out how I would become the man I wanted to be (or at least work my ass off at becoming him).
This is where my story, like so many other, takes a twist or two or five, but for the sake of sanity (yours and mine) I'll keep this short and get to the point.
Crossfit has changed my life in every conceivable way, shape, and form.
The road to finding Crossfit and my current state of health, started with a kettlebell and some YouTube videos. Then came the globo gym and all its bells, whistles, empty promises, and disillusionment. And then came Crossfit.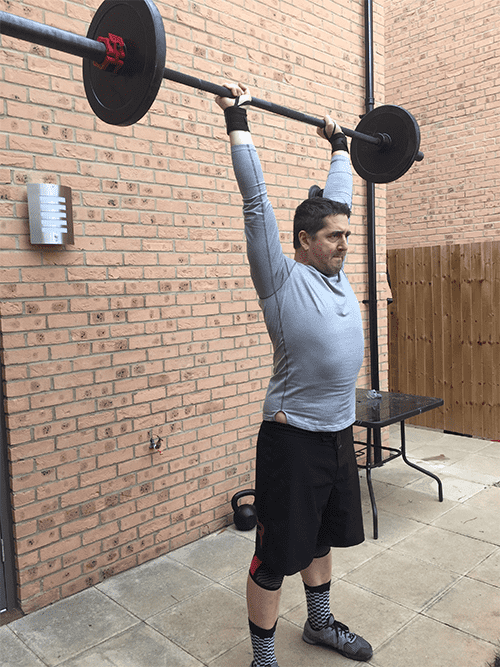 Now I am not your average Crossfitter. I don't belong to a local box (although I would love to) and I do not have the luxury of a – what some might call – usual lifestyle.
I am a part time stay at home dad.
My partner, god bless her, works during the days, and I work part time at nights 5 til 10 or 11. I do the morning school run, then come home to take care of Jackson and when he naps, it's time to get it on.
Ebay is a Crossfitters dream, in my opinion. It's how I've accumulated my current back yard box, if you will. Oly bar, check. Kettlebells, check, Bumper plates, check. Pull up bar, check. Collars, bands, foam roller etc. etc. etc. check. I built my own plyo box, and bench.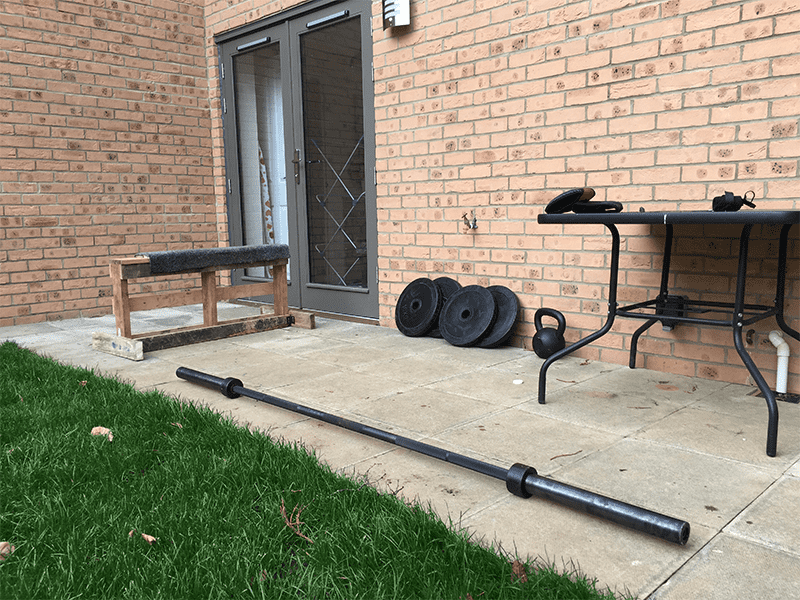 My programming is simple. I do as much as I can, as hard as I can, as safe as I can and learn as much as I can along the way. And again, YouTube helps.
Now I promised I'd keep this short, so I will. My partner and my kids have been the kick up the proverbial backside, that I needed (and continue to need on occasion).  They've helped to take me from 110 kilos, to 98 kilos.  I can squat clean 60 kilos for 30 reps, and deadlift, and push press, and do pull-ups.  More importantly, I can run, jump, and play with Jackson.
Inspiration? Yeah I have some,  I have it in bucket loads.  And they mean the world to me.