Her team (Team CrossFit Bath) came 6th at the European Regionals in Copenhagen in 2014, and after individually finishing 16th in the Open that same year, she has big goals for 2015.
1. You finished in the top 20 at The Athlete Games in January, an incredible achievement and an improvement on 2014. Tell us about that experience… 
I am pleased with my finish at TAG. I would have liked to have made the finals but I knew my placing from the CrossFit Total would pull my overall placing down, so I just enjoyed it as much as I could.
I was pleased with all my performances over the weekend including the total to be fair. I did what I could and had such a laugh. It was a great competition with good variation in the workouts. It ran really well and was one of my most enjoyable experiences competing. I managed to catch up with some great people there also.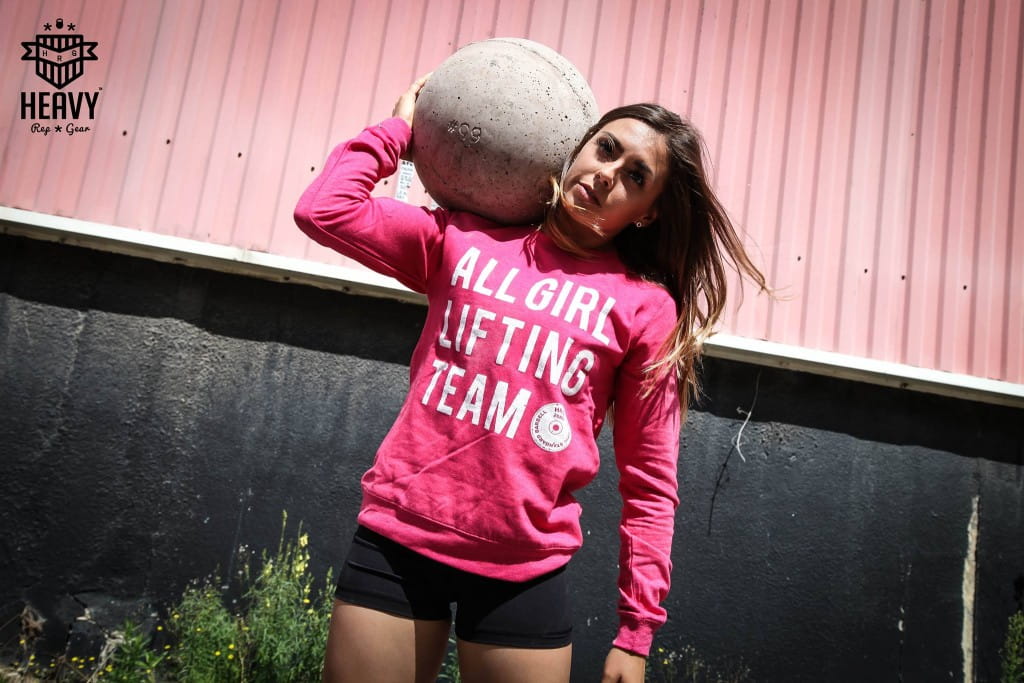 Laura is wearing All Girl Lifting Team sweatshirt by Heavy Rep Gear.
2. Which was your favourite WOD from The Athlete Games? The 'Lumberjack 20' looked like it sucked!
I think the Lumberjack workout!! It did suck but was so much fun and was over before you knew it. I knew the dumbbell cleans were going to crush me so thought I better get my skates on at the beginning, haha.
I also really liked the thrusters/muscle-ups duo – that is definitely my idea of fun.
The Lumberjack 20:
For time:
20 Deadlifts 125/82.5kg
Run 1 lap (of arena floor)
20 Kettlebell swings 32/24kg
Run 1 lap
20 Overhead Squats 52.5/35kg
Run 1 lap
20 Burpees
Run 1 lap
20 Chest-to-bar pullups
Run 1 lap
20 Box jumps 24/20″
Run 1 lap
20 DB Squat Cleans 20/15kg
Run 1 lap
3. You're always very complimentary of your coach. How important is that guidance for reaching your goals?
My coach Ollie and all the people that I train with at CrossFit Bath are really important to me. They are what makes this thing we do interesting and fun. It's so great to see how everyone is progressing and the best times are when we all get together and train. Nothing beats it.
Special mention to my boyfriend Alec Harwood who finished 6th place at TAG. Training towards goals himself he understands the meaning of why training is so important – how much time it consumes, but also how it feels to reach what you set out to achieve. I cannot thank him enough.
4. You coach women's classes at CrossFit Bath. What has the response been to those groups? 
I do, and I absolutely love it. It is the most fulfilling thing when someone you coach makes progressions in their training. Whether that's doing their first ever ring row or first ever muscle-up. You can totally relate to how they are feeling and it is great to give back to the Crossfit gym that gave/gives so much to me!
5. European Regionals – CrossFit Bath has gone team there for the past few years. What was your experience there like?
Amazing, I have gained so much experience from having the pleasure in competing in Team CrossFit Bath the past three years. I have learned so much about competition, myself as an athlete and also how to be a part of a team. Competing in a team I think is harder mentally than as an individual. You have nothing to lose out there on your own but when you're on the big stage with your team/friends you really do not want to let them down. I am incredibly lucky to have been able to play a part in getting CrossFit Bath its formidable reputation.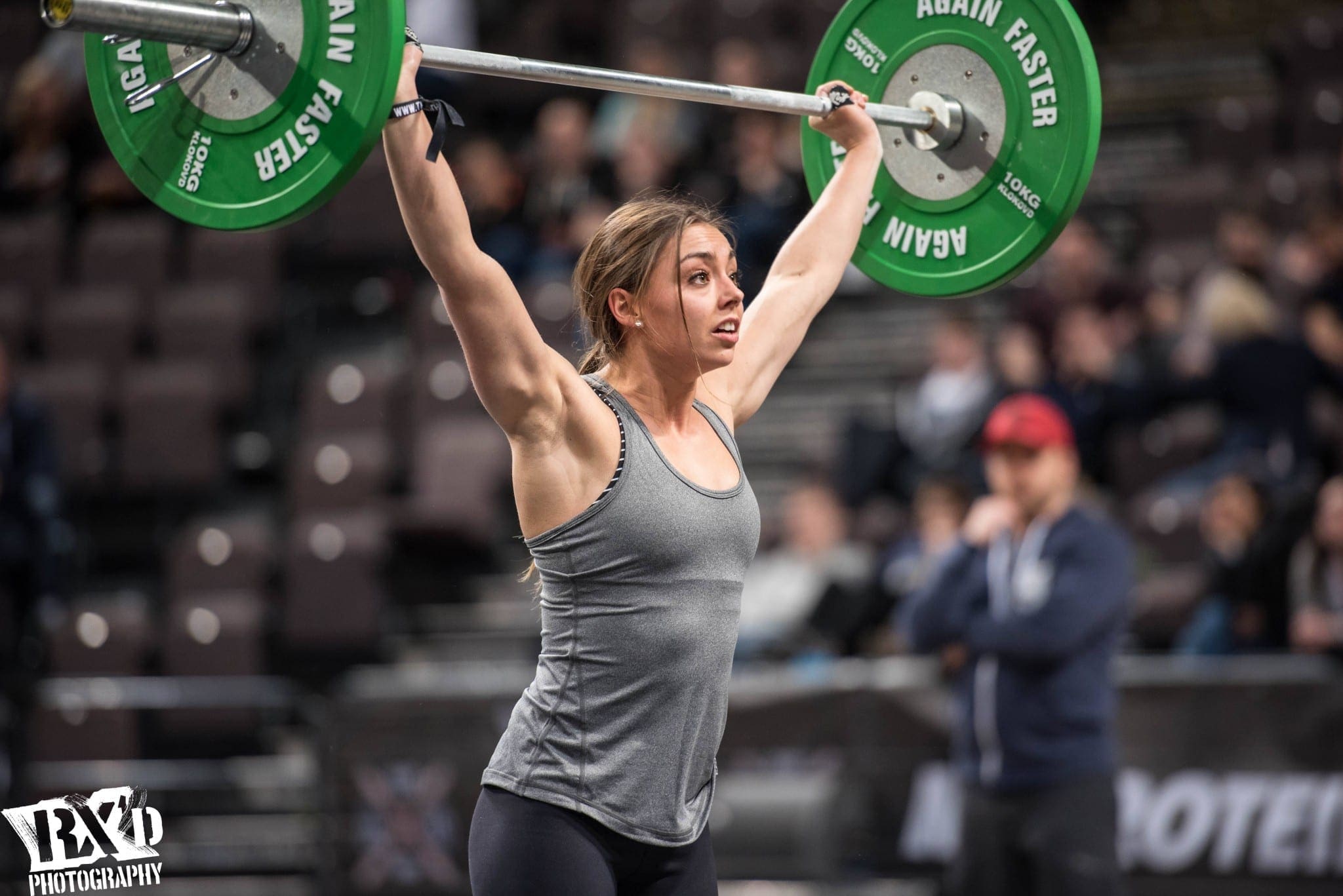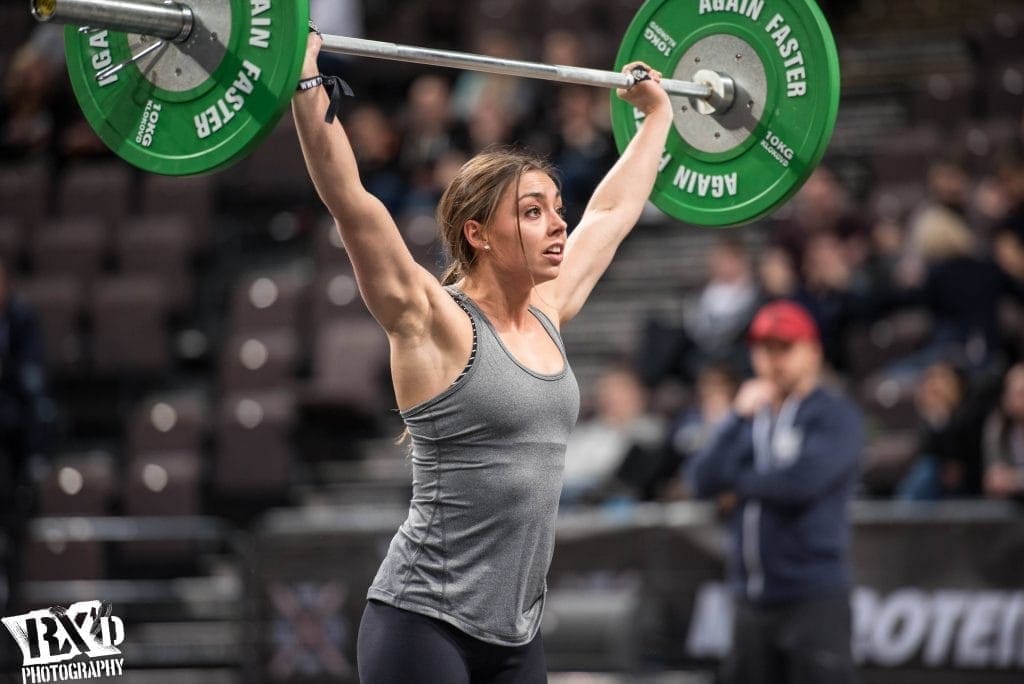 6. The volume of workouts over a competition weekend is intense. Do you have a way of managing it, or do you just have to suck it up? 
The volume is massive at competitions especially for myself (and others like myself) that only have 1 training session per day, 5-6 times a week. I work full time at a University and fit in my training around work and also coaching.  So when I then have to do 6-7 workouts in the space of a weekend it hurts me to be honest and I am not used to it. So yeah, you have to just suck it up and get on with and try and remember why you do it yourself, because you enjoy it… Even when you're horizontal afterwards!
I manage the volume simply by warming up and cooling down properly after workouts. Just sitting on a rower for 5 minutes and stretching can do a great deal. It's easy to get swept away in the excitement of competition and after workouts wander off talking to people but it is important to take the time to give your body what it needs. It will help you in the long run.
7. What are your favourite and least favourite lifts?
Well, I love weightlifting and am lifting with the GB National Weightlifting Squad regularly, training at Loughborough Powerbase. I have big aspirations in this sport and see myself as a Weightlifter now as well as a CrossFit Athlete. So my favourites are easy – snatch and clean & jerk.
My least favourite lifts are anything heavy in the power variation as I rely on my speed under the bar, so if you take that away then well, it's not as fun. Also any lift that is served high rep and in bodyweight form!
8. What are your Crossfit goals for 2015? 
My goals are to give it all in the Open and attempt to qualify for Regionals. The competition will be tougher than ever this year as there will only be 30 individual females from 'Europe' due to the Super Region changes. But I do think that the hard work has been put in throughout the year and cannot change dramatically weeks out from the open so there is no point stressing.
I have increased my weightlifting training much more in the recent months, seeing a decrease in my Crossfit training. So I am just hoping that my lungs and grip make the appearance they need to in the Open. Like I said above I have huge goals in weightlifting. 2015 looks to be an exciting one.
9. Who's winning the Games this year?
My money is on Sara Sigmundsdottir, she is some serious talent. Cannot wait to watch her do it for the Europeans!
Thanks, Laura, and good luck!

On the banner: Motion-Force Graphite WOD Shorts