Team Koda CrossFit United will be disqualified from the 2022 CrossFit Games after a team member failed his drug test on both samples A and B. Koda finished 4th at the MACC and, although not official yet, team AB CrossFit should backfill the position.
CrossFit recently announced that Toby Johnson, one of Koda CrossFit United's team members, provided a sample that contained a metabolite of GW1516 at the Mid-Atlantic CrossFit Challenge on May 29th. The substance is known to help with endurance often referred to as Endurobol.
Although CrossFit HQ says the process is in appeal, an internal e-mail from Johnson himself claims the team has been disqualified after his B sample confirmed traces of an illegal substance.
"I recently learned that the B sample test confirmed the results from the first sample," he wrote. "Thus, Koda United is disqualified from the 2022 CrossFit Games – all because of me."
"After sustaining a knee injury last year I knowingly took PEDs to speed up my recovery time and get back to competing as quickly as possible. I am sorry for being dishonest about this – I was scared to let so many people down, so I made up an excuse and did not own up to my actions," he continued.
Check the e-mail he wrote to Koda CrossFit United members below. The team finished 24th at the Games last year.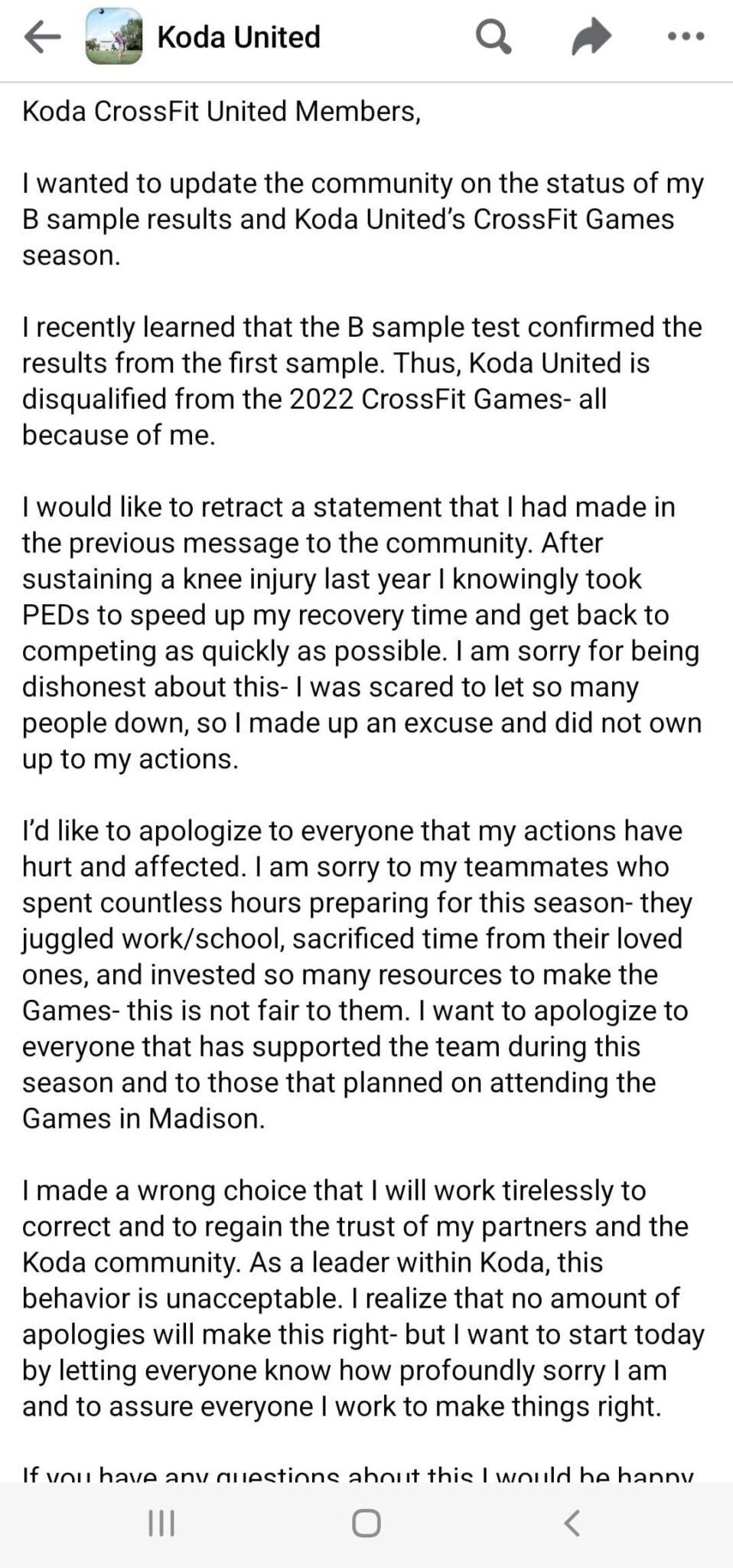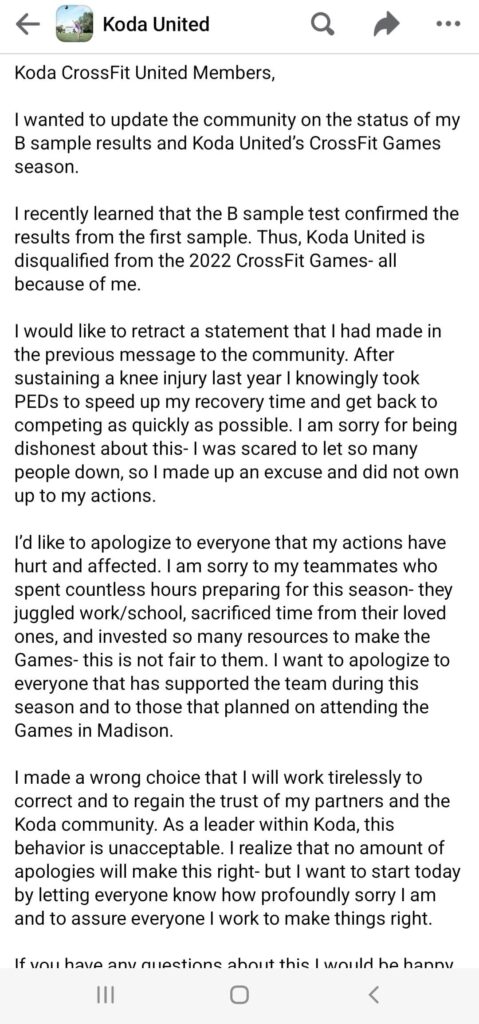 Koda CrossFit United Disqualified; AB CrossFit Should Backfill
With the disqualification of Koda CrossFit United, the following team should receive an invitation to backfill the spot. And that team is AB CrossFit who finished 6th at the MACC with only 10 points behind CrossFit Kilo II (the team placed 5th).
4 Athletes Failed Their Drug Test During the 2022 Semifinals
Toby Johnson is the 4th athlete that CrossFit HQ has made a statement about regarding a failed drug test.
BOXROX previously explained the situation of Jaylond Franklin, from CrossFit Shoofly Storm Squadron, and Hunter Williams, from CrossFit CLT. They both tested positive for the same substance Toby Jonhson – GW1516.
The fourth athlete who also failed his drug test and is in the middle of an appeal process is Stephen Wallace. His team, Blues City Gold, finished 7th at the Syndicate Crown.
Why does this matter? Because CrossFit CLT also competed at the Syndicate Crown and is on the verge of being disqualified. If that happens, Blues City Gold would be the next on the waiting list to backfill a possible 2022 CrossFit Games invitation.
CrossFit Shoofly Storm Squadron finished 2nd at the MACC and if the team gets its invitation to the Games revoked, the 7th placed team should fill the spot: CrossFit Westchase Red.
Read More: Full List of CrossFit Athletes Banned