18. Jason Grubb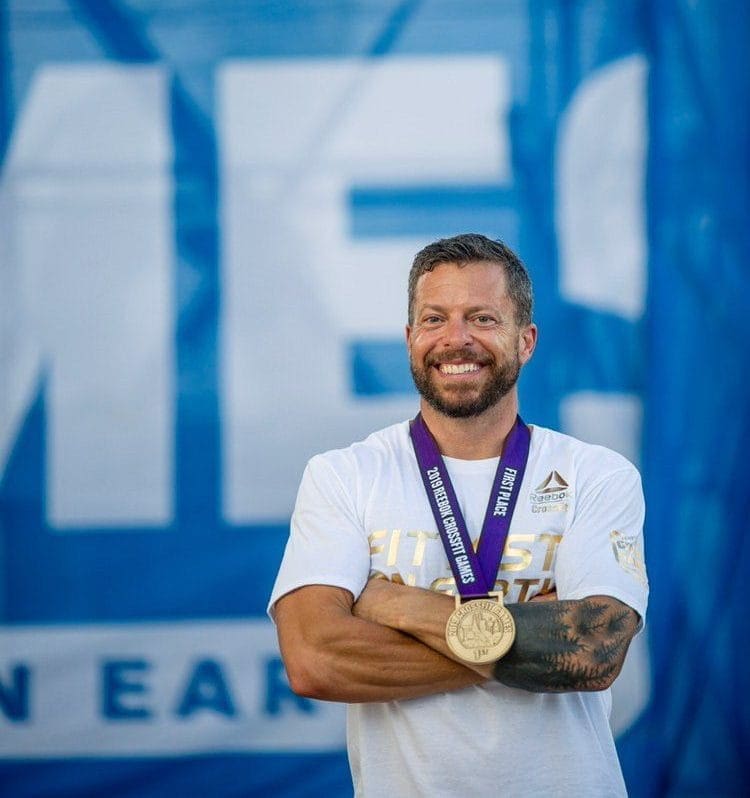 "My gradual slide towards a thicker waistband and de-conditioned body didn't happen overnight. It took years of drinking IPAs, eating pizza, overdosing on carbs and sugars, and paying little attention to what I put in my body. I cycled in and out of traditional fitness gyms, spending hours on the treadmill and elliptical.
I stayed consistent and worked hard in the gym, building up my capacity to run 5-7 miles every other day (with Chip – my dog). I felt good, but nothing was changing my body or my general feeling of blah. In November 2013, I was invited to try out a workout at a CrossFit gym during a 'bring a friend' promotion.
I thought I knew what I was doing for fitness, even though it wasn't working. I thought that I knew what fitness felt like. It felt like an ability to run 7 miles in around an hour – right? I had forgotten what it felt like to be able to move well, feel strong, and have the ability to do whatever I wanted to do physically. I had forgotten what it was like when I was a gymnast in junior high and high school.
Back then, I was competitive in my age and division and even had high hopes to go to the Olympics. I worked out with my peers 4-5 days a week at our gym developing skills on the floor, pommel horse, rings, vault, parallel bars and high bar.
We were lean, healthy, flexible, and quite strong. Pull ups and pushups were simple exercises. Muscle ups, for example, were not a major complex movement (as they are in CrossFit). When I was 17, I realized I was getting burnt out and that I was not going make it to the Olympics.
After that I wasn't sure how to stay healthy and fit. Life got busy with high school, college, marriage and kids. Twenty years later, I was thick and generally unhealthy, and while I could run 25 miles a week, I didn't feel or look good. Finding my way towards health and fitness was a serendipitous experience. I finally accepted the invitation from my sister in law to try CrossFit, and it changed my life.
I realized how out of shape I was during that first week of CrossFit. I remember one of my first WODs, power cleans and burpees, where I tried to keep up with a very pregnant woman and had my ass handed to me. My first experiences with CrossFit didn't just provide full body workouts – it gave me hope that I could come back from being in the worst shape of my life. Nothing I had been doing was working, despite my committed efforts, and yet this felt different.
I couldn't get down to the ground and get back up (a simple burpee) ten times without feeling like I was going to die. I wasn't discouraged, rather I felt inspired. I saw people around me who moved effortlessly, looked great, and seemed to feel great. Hope is a powerful motivator.
A fire was lit in my heart… and I started my journey to rediscover my health. This journey has taken me from a thick, out of shape 38 year old, to a healthy, fit, and wonderfully active 43 year old CrossFit Games Champion. I've rediscovered health, fitness, and a passion for helping others rediscover their health and fitness."