BOXROX brings you a list of some of the most picturesque CrossFit Boxes around the world that you can train at. Maybe you should plan your next trip (COVID allowing) based on this list?
Have you ever thought you could actually ski as part of your WOD? How about running around the block and jumping in the ocean to complete that workout, or swimming against the Indian Ocean tide? Or finding a giant turtle walking past you during a run?
All of that is possible, you just need to find the proper place. Here are some of the most amazing CrossFit Boxes around the world where you can complete that WOD at. Check it out.
Magma CrossFit – Galápagos Islands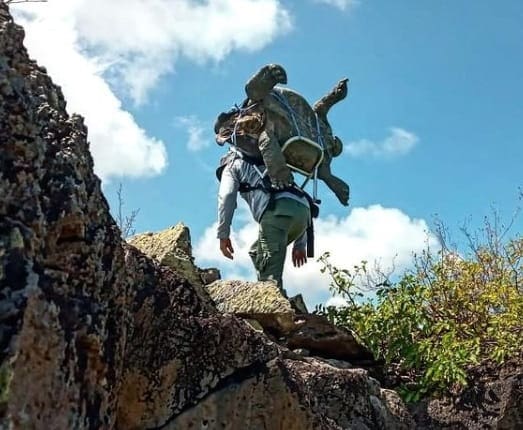 Yes, the photo above shows a man carrying a giant turtle on his back. The man is one of 110 CrossFitters at Magma CrossFit, the only Box in the Galápagos Islands, Ecuador. The turtle was being transported due to preservation concerns, led by activists on the island.
The Galápagos Islands is situated around 1,000 kilometers off Ecuador's coast. Although it is such a remote place, coach and founder Ernesto Hurtado tells BOXROX that a handful of CrossFitters in the Box are tourists.
"We started the box with the idea to create a CrossFit community in the Galápagos Islands. We want to make people feel healthy and fit above everything".
Ernesto himself makes the WODs together with a mentorship community, led by CrossFit seminar staff Carlos Andrade Salazar.
View this post on Instagram
"Every time we can, we use the outdoors in our WODs. We mostly do swimming, but also some bodyweight training at the beach".
"The surroundings are beautiful. You are running around and find a giant turtle on your path. Or even a sea lion", Ernesto told BOXROX.
Speaking of animals, the giant turtle you saw before has a name: Diego. And guess what? Magma CrossFit came up with a WOD in honor of Diego, the 70 kilos animal.
WOD: Diego
For time, with a partner
300m lunges each (70/52 kg)
Only one partner works at a time, barbell in the back rack position.
CrossFit Cusco – Peru
If traveling to the Galápagos Islands is too expensive and remote for you, would you change your plans and deviate a bit further south to end up in Cusco, a city in Peru?
Cusco sits in the middle of the Peruvian Andes, a mountain range along the western coast of South America.
View this post on Instagram
CrossFit Cusco is the highest box in the world at more than 11,000 feet (3,400 meters) above sea level.
Altitude training for a few weeks can be beneficial to athletes, increasing the mass of red blood cells and hemoglobin.
Read more: How Athletes from South America Can Qualify to the 2021 CrossFit Games