There were many highlights that made the 2022 CrossFit Games memorable, but it is safe to say that the image above of Rebecca Fuselier being cheered by the crowd at "The Capitol" event was one of the best ones. The athlete decided to share how she felt during that historical moment.
The Capitol was an event that became iconic even before the last athlete crossed the finish line. It consisted of athletes doing pig flips, a 3.5-mile run, a 200-metre Jerry bag carry and, to finish, a 200-metre Husafell carry with the end at the top of the stairs in front of the Capitol, a landmark in Madison, Wisconsin.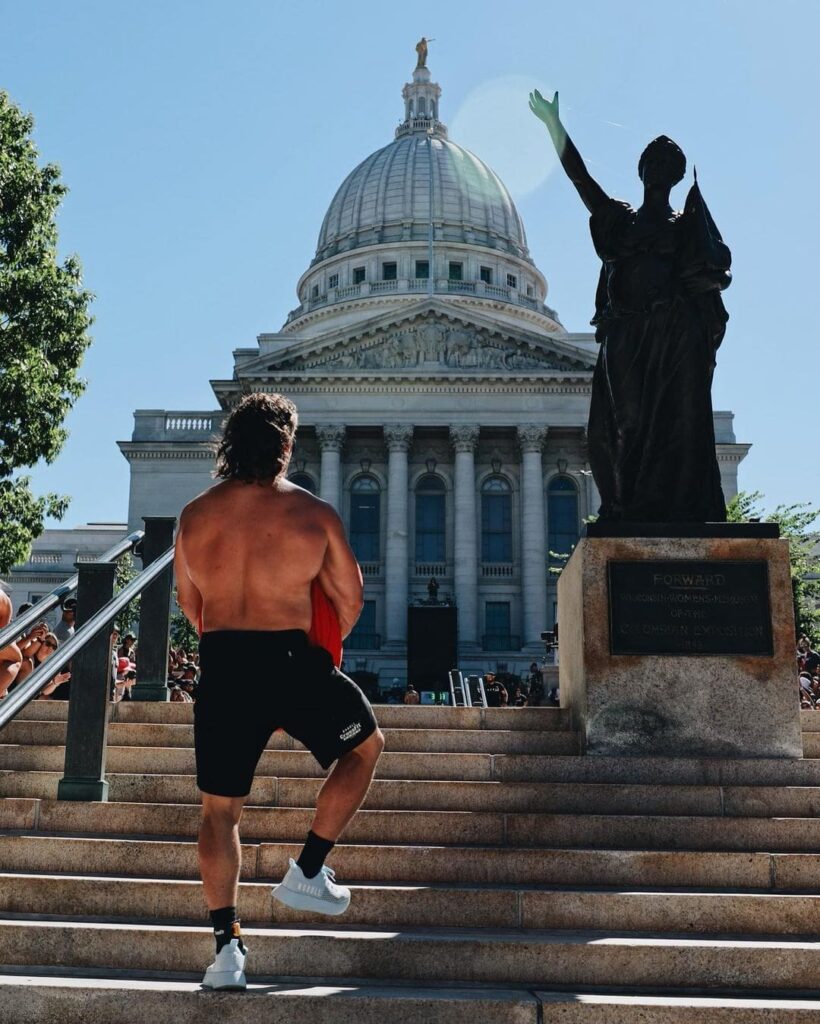 There was no time cap for athletes, meaning they all had to finish one way or another, no matter how long it could take. And that is when Rebecca Fuselier made the event more iconic than anticipated.
She was the last athlete to finish and a crowd of supporters stood behind her and screamed her name to get to the finish line.
Rebecca Fuselier Talks About Historic "The Capitol" Event Finish
"This event is just the coolest," Fuselier said. "Probably one of the coolest CrossFit events ever just because we're travelling through the city."
When recalling the historic moment at the stairs in front of the Capitol, she says her "butt is struggling all the way through this thing," but she also said she would die before quitting even though she didn't know how long it would take her to get up on top of the stairs.
"The one-of-a-kind crossfit community gives you superpowers. This is definitely the coolest moment of my career even though it's bittersweet."
"It's not the best feeling [being the last to finish an event], but it is a good feeling to have all of your teammates and all of your people cheering you on. There were a few times I looked to the side and spotted my family."
She said that coming to the last few steps she didn't realise that all these people were crowding behind her. "I turned around and I go 'oh, it looks like a mob behind me', so that was a cool moment."
"When it was all said and done I can be a little bit angry about my placement, but I know that's going to be one of those moments I'll always look back on and realise how cool it was and how special it was."
Check out the last few minutes of the event with Rebecca Fuselier going up the stairs of the Capitol with the CrossFit community fans supporting her.
Read More: How Much Money Did the Athletes Win at the 2022 CrossFit Games