Are you constantly frustrated about your strict pull up strength? ​
Picture yourself finally getting your chin over the bar…Imagine the joy on your face, and the amazement on your coach's! Think of the possibilities that one strict pull-up will open up for you.
Chest-to-bars and muscle ups are now within sight. Kipping pull-ups and toes to bar have never been easier. The CrossFit® Open rolls around and you can finally check that prestigious 'Rx' box.
The days of endless banded pull-ups and ring rows are be behind you…
You did it! And it feels good!
Learn how to get your first pull up
Unfortunately, it's time to face reality…

Every day I get emails from athletes who feel stuck. They say things like "Just one strict pull-up seems like a million miles away, yet everyone else makes it look so effortless!"
For many, banded pull-ups have become the norm, ring rows have been beaten to death, and they don't see a way to make progress. Every time they hop on the bar, nothing happens. Not an inch of progress.
There seems to be no middle ground; it's pass or fail. And failing sucks.
Strict Pull Up Strength: No Progress = No Fun
No matter how hard you try, your body hardly moves an inch
You're unable to move onto to advanced movements like kipping pull-ups, and rope climbs. Muscle ups seem so far away.
People at the gym tell you "it's just a strength thing", or "it'll come". But it never does.
Sometimes you feel motivated to practice, but the excitement quickly fizzles out and you don't know what to do next.
No matter what you try, there's no noticeable progress.
It's not your fault!
Let's focus on developing the structures necessary for efficient pull-ups:
Strong lats
Stable shoulders
Death grip
Core of steel
Strong sense of body awareness
So how exactly are you supposed to achieve all of the above points?
Check out this extensive guide to improving strict strength for pull ups
You can get a taster of the guide in the videos below.
STRICT PULL UP STRENGTH PROGRESSION FOR BEGINNERS
7 simple steps to achieve strict pull ups.
3 DRILLS TO IMPROVE YOUR STRICT PULL UP STRENGTH FOR CROSSFIT®
Working on developing strict pull-up strength to get your first pull-up or become more efficient? In this video, we go over 3 easy drills you can use to increase your strength for pull-ups!
If you feel like these videos have been helpful for you, then check out the full program. It will help you to achieve your goals!
Improve your strict pull up strength now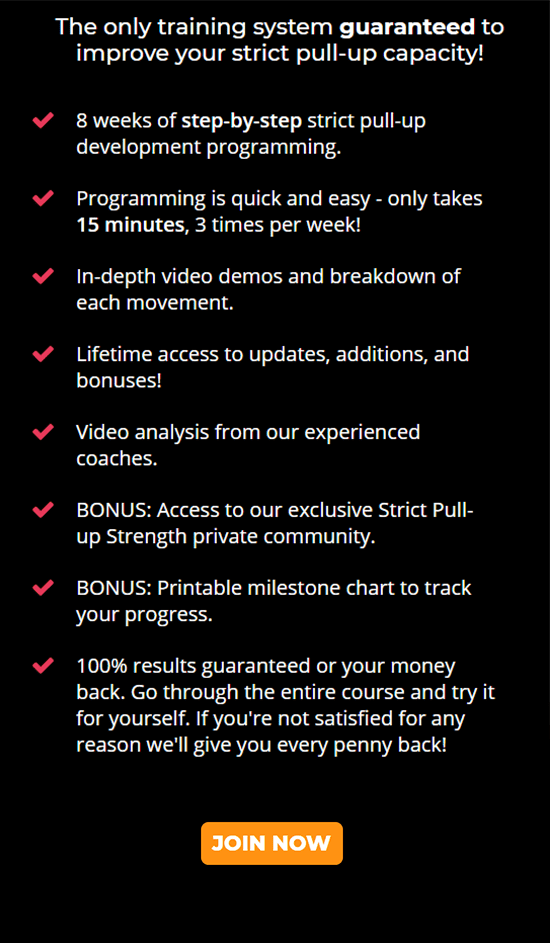 Image Sources
Strict-Pull-Up-Strength: BOXROX