Check out the photo below to see Tia Clair Toomey right at the beginning of her CrossFit career.
Tia Clair Toomey Before CrossFit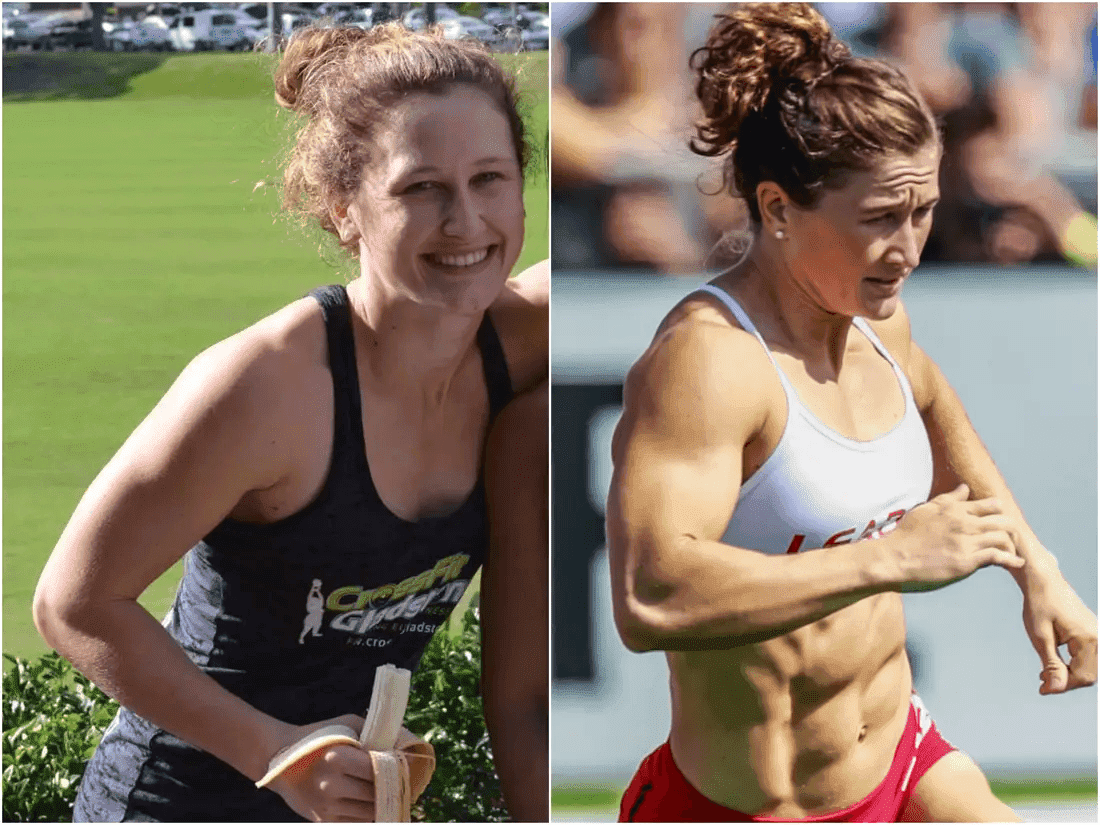 Tia Clair Toomey Before CrossFit – ABS WORKOUTS
These Abs Workouts from Tia will help to strengthen your entire core, protect your spine and significantly improve your ability to stabilise and perform important movements within CrossFit. As a commonwealth gold medalist and 3 x times CrossFit Games Champion, Tia (alongside her husband and coach Shane) is a great person to learn from. Try adding these workouts into your training.
Firstly, check out Tia and Shane describing each other's perfect day.
1. CORE STRENGTHENER
"Check it out, This core workout will definitely tighten up those tummies!!! You can turn it into a partner workout and go round for round, so tag your friends and see who will do it with you."
4 Rounds
30 sec Hollow Rock Hold
5 V-Ups
10 Hollow Rocks
*Rest 1min between each round or partner up and do Round for Round.
Tia-Clair Toomey has tremendous discipline and willpower when it comes to her training and personality. Watch the video below to see her and Shane describe each others best and worst personality traits.
2. CORE WOD
Every 90 sec, 4 rounds:
6 Around the world with plate above head (15kg, 3ea)
20 Russian Twists and then hold the Hollow Rock position for 20-30sec
*Goal is to maximise the amount of time spent in the hollow rock position
Tia Clair Toomey Before CrossFit
3. THREE ROUND TABATA WORKOUT
You can do it anywhere with no equipment needed just a timer from your phone.
3 Rounds: (TABATA STYLE; 20secs on: 10secs off)
8 Fast V-Ups
15 Tuck Crunches
30 sec Hollow Rocks
30 sec Superman
Then Rest 1 min into Max Bridge Hold.
*be sure to use the rest between the crunches and hollow rocks because those 30secs get really hard.
4. ABS WORKOUTS – PLANK WOD
Accumulate 6mins of the following in 8mins;
2min Plank hold
2min Side Plank (each side, total 4mins)
*I tried to challenge myself by adding weight and doing it on the boxes but for beginners this can be performed on the ground.
Tia Clair Toomey Before CrossFit
5. ABS WORKOUT – TABATA CORE WOD
Here we go guys…..Try this one! You will definitely have a stronger core after…
✨ Abs Workouts – Tabata Format ✨
20secs ON: 10secs OFF
– Around the World (Acc 50reps)
– AB Mat Sit-Ups (10/12 reps)
Maintain 10/12 AB Mat Sit-Ups on every 2nd set of Tabata, while trying to continue to accumulate 50reps of Around the world on the opposite round of Tabata.
6. SQUAT
Almost every athletic movement you can think of involves the posterior chain one way or another, whether it be a jump, a side step, a leap or a deceleration. Some researchers have suggested that developing your posterior chain will also improve horizontal power and top end speed; these are two of the most important attributes to have in almost any sport. And how do we improve that, simple… Deadlift and Squat.
7. T2B WINDOW WIPERS
I love watching people perform gymnastics movements that require a lot of body control and skill…..so today I thought I would give it a try and clearly, it's something I need to work on. Tag a friend you know that can do this.
Continue your core work: