Opening a Box was never the initial plan, rather an idea in the back of the mind – one of those ideas that you don't take too seriously but never seems to quite leave you. Like a hidden plan, a question crept up in Loris Ditta's mind: "what if I open a Box there…?" But not knowing much about Vietnam before moving, there was not much that could be planned in advanced.
Following a job opportunity for his wife, Loris, who had lived abroad for longer periods of time but never outside Europe, took a sabbatical year from his work and he and his family moved to the capital, Hanoi.
"To be totally honest, our parents were not so happy about it, but we did it anyway," he said.
SOURCING FOR THE BOX
Finding a place and sourcing the equipment for the Box wasn't easy. "It was the hardest part," Loris said. "Especially in Vietnam where you cannot go online and shop with your credit card on any website and expect things to be delivered at your door."
CrossFit Tay Ho started on the top floor of a gym building. At the time, it was the only CrossFit Affiliate in the whole county. The beginning wasn't easy; it took two months for the equipment for the gym to arrive from Australia.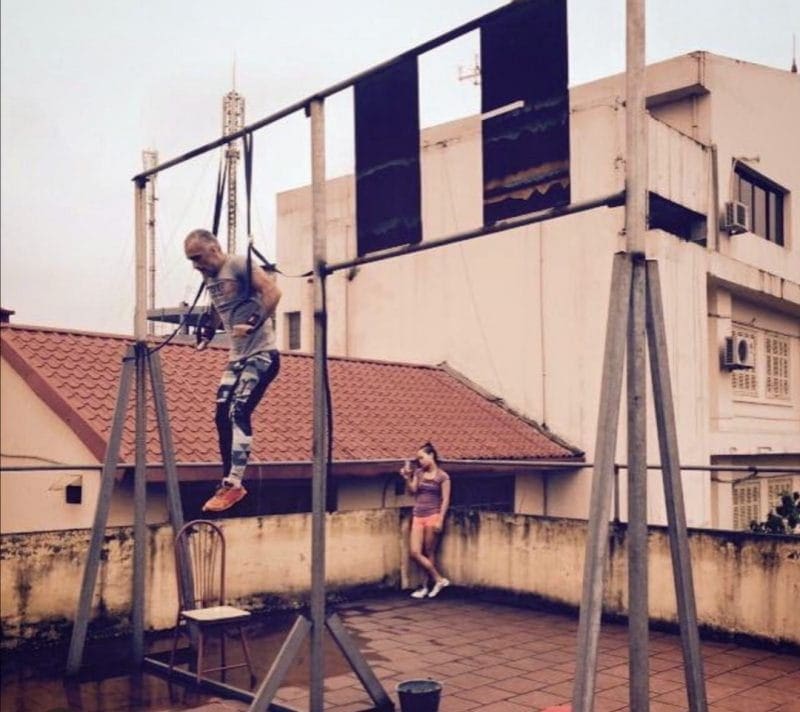 "The plan was to first find a reliable and relatively cheap producer (the box was small, so I need only 7 bars as I could not do bigger classes) and I ended up choosing one Australian one. The material was so good that some of it is still used now at the box!" Loris explained.
"Step 2 was to find a local enterprise that would import the goods on my behalf and took care of all the custom and transport procedures," he continued. "As I had never done anything like that in the past, I was definitely out of my comfort zone!"
THROWN IN AT THE DEEP END
The floor shook when athletes dropped weights – the first space being on the top floor – and after a few complaints from the neighbours the landlord moved CrossFit Tay Ho to the ground floor. "The ceiling was too low to do wall balls, so I built a structure outside, in the parking. Ring muscle-ups were another challenge. So, I made a steel structure on the rooftop.
"Sometimes you just need to be creative! The rig was done locally following my instructions and measurements and is the one that is still used at the Box," Loris said. "It was smoking humid in some periods of the year and super hot in some others, so I had to adapt the timetable of the classes moving them to early morning or afternoons. It was not easy as I am not an early bird!"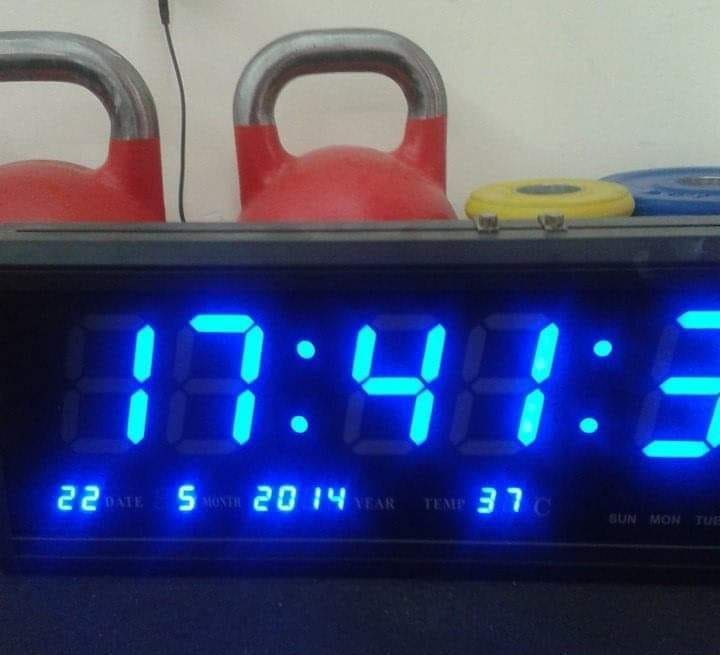 In terms of programming, decisions were also based on the different climate: "the movements I had to choose were influenced by the weather because, during the rainy seasons, we just could not go out running.
"But I must say that these challenges helped me grow as an athlete and as a coach, as everybody is a great sailor with easy wind and calm sea."
"I must also admit that being an official affiliate – and at that time the only one in the whole country – helped me because I was the point of reference to all the CrossFitters that were passing by and to the expat community in the city."
SHARING THE PASSION
We asked Loris what lessons he'd learnt owning CrossFit Tay Ho; it was Loris' first time as an Affiliate owner.
"It does not matter how fancy your equipment is, but what really matters is the ability, as coach and owner, to transmit to your members the passion for CrossFit and your vision about it. CrossFit Tay Ho was a small community, so it was easier to have a kind of personal relation with my athletes, but this is how it should also be in bigger boxes.
"Coaches and owners should not only be able to teach the movements – that is the baseline – they should be mentors who guide the members into their CrossFit journey so that people show up at the classes half an hour before and stay after the class another half hour just because they like the atmosphere and they feel at home.
"CrossFit is about building a community. Not about building a Games athlete. If you build a Games athlete good for you. But you should remember that your rent is covered by the other 99% of your members (mothers, fathers, doctors, housewife, students…). Focus on them, the athlete is an extra that most boxes will never have even if they are still great places with great coaches and owners."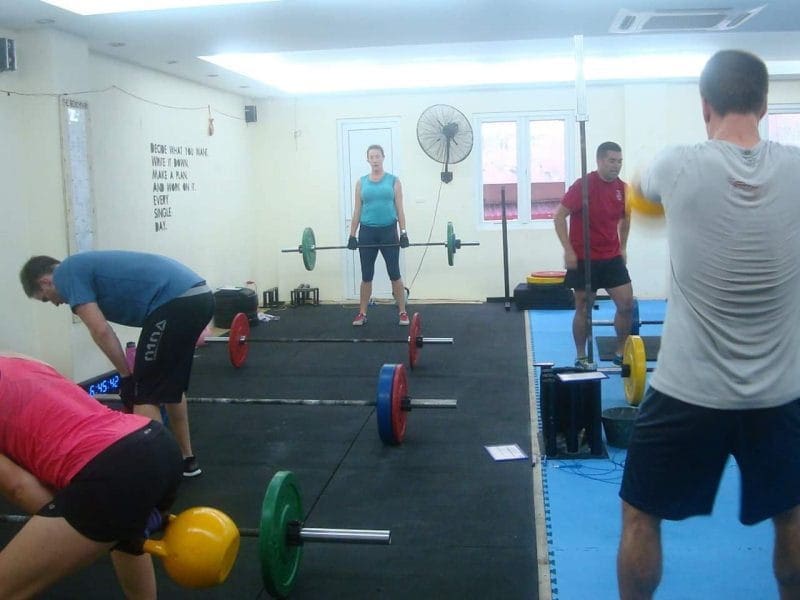 CrossFit Tay Ho had (has) a magic atmosphere about it, Loris recalls. During his time as owner, about 95% of the members were expats, which meant the Box was a great place to meet friends. "Kind of like a second home that makes you feel less alone, as most of the members come from thousands of kilometres away. You can smell a unique sense of community and friendship," Loris explained.
A COMMUNITY-RUN BOX
He owned the Box for almost two years and, when it was time to say goodbye for sure, he gave the keys to the members. "I let them run it as a community-run box. I found the idea a little naïve and unique, but it is the best example I can imagine of the strength of a community," the former coach said.
It's all done on a voluntary base; the admin team manages the cash flow and run the day-to-day activities. All big decisions are made by them and by athletes that had been members for more than six months. "I used to say that I just planted a seed, and they water it every single day with their sweat," Loris said.
He went back to the Box once in 2017 and had an amazing time training with the old members and being introduced to the new ones who'd all heard stories of him. On the whiteboard, still closed, waited a letter for him from his days at Tay Ho.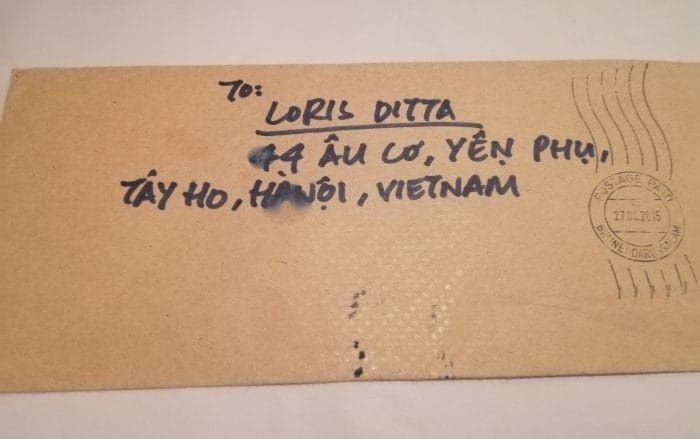 Source: Loris Ditta
While he was running the Box, Loris finished 3rd in Asia during the Open and was eligible to take part in a competition which he then couldn't attend as he left the country. The envelope contained the official invitation to the competition.
"Nobody had touched it. Nobody had opened it. But they keep it because they wanted me to get it. It was like the closing of a chapter of my life. I get goosebumps every time I tell this story," Loris said.
The Italian man started CrossFit in 2010 in Belgium with a Danish coach called Emil. "It [CrossFit] gave me so much in terms of fitness and general well-being that I regret not having started it before. It has also allowed me to meet people all around the word and realize that it does not matter where you train, but that you can really feel at home in any box," he said.
Loris now trains at CrossFit BINK 36 in the Netherlands and CrossFit is part of his day to day life, he enjoys his job and training days but also remembers his time as a coach fondly. "Who knows what the future will bring!" he said.
This is what CrossFit Tay Ho in Hanoi, Vietnam, looks like now!
Image Sources
FB_IMG_1568117468596: Loris Ditta
IMG_20190909_223827: Loris Ditta
CrossFit-Vietman: Loris Ditta