CrossFit athletes from Ukraine have used the Open leaderboard to protest against the Russian invasion of their country by uploading a video requesting the sports organisation to ban Russian athletes.
During the last day to submit the score for the 22.1 of the CrossFit Open, athletes from Ukraine used the sports platform to protest against the Russian invasion of their country. The male leaderboard showed 5 Ukrainian athletes at the top. A 17-year-old girl was also briefly at the top of the female Open leaderboard.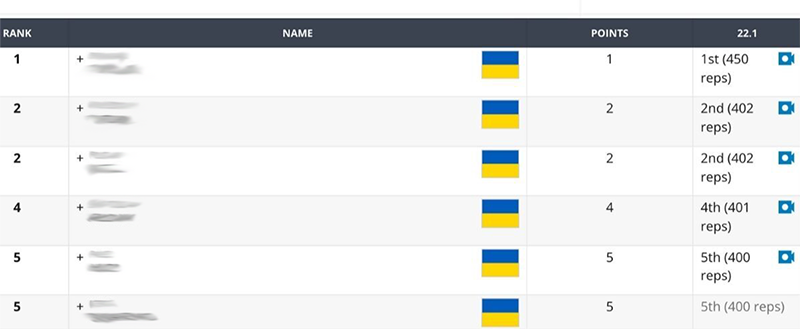 However, their workout video submission was redirected to a link on YouTube that asked CrossFit HQ to ban Russian athletes.
The video, which BOXROX was not able to confirm its veracity, showed scenes of the Russian invasion in Ukraine territory with tanks, explosions, military planes and helicopters flying around.
Read the full description of the video asking Russian CrossFit athletes to be banned.
"Dear CrossFit, all Ukrainian crossfit community ask you to ban Russian crossfit athletes and affiliates as representatives of Russian aggression in Ukraine! We need your support until they end this horrible war! Our Crossfit athletes are in danger, our affiliates, our coaches, don't be indifferent! It all started the day before The Open, and I can't read posts about how hard Wall walks are and so on, because the hardest part these days is military invasion in my country. I just got my Crossfit Judge certificate on Tuesday. My dream was to take part in the Open and some Crossfit competitions this year for the first time, but I'm afraid I could never do it again if you and your government won't help us! Attract the attention of society and your community to help your loyal members! Save Ukraine"
The demand for the suspension of Russian athletes from CrossFit comes hours after FIFA and UEFA, the top football (soccer) associations in the world, banned Russian international and club teams from competitions. IOC, the International Olympic Committee, also recommended that Russian and Belarusian athletes and officials would be suspended.
Update (March 2, 2022): CrossFit Releases Statement on Ukraine, Stops Recognising the Governments of Russia and Belarus
Leaderboard Updated
At the moment of writing, CrossFit has not replied to comment on the situation.
The Open leaderboard has been updated and the Ukrainian athletes who uploaded the video requesting the ban of Russian athletes have been invalidated.
CrossFit's new score validation allowed Ukrainian athletes to be ranked at the top of the leaderboard as soon as they submitted their scores. According to the new rules, "scores submitted during the Open will be immediately visible on the worldwide leaderboard."
Roman Khrennikov, a prominent Russian athlete who recently got his Visa accepted to be able to travel to the United States and possibly compete at the CrossFit Games, said he is against the current war.
"I feel very sorry for everyone involved in this nightmare," he wrote. "Personally, I want only peace and friendship."
* translated via Google Translate.