The Zone is one of the richest, most memorable feelings we experience as Crossfit athletes.
WHAT IS THE ZONE?
It almost seems to emerge from no-where, a state of mind that we drift into where we are in perfect control, completely confident and easily able to complete the exercises that lie before us. It is the moment when your mental game becomes unbreakable.
However, it is still one of the most elusive phenomena in sport. This 'natural high' is a desired state of consciousness that Athletes and coaches continually try to understand, harness and employ to their benefit. This article will help you to understand what happens when you are in the zone, and then how to perform in a way that makes it easier to enter that state of mind.
CHARACTERSITICS OF THE ZONE:
1. THE MERGING OF ACTION AND AWARENESS
This is when you feel at one with the movements and exercises that you are performing. Instead of looking at your body and mind as separate entities, they merge as one. For example, when you have mastered Double Unders, you no longer have to think about the skill; in fact, it becomes even better when you don't think about the movement at all!
2. A CLEAR FOCUS ON YOUR GOALS
You know exactly what needs to be done at that moment. This clarity of intention helps to focus your attention and make it easier to avoid distractions. No doubt feeds into your actions and you're able to anticipate and control your emotions.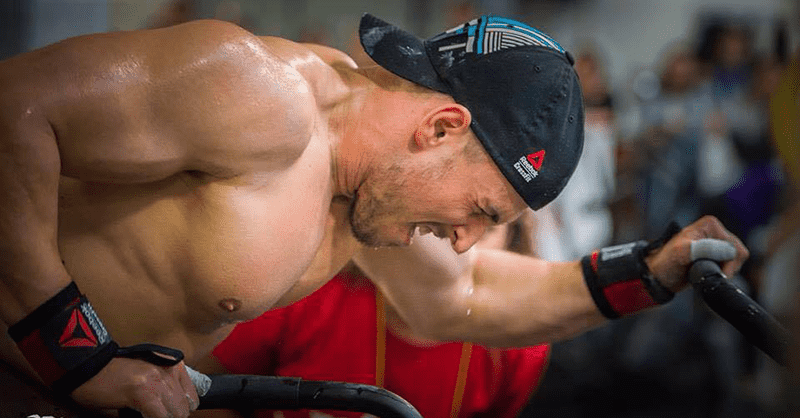 3. POSITIVE FEEDBACK
Knowing that things are going well requires positive feedback that you are performing effectively.
A very clear understanding of how you are performing will help you to concentrate and perform well. BK Gudmundsson is an excellent example of an athlete that monitors the competition, yet remains focused on his own game. He is calm and calculated, and draws on his own competitive nature and confidence in his own ability when he wants to burn ahead and leave the other athletes behind. The following can be useful to think about when you are exercising, but don't let them upset your own focus.
What position are you sitting in?
Are you 2nd, 3rd or 4th place etc, do you need to up your pace?
How is your own natural pace in comparison with the other athletes?
4. ABSOLUTE CONCENTRATION ON THE TASK AT HAND
Complete absorption on your performance, and being able to ignore potential distractions is highly important. I once asked a client what they thought about a particular song that came on the speaker during their performance, they said they couldn't tell me one song that had been played during the event. Check out MIKKO SALO in the Zone…
5. A STONG SENSE OF CONTROL
An unbreakable self-esteem: No self-doubt or hesitations occur with an overwhelming feeling that you can't do any wrong; you can take on anything and you will not lose.
6. LOSS OF SELF-CONSCIOUSNESS
Being in the zone can provide a distraction from everything else that is going on in your life. Perhaps paradoxically to other characteristics, a feeling of absolute control may occur with reports of being completely "lost in what just happened", like an instinctive or robotic experience.
7. THE TRANSFORMATION OF TIME
The concept of time continually alters. In one way it appears to slow down, you aren't in a rush to make decisions and feel you execute skills patiently, however a 15-minute AMRAP will appear to pass extremely quickly.
8. AUTOTELIC EXPERIENCE
An autotelic experience (2 greek words, Auto = Self; Telos = Goal) is one that its intrinsically rewarding, one that we choose to do for its own sake. It is the reason being in the zone is so sought after and perhaps the reason we all choose to participate in sport, or even anything in life.
ENTERING THE ZONE USING 'CHALLENGE – ABILITY BALANCING'
This means that you have confidence in your own ability to succeed.
When you achieve this certain balance between the level of difficulty of the challenge you face, and your perceived ability to complete the challenge, you create conditions that make it favourable for you to enter the Zone.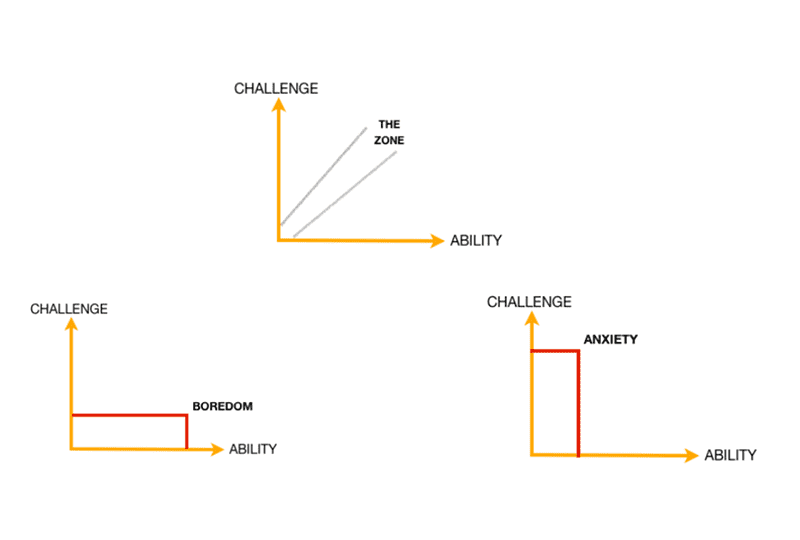 This balancing act is the result of different factors, and if you understand how they work, you will be more likely to be able to enter the zone during your next WOD, lift or competition.
'Irrational or counter-productive thinking occurs when there is an imbalance between the challenge you face, and personal confidence in your own ability'
IF AN ATHLETE'S PERCEIVED ABILITY EXCEDDS THE CHALLENGE A STATE OF BOREDOM WILL OCCUR
For example, performing 10 minutes of handstand practice against a wall, when you are perfectly capable of walking 100m or more, may lead to boredom.
IF THE CHALLENGE EXCEEDS THE ATHLETE'S PERCEIVED ABILITY IT WILL LEAD TO ANXIETY
Imagine how you would feel before trying A 12 minute AMRAP including Double Unders if you hadn't even learned to skip at all, or a similar scenario where you were not confident with a certain exercise, it may lead to feelings of anxiety.
An athlete must balance the perceived skill or challenge to optimise the likelihood that they will enter the Zone. Take a look at Thuridur Helgadottir in the zone during her Deadlifts.
WHAT TO DO IF BOREDOM OCCURS
If you find yourself in a state of boredom during training, don't lower your perceived ability. Instead, use goal setting to narrow down what you want to get out of the session, why is this important in the long run? How will it help you to reach those end goals?
Be specific and increase the challenge to achieve a balance. If you aren't pushing yourself enough then raise your game, deep down we all know if we could go harder or not, and whether we gave everything we had. WODs such as Heavy Fran have evolved for exactly this reason.
HOW TO COUNTER ANXIETY
If you find yourself anxious, use relaxation strategies prior to performance and positive self-talk or imagery during competition for reassurance. This will increase your perceived ability to meet the challenge, raise your confidence, and help you to rise to the occasion. If you know that you have trained properly and eaten well, then you have no reason to doubt your own ability to perform on the day.
UNDERSTANDING YOURSELF AS AN ATHLETE WILL HELP YOU TO ENTER THE ZONE WHEN YOU PERFORM
Take time to become aware of the occasions when you feel anxious or bored, and alter your thinking to get back into the zone. Why might you feel the way you do? Refocus on your end goal and concentrate on what you know you can do. Confidence born out of hard work and the completion of your training goals is unbeatable. Feel and be proud of your own athletic abilities.
This is a skill that requires practice as much as any physical skill. It will not only help improve performance long term, but will also ensure that you enjoy your training and competitions as well!