The 2023 CrossFit Games takes place in Madison for the last year and these are the workouts that the elite individuals will have to go through in order to test themselves in the quest for the title of Fittest on Earth.
Note: this page will be updated accordingly as soon as more events are released by CrossFit Inc.
HOW TO WATCH THE 2023 CROSSFIT GAMES LIVESTREAM
The 2023 CrossFit Games is taking shape after all athletes and teams know who is going to compete for the title of Fittest on Earth.
When: August 1-6
Where: Madison, Wisconsin (USA)
Athletes from all age groups (teens, masters) and adaptive athletes will be joining the teams and individual athletes who received an invitation to compete in Madison this summer.
5 athletes have provided a sample with illegal substances to CrossFit after Semifinals and leading up to the 2023 CrossFit Games:
Read More: CrossFit Introduces 2 Cutting Phases at the Games for Individuals and Teams
2023 CrossFit Games Workouts for Individuals
August 3
Ride
Complete as many laps as possible in 40 minutes on a Trek Bikes Marlin 8 mountain bike.
Pig Chipper
For time:
10 Pig flips
25 chest-to-bar pull-ups
50 toes-to-bars
100 wall-ball shots
50 toes-to-bars
25 chest-to-bar pull-ups
10 Pig flips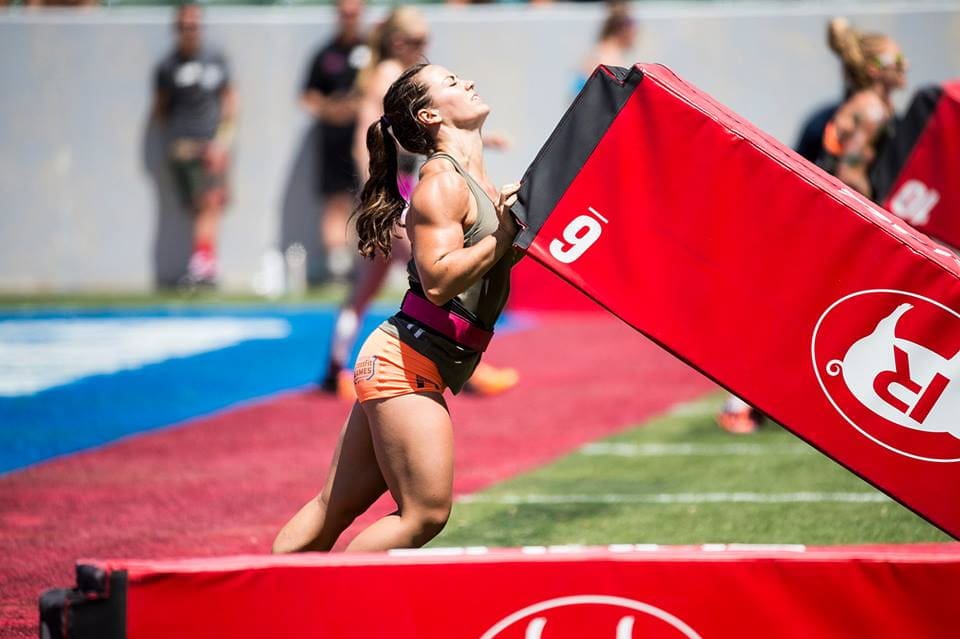 Inverted Medley
For time:
30-foot unbroken handstand walk over the ramp
8 free-standing handstand push-ups
Unbroken obstacle steps to a 180° pirouette
16 pull-overs
Unbroken obstacle steps to a 360° pirouette
8 free-standing handstand push-ups
30-foot unbroken handstand walk over the ramp
August 4
The Alpaca Redux
For time:
126-foot sled push, starting with all six kettlebells
Then 3 rounds for time:
2 legless rope climbs
12 kettlebell clean and jerks
42-foot sled push, starting with two kettlebells*
*add two kettlebells to the sled after each round
Ski-Bag
For time:
30-calorie SkiErg
30 sandbag squats
20-calorie SkiErg
20 sandbag squats
Helena
3 rounds for time:
400-metre run
12 bar muscle-ups
21 dumbbell snatches (35/50 lb)
August 5
Cross-Country 5K
For time: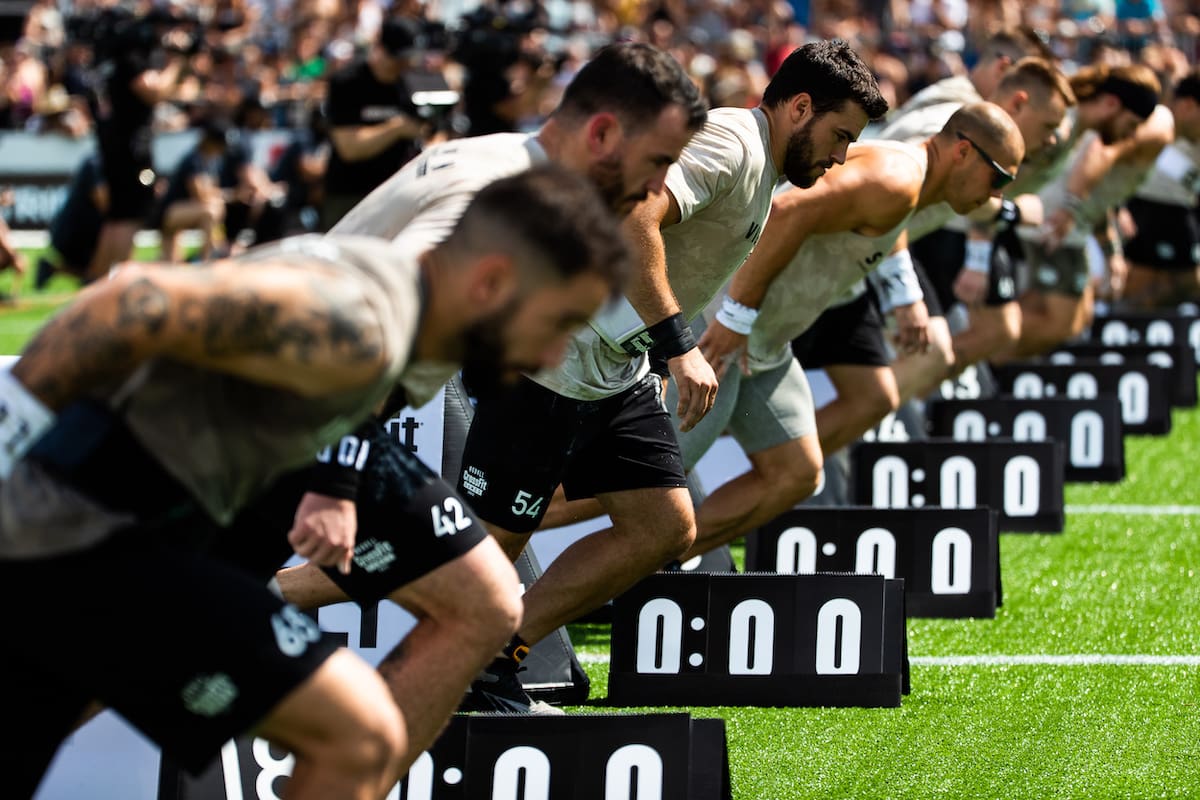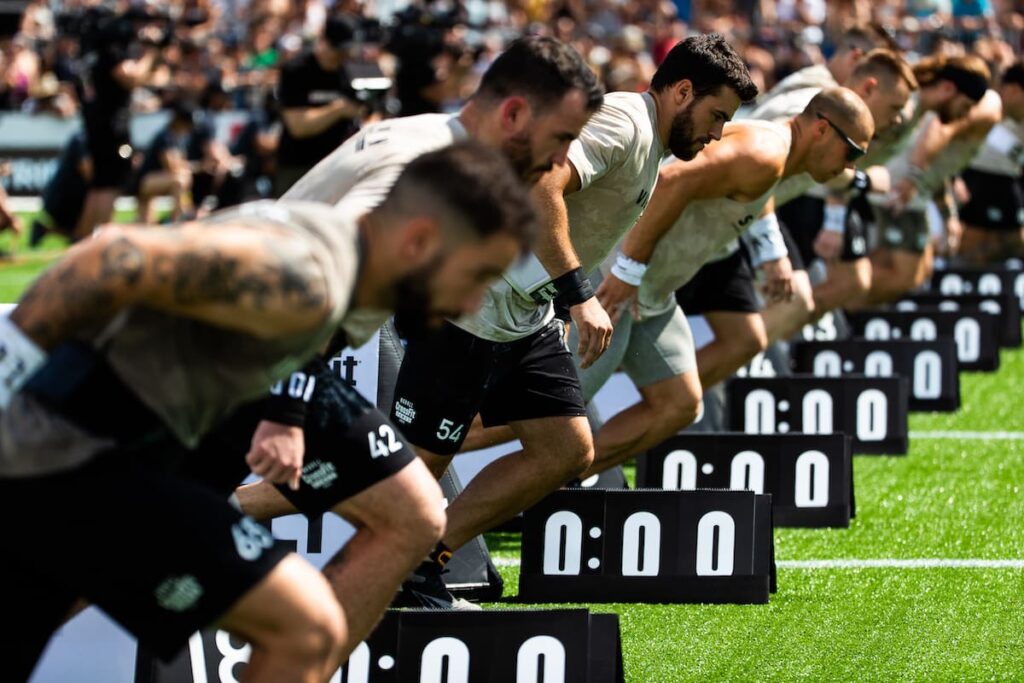 Intervals
2 intervals for total time:
21 box jump-overs (20/24 inches)
15-calorie row
9  burpee box jump-overs 
21 box jump-overs 
15-calorie row
9 burpee box jump-overs (36/48 inches)
Rest until 6-minute mark, then:
9 burpee box jump-overs
15-calorie row
21 box jump-overs
9 burpee box jump-overs 
15-calorie row
21 box jump-overs 
Time cap: 12 minutes
Olympic Total
For load:
1-rep-max snatch
1-rep-max clean and jerk
August 6
Muscle-up Logs
5 rounds for time:
7 muscle-ups
1 sandbag over 3 logs
(Rounds 1-4 = (100/150 lb), Round 5 = (125/200 lb)
Parallel-bar Pull
8 rounds for time:
Down-and-back P-bar traverse 
30 heavy-rope double-unders 
1 section hand-over-hand sled pull
Echo Thruster Final
For time:
21-18-15
Echo Bike calories
Thrusters (85/115 lb) (95/135 lb) (105/155 lb)
Then, 66-foot overhead walking lunge (105/155 lb)
Full List of Athletes Invited to the CrossFit Games