Chris Hinshaw is a former All American swimmer and an experienced professional triathlete with top international finishes including a 2nd place overall finish at the Hawaiian Ironman World Championships, 2-time member of Team USA at the Hawaiian Ironman, 2nd place overall finish at the Ironman World Championships in Canada, and a 1st place overall finish at Ironman Brazil.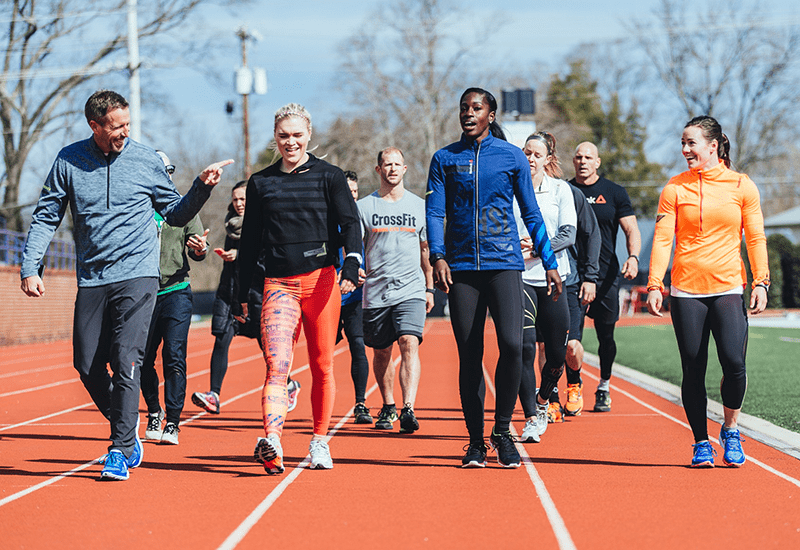 Working with numerous Crossfitters, from the top pros through to everyday athletes, Chris designs his programming and workouts around the following elements of endurance:
Aerobic Threshold: Steady workouts at a moderate intensity to develop fuel efficiency (burn fat), muscular skeleton system, and aerobic endurance.
Lactate Threshold: Higher volume workouts with longer distance intervals at higher "threshold" intensities with less rest between reps and/or sets.
VO2 Max: Lower volume workouts, shorter distance intervals at higher intensities, and more rest between reps and/or sets.
Speed Endurance: Very low volume workouts with interval distances less than 60sec. Extremely high intensities. Used to recruit fast twitch fibres and force them to develop endurance. Full recovery between reps and/or sets.
Strength Endurance: Low volume workouts with high intensity intervals that include various explosive movements to recruit and develop your fast twitch muscle fibres.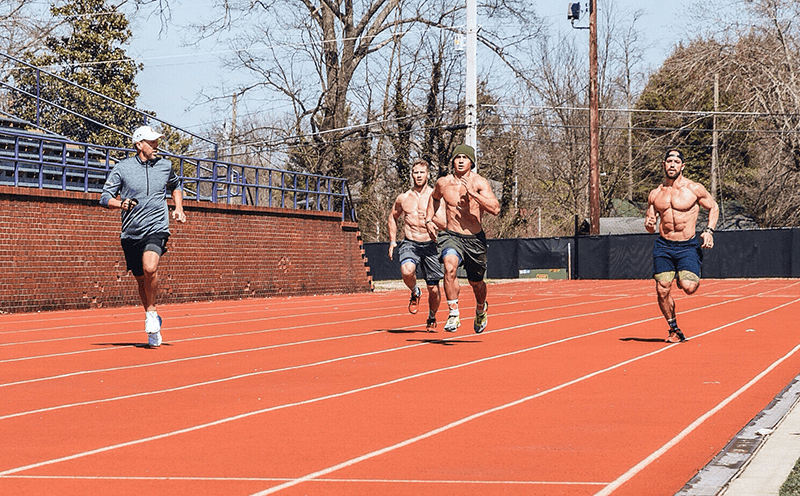 IMPROVE YOUR OWN ENDURANCE
With running being such an important part of Crossfit and overall fitness in general, pick up a few tips from Chris and improve your knowledge, training and athletic ability. Here is an example of one of his workouts with Camille LeBlanc Bazinet:
HOP SCOTCH (test Aerobic Threshold)
200m run at easy pace
100m sprint
400m run at easy pace
100m sprint
600m run at easy pace
100m sprint
800m run at easy pace
100m sprint
1000m run at easy pace
100m sprint
800m run at easy pace
100m sprint
600m run at easy pace
100m sprint
400m run at easy pace
100m sprint
200m run at easy pace
100m sprint
Total: 5900m
Workout Details:
This is a continuous (non-stop) workout. Your rest is the easy pace interval. Each athlete picks their 'easy pace' which can be be a moderate intensity or a fast walk or anything in-between.
Workout Focus:
All your attention is the on the 100m sprints. This workout has a total of 9 of these 100m sprints. Focus on your form. Your intensity should not be 100% max effort. Back off on your intensity (97-98%) to retain your form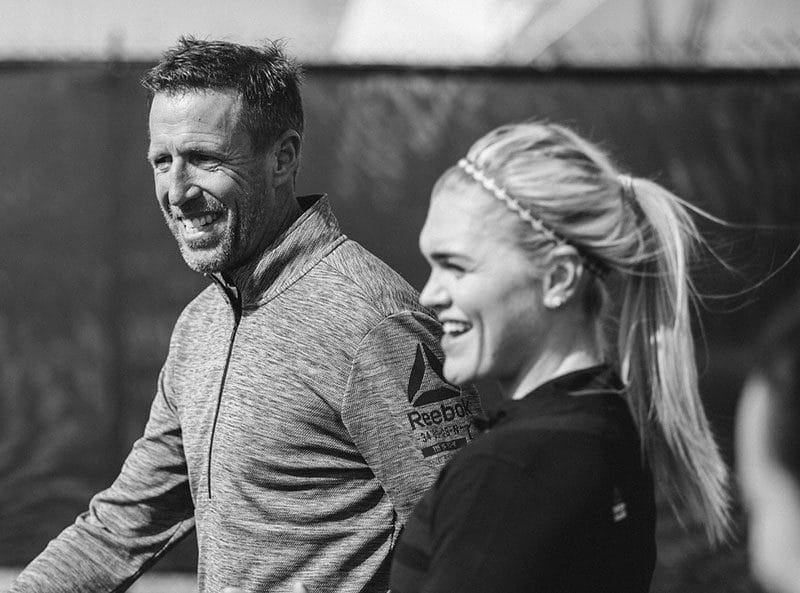 IN CONVERSATION WITH CHRIS HINSHAW
Hey Chris can you tell us where you are in the world right now and what are you up to?
Right now I am at the Power Monkey Camp. There are about ninety athletes and thirty coaches in here. The coaches represent a broad range of specialties. Chad Vaughn has just won another Master's weightlifting title, he is here working and directing the weightlifting side. We have got World Champion gymnast and Olympic athlete Dave Durante who runs one of these sessions as well. I run the endurance section here, and am working in 2 hour blocks. It's an amazing place and atmosphere, very exciting things happening in here.
In regards to endurance, how high is the standard for the top Crossfit athletes, how important is endurance to them and how good do they have to be to win the Games?
That's an interesting question. There is no doubt that endurance is a vital part for these athletes and they have evolved their training to properly incorporate endurance work.
In 2013, Jason (Khalipa) and I truly worked on and trained his endurance. We saw that this gave him a unique and incredible competitive advantage. He was doing something in 2013 that no other games athletes was doing to the same extent. The secret is working on endurance. Every single games athlete is now training their capacity endurance to a high standard.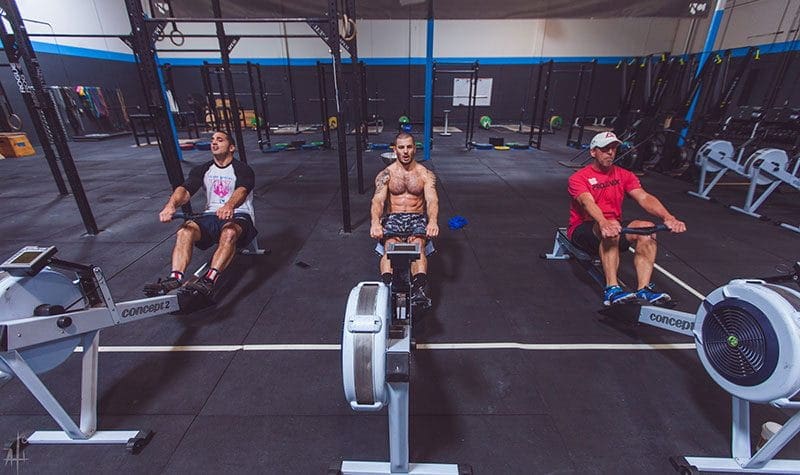 How did you and Jason begin working together? Did he have a specific set goal for improving his endurance?
I'd been doing Crossfit for a little over 4 years when I got that phone call from Jason. And I had actually been a member in the gym for over a year. He called me on the telephone and said: "Hey Chris, this is J! ". I had no idea who I was talking to!
He asked me to be his coach. And I was like, Oh my god! This is Jason Khalipa! I had butterflies in my stomach and I was so nervous.
He said if you accept then I'll do anything you say without questioning your methods. And again, I was so nervous, but I thought about the knowledge I had and the positive effects Crossfit had had on my endurance training. I wondered what would happen if we took a purely crossfit athlete with no endurance background and adapted my endurance training into his program.
"We set up an experiment and went on a little adventure. That's how it all started.  Jason was my first Crossfit athlete."
You once said "I think a coach ultimately is responsible for building confidence". Can you expand on how you do this with your athletes?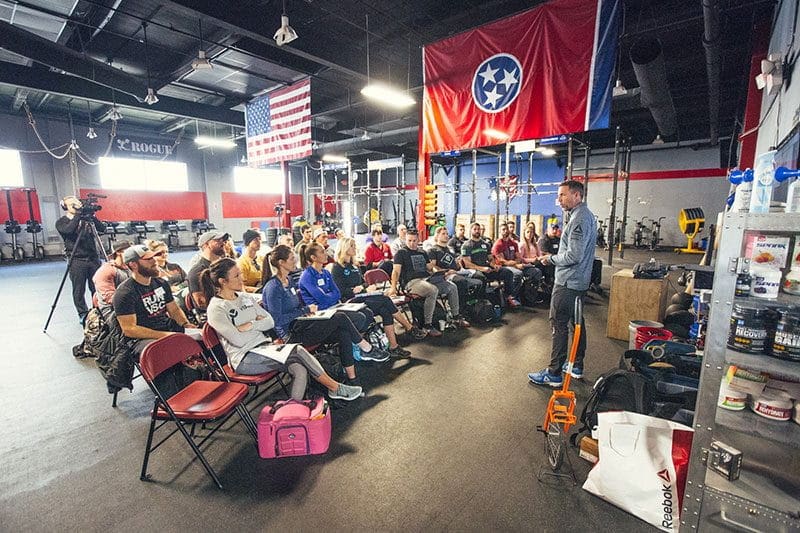 So, I do believe our number 1 concern as coaches is to create confidence. When I met with Jason Khalipa for the very first time he was a broken and beat down athlete.
You could easily get inside his head. When I put together his programming, I recognised immediately that I needed to build up his knowledge as well in terms of running and other types of endurance activity. But I had to build up his own knowledge about himself and his capability and I wanted to make him a strategic thinker and an even more powerful competitor. Unless I built up this foundation of knowledge, this foundation of experience, he was never going to be a threat.
I developed an arsenal of different gears in terms of running for him to use, and trained him to realise the different speeds that I was asking him to do. Over time he began to understand what the workouts meant and how to strategically accomplish them.
(Click here to learn more about Chris Hinshaw's opinions on mental toughness.)
Do you every see any correlation between an increase in endurance training at the expense of strength?
So this was a number 1 concern for me when I first started.
'Most weightlifters recognise that in between their reps, a developed aerobic system will help them in their recovery.'
But at what risk will extended endurance work impact their power output and strength? From my experience, especially with Games Athletes, this does not have a negative impact, and in many cases the reverse is true as long as the endurance work is done in moderation.
COACHING RICH FRONING
Rich Froning went from a 6 minute mile to a 5:41 mile over the first 12 weeks that we worked together. During that time his Back Squat went up. In his own words 'all of my numbers continued to climb.'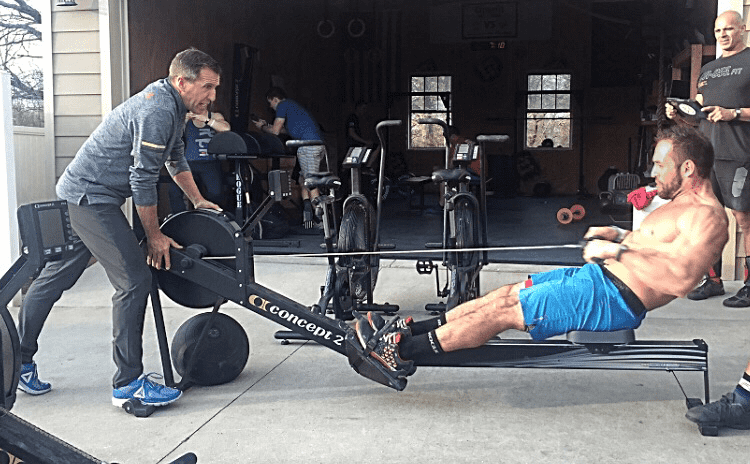 COACHING MAT FRASER
He was the one that concerned me the most because here is a very experienced weightlifter, and what if my endurance training had a negative impact effect on his strength and it went down?
I had this great moment last june, Mat Fraser was doing a workout of mine, it was 3 rounds of 3 x 600m for a total of 5400m. He was running a 6-minute mile pace. Three hours later he hit a 170kg (375 lb) PR in his Clean and Jerk. That to me was super exciting.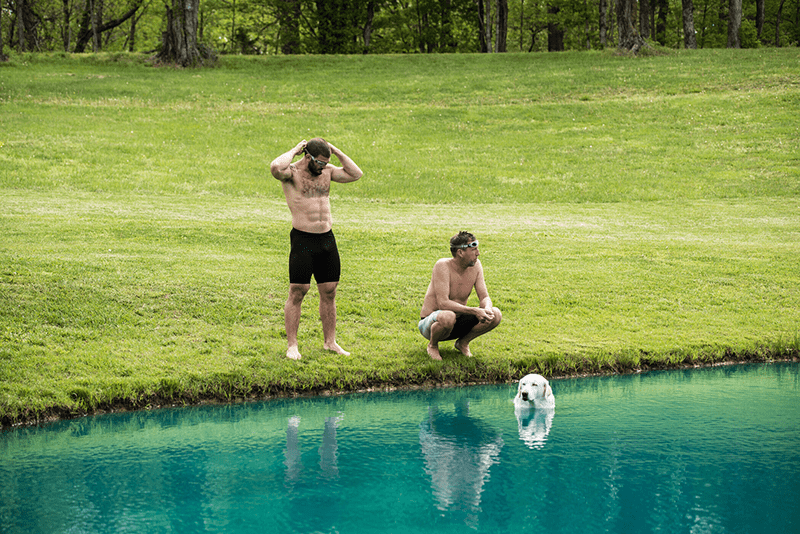 The key is moderation. You can't train a Crossfit athlete like a triathlete and my athletes don't put in a lot of volume, but what they are doing is targeting muscle groups that are neglected. That's where I focus my time.
In triathlons you train for set distances in different disciplines, how do you train your Crossfit athletes for the unknown?
I come from an endurance background. I understand endurance science. I train my athletes very traditionally from what I've learned from my career of competing in long distance triathlons. Crossfit is substantially different from that. We are not targeting one specific distance to be good at. We want to be good at a broad range of distances and so we must train and be prepared for exactly that.
Its always important to develop an arsenal of gears for your running. I test and work around the following time and distances, which are all important for Crossfitters.
Recovery jog pace (90 minute pace)
10k (40 minute time domain)
5km (20 minute time domain)
1mile (5 – 6 minute time domain)
400 m speed in Crossfit is critical!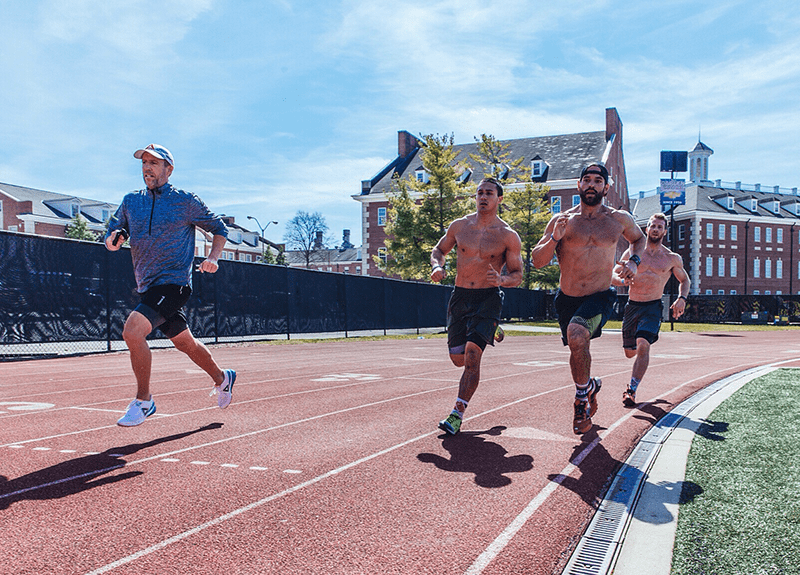 Do you have any kind of tips for everyday Crossfitters that are looking to improve their endurance?
Well, on my website Aerobic Capacity I add 3-4 workouts every single week in terms of running. If you have more specific question about it, you can check out my website.
EXAMPLE WORKOUT: BOMBOLINI
Workout Details
3 sets: 500m fast run, 200m recovery jog, 100m sprint
No rest between intervals
5 min rest between sets
Workout Pacing
This workout has 3 different paces. Your 500m pace must be faster than your mile PR pace but slower than your 400m PR pace PR. Your 100m sprint pace must be equal to or faster than your 400m PR pace. Use your 200m recovery jog in order to hit your 100m pace goal.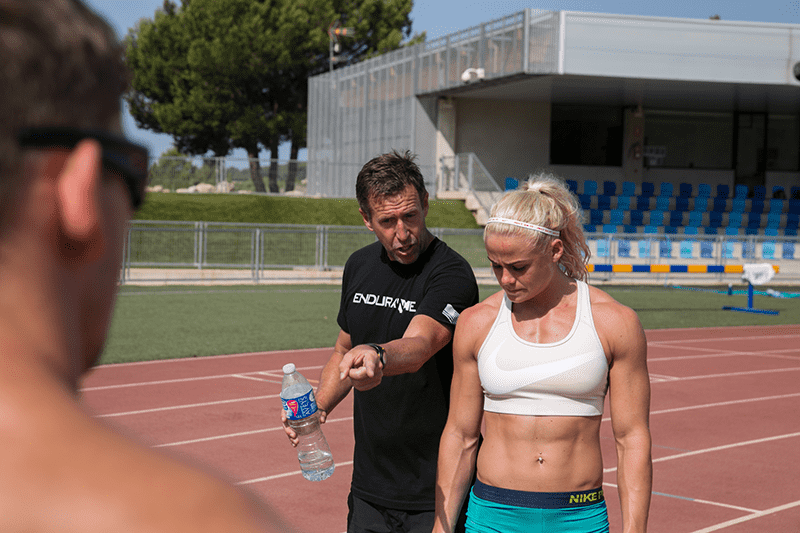 You work a lot with the top Crossfit athletes. What is it like as a coach to train these individuals?
It's tough. I love coaching, I really do, but it's incredibly stressful. Expectations are real, they want to see improvements and the thing about running is that you can easily measure your improvements.
Thanks Chris!
For more information about Chris Hinshaw and his Aerobic Capacity program, Check out his website or facebook page.