Elly Kabboord tested positive at the Reykjavik CrossFit Championship for the banned substance Clenbuterol. She is the captain of CrossFit Mayhem Independence. They finished in second place behind Team JST Compete.
Rich Froning, Jim Hensel and Elly Kabboord sat down together and released the statement via the CrossFit Mayhem YouTube channel. Kabboord stated:
"I've never in my life taken a drug that wasn't prescribed to me and I would never…Rich, Hillary, my teammates and the Mayhem family, they are my family…and I would never in this universe jeopardize their futures. That was really the hardest part for me"
Kabbord went on to discuss the drug and the results
"Clenbuterol is a very controversial drug, there have been a lot of positive tests for contamination for meat and supplements. My results were less that one billionth of a gram and is consistent with a meat or supplement contamination…that being said, I am 100% responsible for everything that I put into my body"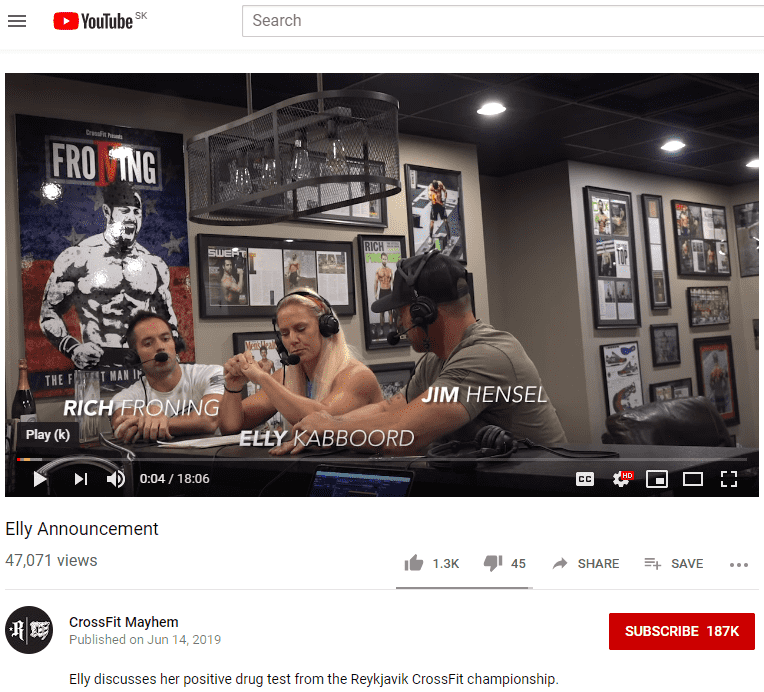 CrossFit Mayhem requested an additional two-week period to complete all testing on the supplements that Kabboord was taking. CrossFit have denied the request.
"There are details about this case that I think are paramount in exposing the truth, and I can't share right now."
Rich "Once the investigation is final then we can give the rest of the details."
Elly Kabboord went on to talk about how she had previously tested many times,
"I have been drug tested after every Regionals and CrossFit Games"
And that important further information will be released in due course.
Elly "If you are a CrossFit athlete and you want to compete, you need to hear this for your protection and your safety moving forward."
Rich Froning and the entire CrossFit Mayhem team were vocal about their unwavering support for Elly Kabboord:
Rich "We believe you, we stand beside you that you did not knowingly take anything."
Ricky Garard's Brother Caught and Banned for Taking PEDs for CrossFit Comp
WADA AND CLENBUTEROL
WADA (The World Anti-Doping Agency) previously published the following information about Clenbuterol.
There have been numerous reported cases in countries where ingestion of meat, originating from an animal that has received illicit administration of clenbuterol, has resulted in low level positive samples.
Unfortunately, anti-doping authorities have no control over agricultural and food safety practices in these countries, and inadvertent ingestion is an ongoing issue for athletes. The matter has been raised with public authorities; however, in most cases, it is linked with black market activity in the meat production chain.
Despite continuously improving analytical methods for testing, it still remains impossible, without taking into account other factors, to determine whether a positive sample stems from pharmacological intake of clenbuterol or unintentional ingestion through contaminated meat.
Under the World Anti-Doping Code (Code), any amount of clenbuterol is reported by WADA-accredited laboratories.
There have been numerous, high profile, cases beyond the IOC Re-Analysis Program which have been managed the same way; such as, the over 100 players that tested positive for clenbuterol, due to contaminated meat, during the 2011 FIFA Under-17 World Cup in Mexico.¹
---
¹ WADA, WADA Statement on ARD Documentary