The best way to find a CrossFit gym near you is through the CrossFit Affiliates map. This map is the official list of gyms registered with CrossFit and shows all the nearest active affiliates in your proximity.
CrossFit Affiliates Map
Alternatively, you can also use the CrossFit Affiliate List to locate a CrossFit Box near you.
CrossFit Affiliate List
A CrossFit affiliate, or CrossFit Box, is a gym "certified" by CrossFit. There are over 15,000 CrossFit Boxes around the world where you can learn from credentialed coaches.
Unlike many fitness gyms, CrossFit is not a franchise and individual locations are owned and operated by independent owners, who run their fitness program in accordance with CrossFit's philosophy: training constantly varied, functional movements done at high intensity.
Who can join CrossFit?
People from all ages, backgrounds and fitness levels can train CrossFit. The training style can be used to lose weight, improve performance or simply lead a healthier lifestyle. People beginning their athletic career, as well as seasoned athletes have found success in the sport.
CrossFit workouts can be adapted for people at any age and fitness level.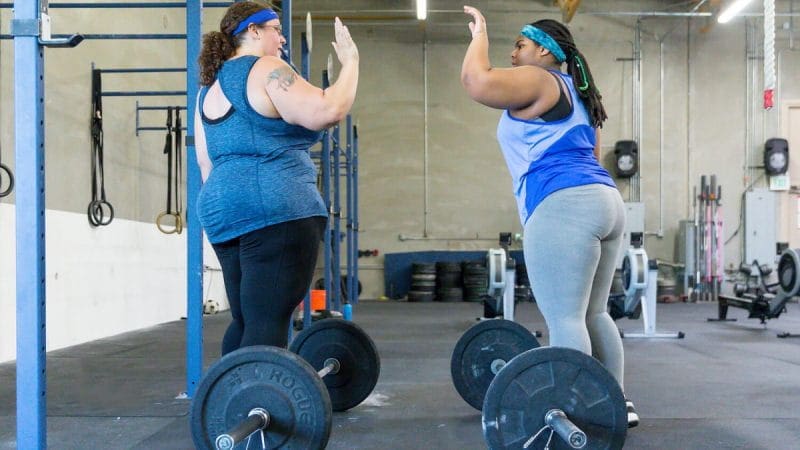 CrossFit introduction class
If you want to try CrossFit for the first time, choose an affiliate and contact them about dropping in.
Most CrossFit Boxes offer a free introduction class for people new to the sport, where you'll be able to meet a coach, see the facilities and experience what a CrossFit class is like.
Generally, details about introduction classes can be found on each affiliate's website.
How to find the best CrossFit gym near me?
Having a CrossFit gym near you will increase the chances of you turning up to the training sessions as access won't be a problem and convenience is important. Below a few suggestions on how to find a good CrossFit gym near you.
Select an area: Start by selecting the area you can visit on the CrossFit affiliates map and select a few gyms you could reasonably get to. You could also look for CrossFit gyms on Google maps, but results won't always be up to date.
Research: After you've identified a couple of locations you could potentially join, do some research. Because gyms are independently owned, CrossFit Boxes can be vary from one another; this includes training style, coaches and facilities. Have a look at their website, social media accounts or Google reviews.
Work out your goals: Decide what you want to achieve by joining a CrossFit Box and try to establish whether a certain location can help you achieve them. This will involve getting in touch with the owner. Other aspects to consider when choosing a CrossFit gym near you include: membership fees and programming, as these vary from location to location. Some gyms are big on strength, others on endurance, others on high-level performance; the gym you join will depend on your goals (and budget).
Contact the Box: Depending on each location, you might be able to contact a CrossFit Box via email, social media or directly on their website. Once you've found a location or two that look promising, contact the Box to arrange a drop-in.
First time at a CrossFit gym
If you're going to a CrossFit gym for the first time, these are a few recommendations you could follow:
Arrive early: arriving early allows you to have a look around and personally meet the staff. Because CrossFit classes are run in small groups, coaches will give you individualised attention and can help you reach your goals if they know what they are.
Introduce yourself: tell people you are new or interested in joining the Box, they'll be able to tell you what makes the place great, what they like the most and what could be improved.
Ask questions: joining a CrossFit gym can be a big investment, so make sure you ask any questions you might have, whether they are about the training, the opening hours, the different classes offered or the facilities, ask away.
If you're new to CrossFit, have a look at our Beginner's Guide. There, you'll find an extensive feature covering basics, training, nutrition, terminology and fears and worries.