CrossFit has announced its 2022 season details, with dates for the CrossFit Open, Semifinals, Quarterfinals, Last-Chance Qualifier and CrossFit Games being released.
The season will look very similar to last year's; kicking off with the CrossFit Open, followed by online Quarterfinals, Semifinals, a Last-Chance Qualifier, and the CrossFit Games.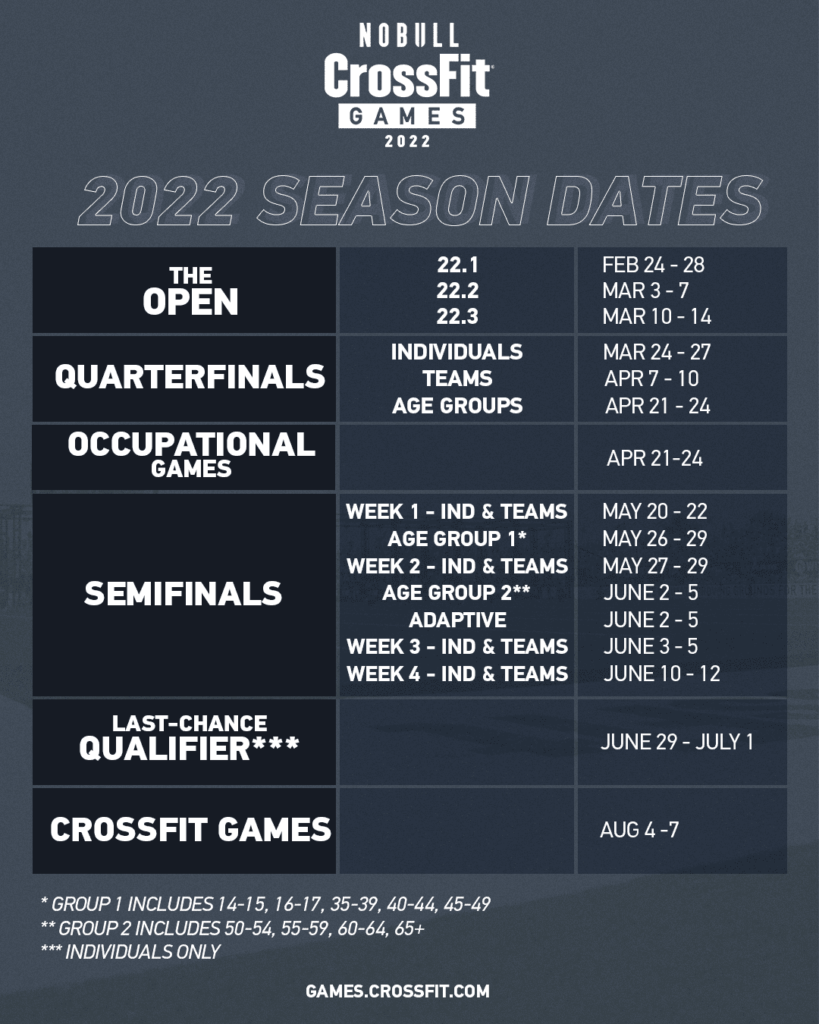 CrossFit Open dates
The worldwide CrossFit Open will take place across three weeks, from February 24 through to March 14.
Workout windows will be set as follows:
22.1: Feb 24-28
22.2: Mar 3-7
22.3: Mar 10-14
Open workout announcements are unlikely to take place in CrossFit's studio, with the initial plan to have two announcements take place overseas and one in North America. Dave Castro, who programs the workouts, said he'll still be involved but won't announce them anymore.
CrossFit Quarterfinals dates
Quarterfinals happen online and take top athletes from the CrossFit Open across the world. They are the qualifying events for CrossFit Semifinals.
Quarter finals are scheduled as follows:
Individuals: Mar 24-27
Teams: Apr 7-10
Age Groups: Apr 21-24
CrossFit Semifinal dates
The best athletes will then advance to CrossFit Semifinals, of which there is 10 of. Four are held in North America, two in Europe and one in South America, Africa, Asia and Oceania each.
These are the dates for Semifinals:
Individuals and Teams week 1: May 20-22
Age Groups 14-15, 16-17, 35-39, 40-44, 45-49: May 26-29
Individuals and Teams week 2: May 27-29
Age Groups 50-54, 55-59, 60-64, 65+: June 2-5
Adaptive: June 2-5
Individuals and Teams week 3: June 3-5
Individuals and Teams week 4: June 10-12
Last-Chance Qualifier dates
The Last-Chance Qualifier is an individual-only competition for athletes who were two spots away from qualifying to the CrossFit Games from a Semifinal. The virtual event offers a last opportunity for two male and two female athletes to qualify.
The CrossFit Last-Chance Qualifier will take place between June 29 and July 1.
CrossFit Games dates
The 2022 CrossFit Games will take place on August 4-7.
Qualifying paths for athletes look as follows:
Individuals: Open → Quarterfinals → Semifinals → Games 
Teams: Open → Quarterfinals → Semifinals → Games 
Age Group Divisions: Open → Quarterfinals → Virtual Semifinals → Games  
Adaptive Divisions: Open → Virtual Semifinals → Games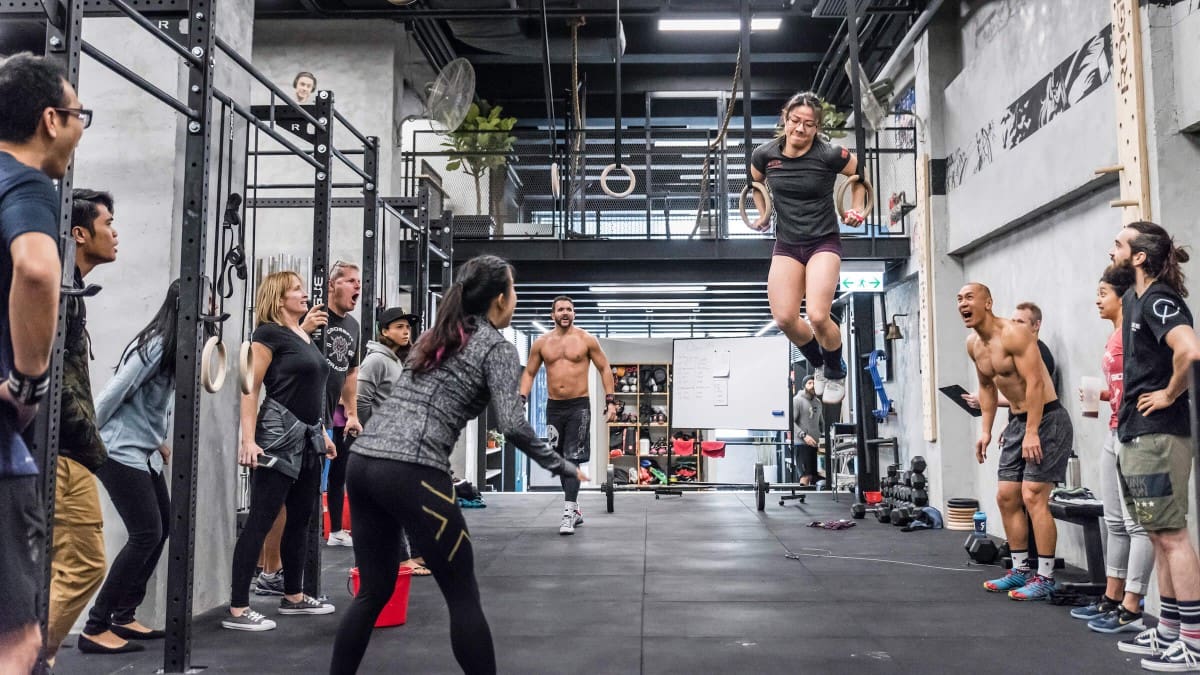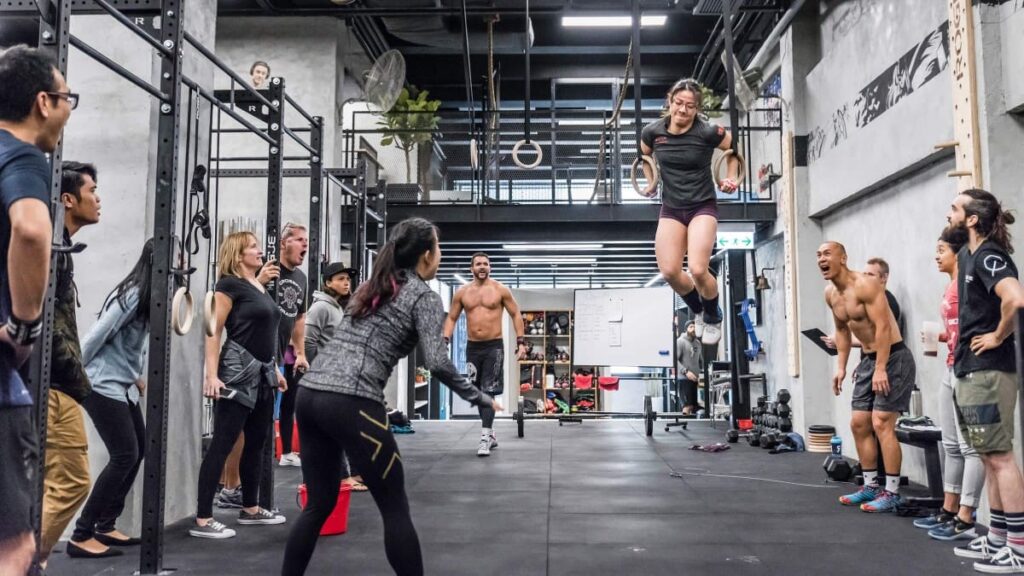 2022 CrossFit season biggest takeaways
The CrossFit Open remains a three-week long competition.
The new Age Groups and Adaptive divisions introduced last year are here to stay.
The Age Group Online Qualifier has been replaced by virtual Quarterfinals and virtual Semifinals for Teens and Masters.
Each stage of competition and division will have its own individual programming, so the workouts for Individuals, Teams, and Age Group athletes won't be the same or similar, which was the case last year.
Adaptive athletes will compete in virtual Semifinals following the CrossFit Open before selected divisions advance to the CrossFit Games.
There will still be 10 Semifinals overall (determined by Open registration numbers from 2021).
Only 10 athletes per Age Group Division will participate in the CrossFit Games.
Only Neuromuscular, Lower Extremity, and Upper Extremity Adaptive divisions will send their top five athletes to the CrossFit Games in Madison. Intellectual, Seated With Hip Function, Seated Without Hip Function, Vision, and Short Stature divisions will crown their Fittest Athletes after their Semifinal.
There is a chance the CrossFit Games won't feature any Age Groups in future, with these athletes competing in a separate, dedicated event.
"I'm super excited about this year's format and the foundations leading towards potential future years," said CrossFit Director of Sport, Dave Castro, in the latest CrossFit Games podcast.
What's still missing:
Full season rulebook.
CrossFit Open competing options, and whether the Foundations and At Home options will remain.
How many people will qualify to each stage of competition.
Location of Semifinals and which events will host them.