Just when you thought it was over, Dave Castro is here to tell you that it's not. We thought that 21.4 would be the only suprise of the 2021 Open Season… well it turns out we were wrong.
Earlier today, CrossFit's General Manager of Sport (and biggest troll) Dave Castro shared an Instagram post with the caption 'TWENTY ONE POINT FIVE' — indicating that there is one more week to go before the 2021 CrossFit Open officially draws to a close.
Check out the clue for 21.5: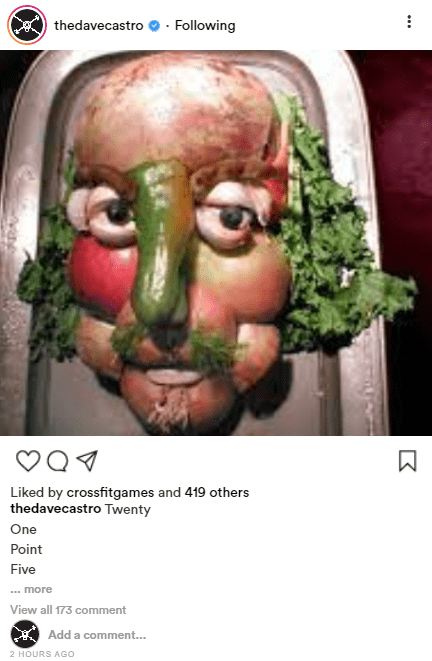 The image seems to be of William Shakespeare composed of varying different vegetables — yet another bizarre clue for CrossFit athletes to try and decipher ahead of the suprise live announcement.
A few good ideas have already begun to trickle in. @squatjunkie wonders whether it has something to do with turning your "legs to lettace [sic]," while @this_is_silly thinks it might be a tempest of pain. Finally @boxrox_fan thinks we're in for some dumbbell (pepper)s! Either way, all's well that end's well for the surprise final workout for 21.5!
Dave Castro's workout clues are an infamous part of the CrossFit Open, even if they don't make a huge amount sense and especially when they are completely and entirely fake.
Charities to Support
Project Onyx aims to eliminate the barriers that underrepresented and underserved people of color face by providing affordable and accessible health and fitness services, mentorship for our youth and future professionals, and empowering our communities to become more culturally proficient, healthy, and active.
The Out Foundation's mission is to remove barriers LGBTQ+ people face in sport. They are dedicated to nurturing, empowering, and celebrating LGBTQ+ bodies and minds, to guarantee that the community thrives.
The CrossFit Foundation is the charitable arm of CrossFit, LLC. They support the work of CrossFit affiliates and charitable organisations that use CrossFit to serve the needs of their diverse communities.
Their work includes support for kids programs in K-12 school districts and underserved communities around the world, veterans organizations, cancer survivors, communities in recovery from substance abuse and addiction, and many others.