The German Throwdown and Atlas Games, CrossFit Semifinal events for Europe and North America, have both moved online, CrossFit announced.
"After evaluating relevant travel restrictions and likely limitations on live sporting events, CrossFit and local event organizers have mutually decided to transition the German Throwdown and the Atlas Games to virtual events hosted by the CrossFit Games," CrossFit wrote in the press release.
"Currently, all other Semifinals are moving forward as in-person events as originally planned."
The German Throwdown and Atlas Games will now be managed by CrossFit.
"We couldn't be more devastated to once again can't hold an event due to Corona, just like last year with our Sanctional," the German Throwdown wrote under Dave Castro's Instagram post announcing the news.
"Wishing all athletes good luck for qualifying to the games and fingers crossed that the other events can take place"
View this post on Instagram
Catchall Virtual Semifinal
The Catchall Virtual Semifinal is a newly introduced event to "allow any athletes who were unable to travel to their respective Semifinal due to local COVID restrictions a chance to compete," CrossFit announced.
The new CrossFit Games qualifying rules, which require athletes to compete in the continent they hold citizenship in, affected athletes such as four-time CrossFit Games champion Tia-Clair Toomey and two-time Fittest Woman on Earth Katrin Davidsdottir, both of whom reside in the US but would have needed to travel to Australia and Europe respectively for a chance to qualify.
The Catchall Virtual Semifinal is scheduled for June 18-20, 2021. Athletes in the Catchall event will only compete against each other.
More details are meant to be released in the coming weeks.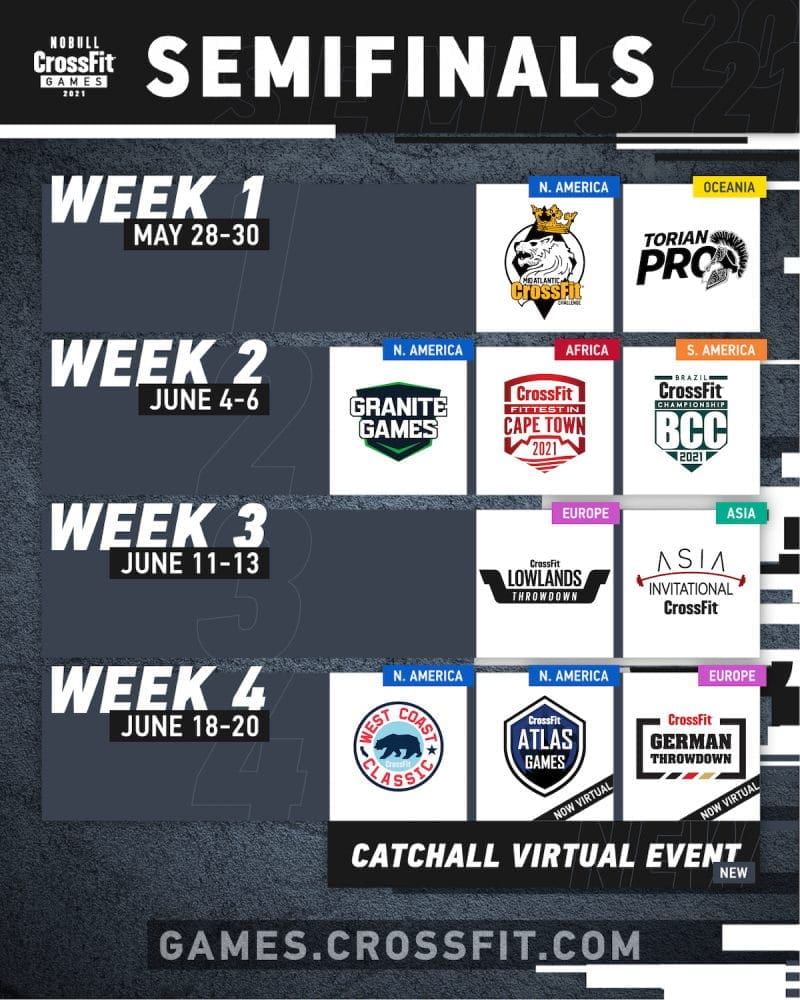 Source: CrossFit Inc.
Read the full announcement from the German Throwdown below:
"Together with @crossfitgames, we are monitoring the continuously changing developments and regulations relating to Covid-19.⁠
"As a sporting event with a large number of participants, we are bound by local health and event guidelines. Furthermore, due to the international participants and partners, we are dependent on international travel restrictions. After an in-depth analysis of the new Corona regulations, CrossFit and us came to the conclusion that a CrossFit semifinal cannot take place in Germany at the moment. The CrossFit German Throwdown will therefore take place as an online semifinal, which will be hosted by the CrossFit Games. Together with the CrossFit Atlas Games, which shares the same fate as us, we wish all athletes good luck and success in the further course of the season.⁠
"Our fingers are crossed that the situation will calm down by November and that the German Throwdown Classic can finally take place in Mainz again.⁠"
View this post on Instagram
Read the full Atlas Games announcement:
"There is so much out of our control.
"As much as we would have loved to provide the @crossfitgames athletes an in person competition, the current situation in the province leaves much to be desired.
"We want to congratulate everyone who participated in the Open, and send a special shout out to the athletes moving forward to the quarter finals.
"We hope that by announcing this early it allows the North American athletes to better plan their season.
"More information about the CrossFit season can be found at games.crossfit.com"
View this post on Instagram