Five years ago Jason Grub was 37 years old, unfit, overweight, drinking at least three or four beers a night and classed himself almost an alcoholic. He ate mainly processed junk food including tons of ice cream, pizza and Doritos. 
If you had told him back then that within five years he would embark on a journey of CrossFit, including training five to six times a week and winning the CrossFit Games, he would have never believed it possible. 
Jason genuinely believed that the DNA in his family meant he would follow along the pathway laid out by his parents of obesity, poor health and disease. He used to run three to five times a week and thought that was all he needed to do to lead a healthier life. That was until he started CrossFit, changed his diet and really turned himself around.
"I just figured with my DNA, it doesn't matter what I do, I am going to end up obese," he said on the Up Before You podcast a few months ago.
At age 38, Jason was persuaded to try out a CrossFit class by one of his friends. In his first class HSPU's were programmed and, despite him being overweight and unfit, Jason had been a gymnast in his younger years and found he was still able to do handstands. 
He finished the class totally destroyed, absolutely loved it and was hooked. Jason trained five times that first week and then picked up an ongoing routine of six classes a week. 
Without making any changes to his lifestyle Jason noticed his body shape changing, he was also becoming quite a good and competitive athlete. This was the beginning of him making some serious life and health changes.
https://www.instagram.com/p/B1rDAQ2Ajq-/?utm_source=ig_embed
A year after starting CrossFit, Jason entered his first competition. He also completed his CrossFit Level 1 and opened his own affiliate. He learnt for the first time in his life about what a proper healthy diet was on the L1 course and followed CrossFit's recommendations from this point onward. 
Initially, his goal in 2017 was just to make the top 200 in the world in the 40-44 age group, allowing him to compete in the Age Group Online Qualifier (AGOQ), which he did aged 40. The following year he gave it everything he had and qualified for the CrossFit Games. 
His goal was simply to go and not to suck at it. He placed 4th. However, following disqualification from one of the other athletes on the podium due to a positive drug test, he was bumped up to 3rd place. 
A year later, in 2019 when Jason was aged 43, he found himself at the Games again and, after a dominating performance, he stood on top of the podium in 1st place. He showed the world and himself it is truly possible to break out of a lifestyle of poor nutrition and health and turn your life around to achieve great physical feats.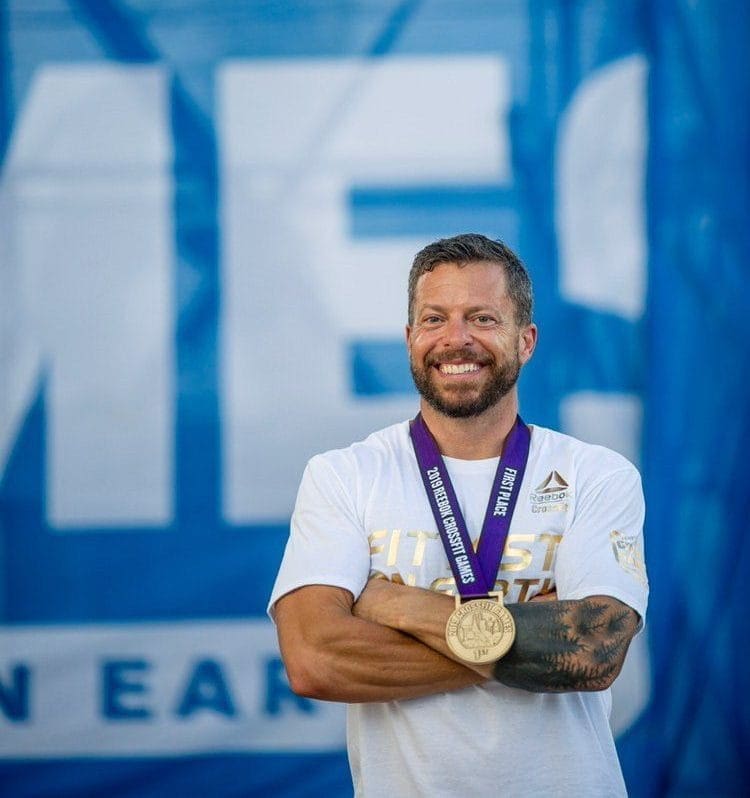 Breaking out the pathway of obesity and poor health
Around 35% of Americans are thought to suffer from obesity, which is now considered to be a chronic disease. A child with one obese parent has a 50 percent chance of being obese. When both parents are obese, their children have an 80 percent chance of obesity. Jason was one of the lucky ones who broke out of this pathway.
"It is possible to break out of the destiny you are locked into. Coming from an obese overweight family and really unhealthy nutrition wise, for a lot of years I thought 'man I am just buying my time before I am a big thick guy'. When I discovered a methodology like CrossFit, it is more than just a workout of the day. It's a lifestyle," said Jason.
"You can literally rewrite the story that was laid out in front of you. I feel like my DNA was that I was going to be a big guy and I was probably going to end up sick as a 50 or 60-year-old. It isn't easy but it's not out of grasp. It is just an hour a day 5 days a week. I eat a lot of food but just different healthier food."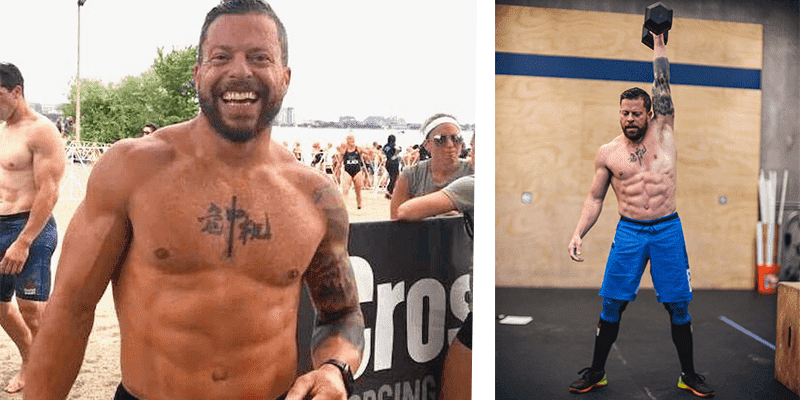 Source: Photos courtesy of Jason Grubb
Who is Jason Grubb?
Along with being an elite CrossFit athlete, Jason is a father of four kids aged between three and 21. He has an interesting career history working in human resources, as a high school teacher, recruiter, psychologist, wedding photographer, professional poker player, CrossFit Affiliate owner, and business entrepreneur. 
He is currently setting up a business to help prospective brides get fit for their weddings (vow to get fit) and also works one on one with athletes to help improve their performance. 
https://www.instagram.com/p/B0yQ3OmArgg/?utm_source=ig_embed
Jason trains 5 days a week, taking 2 days as recovery days, one active day and one total rest day. He focuses strongly on maintaining good nutrition, sleeping well and recovering well.
What's next in the Masters Athlete calendar?
Wodapalooza takes place in February with its hugely competitive Masters Division throughout all age categories. The Age Group Online Qualifier takes place on March 12 2020 and is a direct qualification route to the 2020 CrossFit Games, where the top 10 athletes will be given invites. This usually consists of five workouts over four days. Jason is competing in both these events in the 40-44 year old age group.
https://www.instagram.com/p/B3X0iCog4He/
–
Interested in CrossFit Masters Stories?
Helen Harding is the founder of The Masters Movement, a group set up to connect masters athletes around the world and sharing stories and masters related information. She's also a two-times CrossFit Games Champion (2016/2017) in the 40-44age group and a 4 times Pacific Regionals Athlete.
Professionally, Helen is a Physiotherapist with over 20 years clinical experience and has a special interest in exercise rehabilitation and health.