When setting up a Crossfit box, there are a lot of things to be excited about: Designing that remarkable logo, painting the walls in a stunning shade, purchasing all the amazing equipment that will give your members their best hour of the day for hundreds of days in the future. But getting the right gym floor might feel more like a chore with little to no prestige.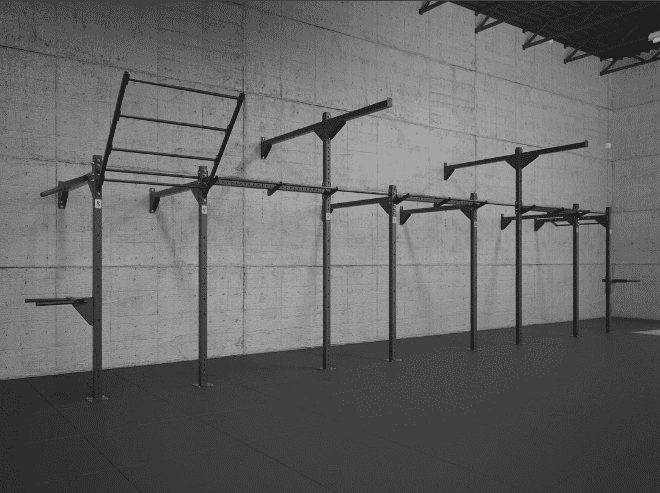 However, the flooring is of great importance for the quality that your box will offer. It directly influences the lifts and WOD's of every member. Ever experienced the struggle from a plyo box dangling with each jump? Or the search for an even, hole-free spot when doing a squat, with a (potential) PR on you back? Or a barbell bouncing through the whole class after dropping it from a S2O? Grant your fellow Crossfitter a hassle-free environment – staring from the ground!
FLOORING IN CROSSFIT BOXES – FINDING THE PERFECT ONE
Daily Metcon's in a group setting including heavy weights and jumping movements will put great demand on your gym floor. Consider the following requirements before purchasing:
The flooring needs to protect the concrete underneath from all kind of damage
Good flooring absorbs sound, making your box much quieter
Gym floors should absorb force and reduce the bouncing of fallen barbells to a minimum
Your floor should be perfectly even
A hygienic and easy to clean to clean floor material makes life convenient!
With that in mind, many box owner make the choice for gummi granulate. The material is recycled and therefore environmentally friendly and affordable. It spreads like a soft cushion all over your surface, greatly reducing the noise and protecting your ground flooring from cracks. Due to its high elasticity, it absorbs kinetic energy effectively and minimizes the bounce of dropped weights. One certified manufacturer for gym flooring is HOLD STRONG Fitness.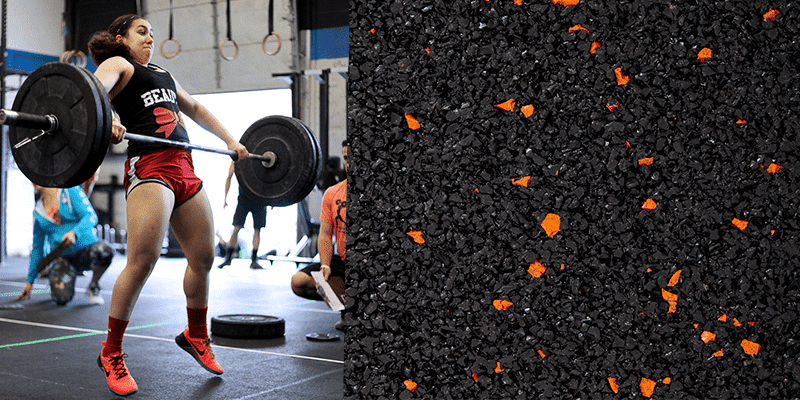 To ensure these functions, we recommend a thickness of at least 20mm. If facing a slightly uneven concrete, and for gyms located on a higher storey, 25mm or more are highly reccomended.
GYM FLOORING: SQUARE, PUZZLE OR FLOORING FROM THE ROLL?
Gym flooring sold in single pieces is a popular choice. Squared segments of the standard measurement 1000 x 1000mm are convenient; they can be easily laid and cut without special tools to fit small rooms, narrow spots, corners and areas around object such as rigs and racks. These are also very handy for home gym owners.
Having a few spare pieces in stock is a great way to build temporary "lifting platforms" for outdoor usage on sunny days, training or for competitions.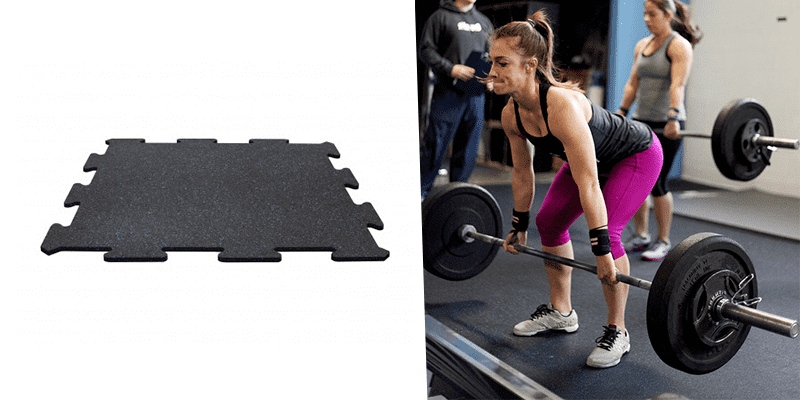 The purchase of flooring in puzzle pieces comes with the advantage of a tape and glue free installation. High quality puzzles interlock effectively and eliminate any sliding.
In case you have a large area to cover, flooring on a roll enables you to lay it quickly with the minimum number of gaps – a very smooth and safe surface is created. Perfect for double unders and everything dynamic.
TURN YOUR FLOOR INTO A BOLD COLOUR STATEMENT
Flooring doesn't need to be boring at all! It can contribute to your unique box design and colour concept. By adding EPDM particles of your preferred colour to the gummy granulate, you can go beyond the usual grey and black. Also, the marking of specific areas (lifting, sprinting, sled push etc.) is possible and will help to take WODs to the next level. Be creative and make your box a feel good place!
Improve your Box or home gym now!