It was the biggest success for a Slovak CrossFitter in history. By now, Slovakia was represented at the European/Meridian Regionals in the adult male category three times by Jindřich Tovaryš (2012, 2013) and Ľudovít Czókoly (2017).
Nina did sports gymnastics for seven years and earned the title of Slovak champion. She quit gymnastics at the age of twelve and for a while she was trying different sports. Finally, her mother brought her along to a CrossFit class in Trnava, a town in the west of Slovakia. We interviewed Nina and her coach Rado Erent at his Different Athletics gym in Trnava in August 2017, shortly after her return from the Games.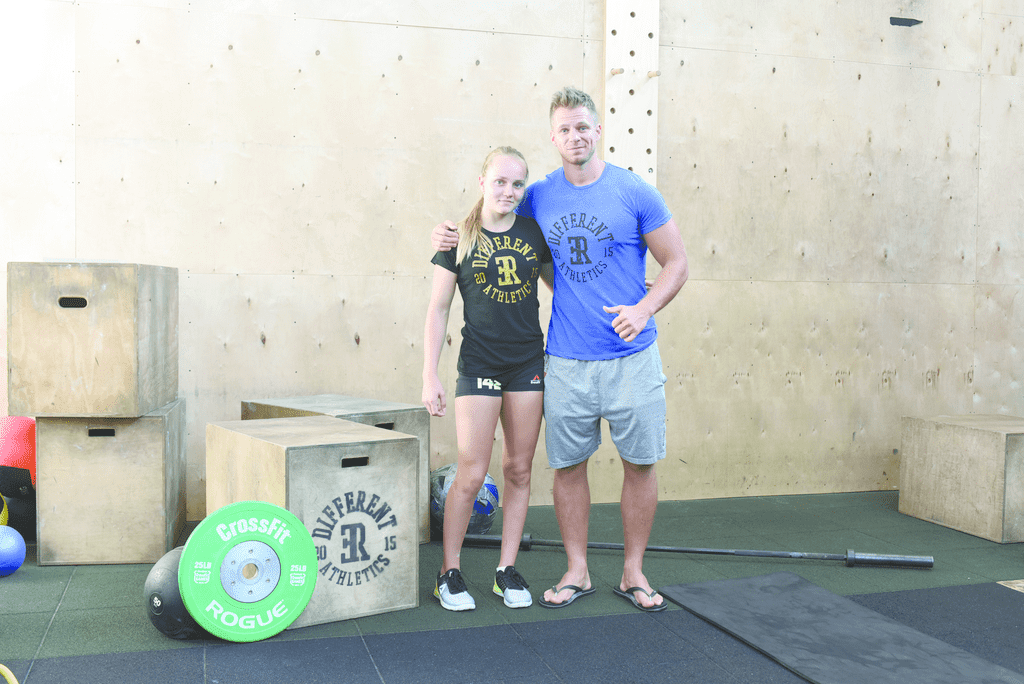 NINA LADVENICOVÁ
Age: 15
Height: 163 cm
Weight: 53 kg
Home: Trnava, Slovakia
Max back squat: 95 kg
Max snatch: 57 kg
Favourite meal: chicken with rice or a hamburger
Favourite CrossFit move: hand-stand walk
Instagram: @nina_ladvenicova
How did you start with CrossFit?
Nina: "Initially, I did not like it but later I discovered myself in the gymnastic stuff. I attended the group sessions and eventually added individual trainings with Rado Erent, the owner of the Different Athletics gym in Trnava.
How did the first sessions look like?
Rado: "In the beginning, we did CrossFit for health and fitness. It was a functional training with elements of CrossFit. After Nina´s first competition success in 2016 I approached her parents and suggested that I could prepare her for the Reebok CrossFit Games Open in her category. It required regular sessions with more challenging exercises and heavier weights. In the first phase she needed to get stronger, because weightlifting is an important part of CrossFit."
Nina: "From September 2016 I started training seven times a week, with lot of barbells and lifting."
What is your training philosophy?
Rado: "A competitor in CrossFit must be good in all domains, which was proved by the 2017 Games, where the events included swimming, cyclocross, obstacle course or the hay bale clean burpees. Therefore we use multiple methods."
Nina: "I used to have swimming sessions, run sprints in the hills or on the track, in order to be prepared for everything."
https://www.instagram.com/p/BZ1pt2QnEvO/?taken-by=nina_ladvenicova
What is the most important element in training?
Rado: "Nina is still young, therefore we focus on balanced development of the whole body. Main focus is on proper execution of movement – not the intensity, which is usually around 70 percent. We also use the principles of functional bodybuilding, popularized by several athletes and coaches nowadays. It is about technique and proper engagement of the muscle, which improves coordination and stabilizes the key joints. Well prepared joints better absorb the stress from intensive workouts."
How do you eat?
Nina: "I eat a lot of vegetables and around the sessions also fruit. If there is a suitable "athlete friendly" lunch in the school canteen, I eat there. If not, I have my lunch prepared by my mom."
Rado: "We cooperate with nutritionist Viktor Bielik, who prepared a complete meal plan. She needs lot of energy to fuel the workouts, which she gets mainly from rice and potatoes."
Are you taking any nutrition supplements?
Nina: "I take branched chained amino-acids BCAA, protein drinks, geiners, glutamine and vitamins. Before a competition I add creatine but none during the off-season."
How did you like America, where you competed at the Games?
Nina: "It have been there several times but this was my first time in Madison and Chicago. I visited a few gyms. CrossFit is more popular and more developed back there than here in Slovakia."
https://www.instagram.com/p/BYWRVl0hnmh/?taken-by=nina_ladvenicova
How do you combine school and workouts?
Nina: "So far, I managed. I used to have morning sessions instead of school, so I had to do a lot of self-study. But it was not difficult."
Rado: "She finished the school term with straight ones (A grades, Slovak schools use numerical assessment).
What are your plans for the future?
Nina: "Winning the Games in 2018 or finishing in the top three would be great. Apart from that I started studying at a sport high school in Bratislava. In the future I would like to be a professional coach."
https://www.instagram.com/p/BY8vCgoHxFa/?taken-by=nina_ladvenicova
Sample workout:
Nina trains 5-6 days a week. On Monday, Tuesday and Friday she starts the morning session with weightlifting, focusing on improving technique and building special endurance. It is followed by additional exercises for lower or upper part of the body. Apart from that she does metcons for developing special endurance and work capacity. On Wednesday shoe works on thrusters and longer endurance WOD with muscle-ups and thrusters. On Saturday she does deadlift and works on the weak points that require attention. Thursday is an active recovery day with massage and sauna and Sunday is a complete rest.
Monday
Squat snatch, 12-15 sets with 70-80 percent of one rep max
Snatch grip high pulls
Front squats with 70-80 percent for 3-5 reps
Pulling moves, for example weighted pullups or rope climb
10-15 minute MetCon, which includes barbell exercises
Teen CrossFit Athletes – Developing the Next Generation