We are now into the second weekend of the 2016 Regionals, with the athletes from the West and the Atlantic regions currently battling it out for places at The CrossFit Games. Next weekend, from May 27-29, the Central, Meridian and East regions will begin, and then the final roster of athletes will be completed.
When the events were announced by Dave Castro, both Pat Sherwood and Sean Woodland from The CrossFIt Games Update show were surprised by the intensity and difficult programming of the events.
'Dave Castro, in his old age, has lost mind' Pat Sherwood said.
Sean Woodland, commenting on the programming behind the first events, stated: 'Just a couple of years ago, these two events would have been aggressive for the Games!'
But from heavy strength workouts such as the Snatch Ladder in Event 1, to the strict gymnastic movements of Event 2, the overall programming was well rounded, and didn't favour athletes with any one particular area of expertise. Check out all the events in detail here: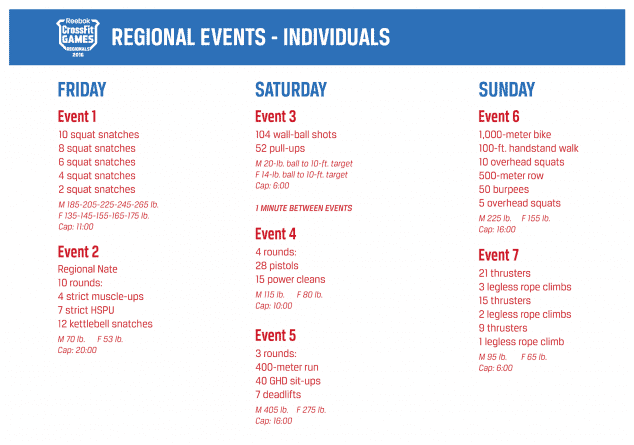 Castro claimed that it was all designed in a way that would clearly separate the Regionals athletes from the Games athletes, and did not allow for any weaknesses or gaps in an athlete's skillset.
This article breaks each event down and analyses it according to how the Regional Athletes tackled them. If you, like most of us, are not (yet) at a Regionals level standard, then this guide will also help you if you fancy scaling the WODs and giving them a go yourself. It's always worth setting yourself a challenge every now and then.
EVENT 1
Go heavy, go hard! This Event is a pure Weightlifting Workout.
10 squat snatches (185/135 lb. – 84/61 kg), by 2:00
8 squat snatches (205/145 lb. – 93/66 kg), by 4:00
6 squat snatches (225/155 lb. – 102/70 kg), by 6:00
4 squat snatches (245/165 lb. – 111kg/75 kg), by 8:00
2 squat snatches (265/175 lb. – 120/80 kg), by 11:00
'The athlete's score for this event will be the time it takes to complete all required lifts. In the event an athlete fails to complete all required reps before time expires, they will receive a 1 rep penalty for each rep not completed. Additionally, the time at which an athlete finishes all required reps at a given weight will be used as a tiebreaker.'
HOW TO SURVIVE
By watching the Athletes performing, it is noticeable that although the Workout contains many reps of the same exercise, almost no athlete ever chose to use touch and go reps.  Watch Kara Web or the athletes from the California Regionals doing Event 1. They focus on their technique and body tension and take it steady.
Even if it looks like it costs them time doing singles instead of touch and go reps during the early reps, it helps them reduce the risk of no reps, which would cost even more time and, moreover, quickly sap their strength! Anyway, you can't go too slow as there is a 2min time cap in every section!
EVENT 2: REGIONAL NATE
10 Rounds
4 Strict Muscle Ups
7 Strict HSPU
12 Kettlebell Snatches (70/53 lb.)
20min time cap
It was expectable that Event 2 would be more gymnastic because of the pure weightlifting Event 1, but seeing this Workout raised some fears. It seems that this Event is even harder than the original Hero Workout "Nate" 20min Amrap: 2 Muscle Ups 4 HSPU, 8 kb (70/53). Regional Nate brought a lot of struggle and an incredibly close finale in California.
HOW TO SURVIVE
It´s all about the pauses. Experienced athletes know well that it all comes down to the last few rounds. If you have such an intense and long workout that burdens your shoulders, you should refrain from going unbroken.
Watch how the Californian athletes split their mucle ups into 3+1 to save energy for the HSPU.
Image Sources
2016 Regionals event schedule: CrossFit
2016-regionals-programming: Crossfit Games