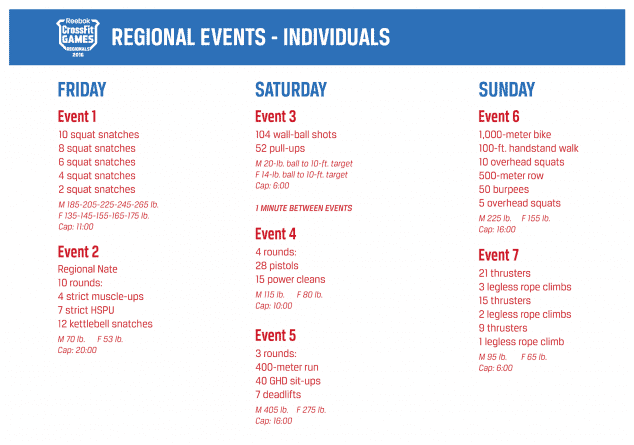 1. MAT FRASER SMASHES SNATCH LADDER RECORD
Finishing in second place for the last 2 years in a row has lit a fire in this talented and hard working athlete. He finished the first day with 2 first place finishes under his belt.
2. KATRIN DAVIDSDOTTIR WIPES THE FLOOR WITH HER EVENT 1 PERFORMANCE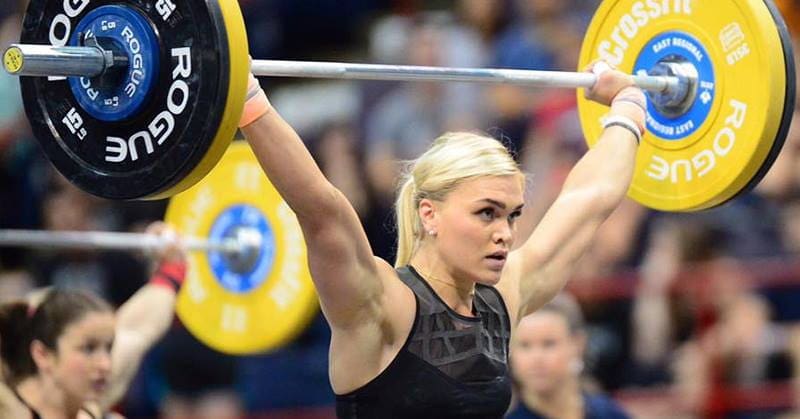 Katrin Davidsdottir, the reigning champ, was seconds off breaking Australia's Kara Webb's record time on the Snatch Ladder. She finished 1 second behind the Australian's time of 5:29.82 with her own time of 5:30.26. The former champion has looked unstoppable as she progressed through the East Regional.
3. AT THE END OF DAY ONE, MERIDIAN REGIONALS = ICELANDIC DOMINANCE
At the end of the first day, the Icelandic Athletes were commanding the leaderboard. Sara Sigmundsdottir sat in first, Annie Thorisdottir in second and Thuridur Erla Helgadottir in third. BK Gudmundson finished first in both events to secure himself a comfortable lead in the men's division.
4. THURIDUR ERLA HELGADOTTIR AND KARI PEARCE ARE THE ONLY WOMEN TO FINISH REGIONAL NATE
The standout performance of Event 2 went to Thuridur Erla Helgadottir, who was one of only two women that managed to finish, her time was 18:54. Her stylish and effortless gymnastic ability on the Strict Muscle Ups and Handstand Pushups put her minutes ahead of the other girls. She also brought the same fluid style to the GHD Sit Ups, which she absolutely stormed through as well. Kati Pearce from East Regional finished in 18:58.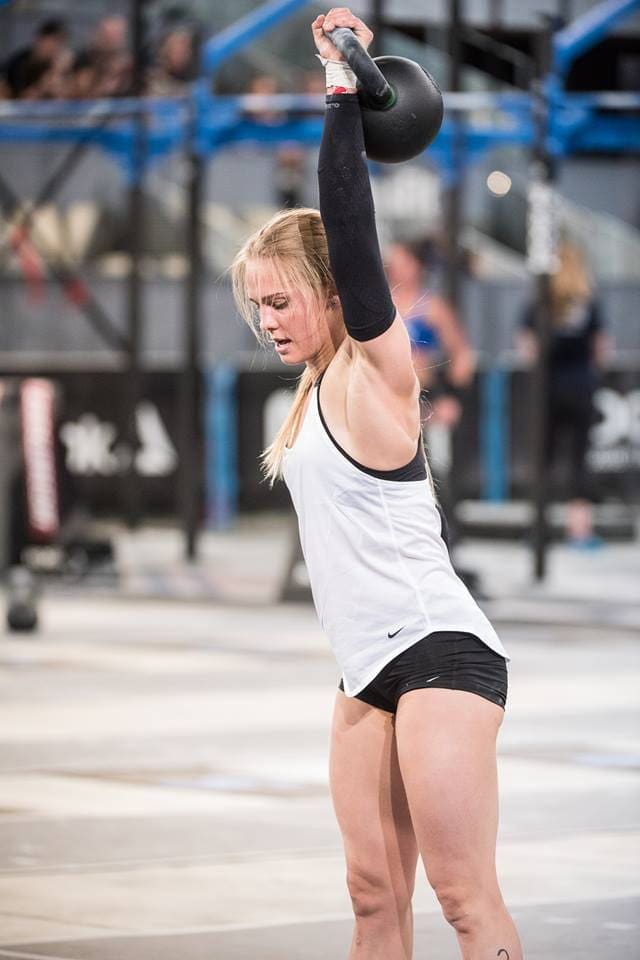 5. ELIZABETH AKINWALE WITHDRAWS DUE TO INJURY
6. THE SNATCH BATTLE BETWEEN ANNIE THORISSDOTTIR AND SARA SIGMUNDSDOTTIR
In the women's first event, there was a fierce battle between Sara and Annie, which came down to a matter of seconds. The competition between these two has raged fiercely over the last two days.
7. SAM BRIGGS SETTING BACK TO BACK RECORD TIMES IN EVENT 3 AND 4
Sam Briggs, the English Games veteran set back to back records in the two events. After finishing in 25th place in the Snatch Ladder, Sam Briggs had some catching up to do, and catch up she did! She showed incredible mental toughness and blew apart the competition.
'I just had to go crazy'
8. …ONLY TO HAVE THE FIRST ONE BROKEN IN THE NEXT HEAT BY ANNIE THORISDOTTIR!
The competition at the Meridian Regional has been crazy, with Annie, Briggs, Sara, Kristin and Emma battling it out between them.
9. THE CROSSFIT TLV TEAM PERFORM IN WOMENS CLOTHES
CrossFit TLV from Tel Aviv decided to switch up their outfits and wear something a bit more outrageous 🙂
10. ANDREA BARBOTTI BATTLES HIS HEART OUT AND EARNS HIS SECOND PLACE LEADERBOARD SPOT
This Crossfitter has put in some of the most consistent and gutsy performances so far. He led Event 5 from the beginning, with Esslinger, Koski, Hogberg, Mundwiler also working quickly. Barbotti keeps his lead. Stefano Migliorini and Gudmundsson were right on his tail.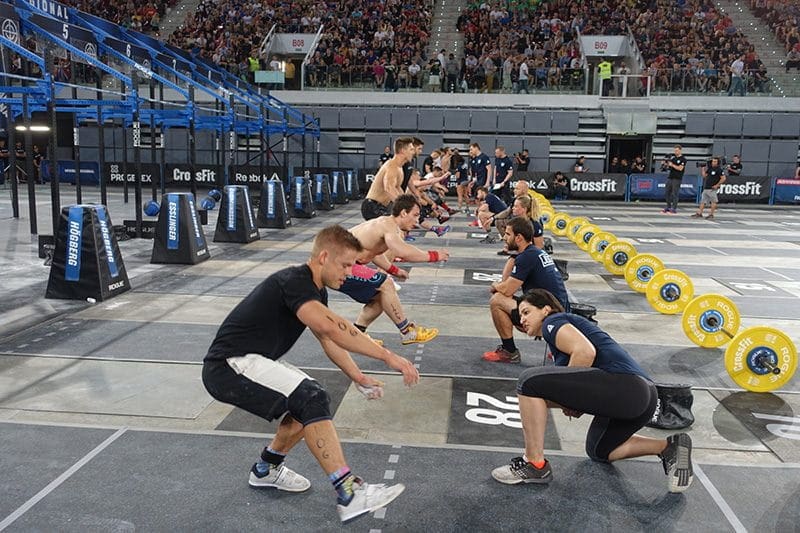 Gudmundsson managed to chase Barbotti down, and jumped onto the runner only a few seconds behind him. The Icelandic Athlete then took the lead by a few seconds going into the final round, but Barbotti won back his lead on the GHD, powered through the Deadlifts and won the event a few seconds ahead of Gudmundsson. Every athlete finished the event, and the standard was exceptionally high.
11. ANNIE THORISDOTTIR AND BROOK WELLS GET ALMOST IDENTICAL TIMES ON EVENT 3!
Annie set a blistering pace and secured a time of 4:35.24. Brooke Wells from Central Region was SO close to beating her record, and only out by a matter of milliseconds with a time of 4:35.88. The event consisted of 104 Wall Balls and 54 Pull Ups.
12. MAT FRASER WAS 1:04 SECONDS FASTER THAN BK GUDMUNDSSON IN EVENT 1
Here's a breakdown of the timings across the Snatch Ladder across the East, Central and Meridian Regionals
6:05 Mat Fraser (East)
6:10 Trevor James (East)
6: 50 Tim Paulson (East)
6:18 Alex Anderson (Central)
6:19 Scott Panchik (Central)
6:42 Sam Dancer (Central)
7:39 BK Gudmundsson (Meridian)
7:53 Lukas Esslinger (Meridian)
8:27 Mikko Aronpaa (Meridian)
13. JACOB HEPPNER IS A SUPERHUMAN WHEN IT COMES TO WALL BALLS!
Jacob Heppner (Central) managed to complete 104 Wall Balls and 52 Pull Ups in 4:04! This is not human!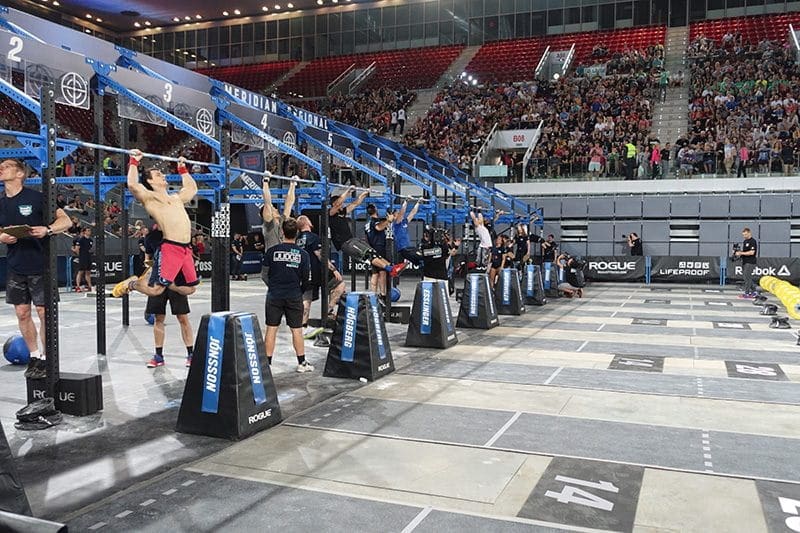 14. MAT FRASER HAS WON 4 OUT OF 7 EVENTS!
Fraser will go into the final day of the Regionals with an 82 point lead and 4 Event wins under his belt.
15. NONE OF THIS WOULD HAPPEN WITHOUT THE HELP OF THE VOLUNTEERS
As day two of the Meridian Regionals drew to a close, all the volunteers gathered on the event floor for a mass session of synchronised Burpees. Many, many hard working individuals had huge smiles across their faces as they joined in for this fun final event of the day. These people judge the athletes, roll out barbells, tidy up, set up equipment, and what's more, they do it for free! So here's a thank you to them all.
Image Sources
2016 Regionals event schedule: CrossFit
Katrin Davidsdottir: CrossFit Inc
Thuridur Helgadottir: Crossfit Inc
Day-02-Pistols: BOXROX
Day-02-Pull-ups: BOXROX