An individual competition which doesn't host a qualification – Ramon Gysin invites the athletes himself. The best all over Europe travel to Basel to find out if they are tough enough. Again this year, in the midst of other brilliant competitors, CrossFit Games and Regionals athletes competed alongside each other.
This year's edition was the biggest so far. Starting on Friday at 6pm, the athletes had to complete a punishing 7 events, one of which was an Outdoor Event – 2.5k uphill with a kettlebell. AYTE is also famous for heavy weights – one factor that makes the struggle real.
25 female and 35 male athletes competed at this year's Relentless Jeans Europe which tops the number of competitors in all the previous years. Also, the last two events on Sunday, including the final event, took place at the Fitness Expo 2015 in Basel – which was a new and challenging experience for the AYTE orga team and an amazing occasion for the athletes.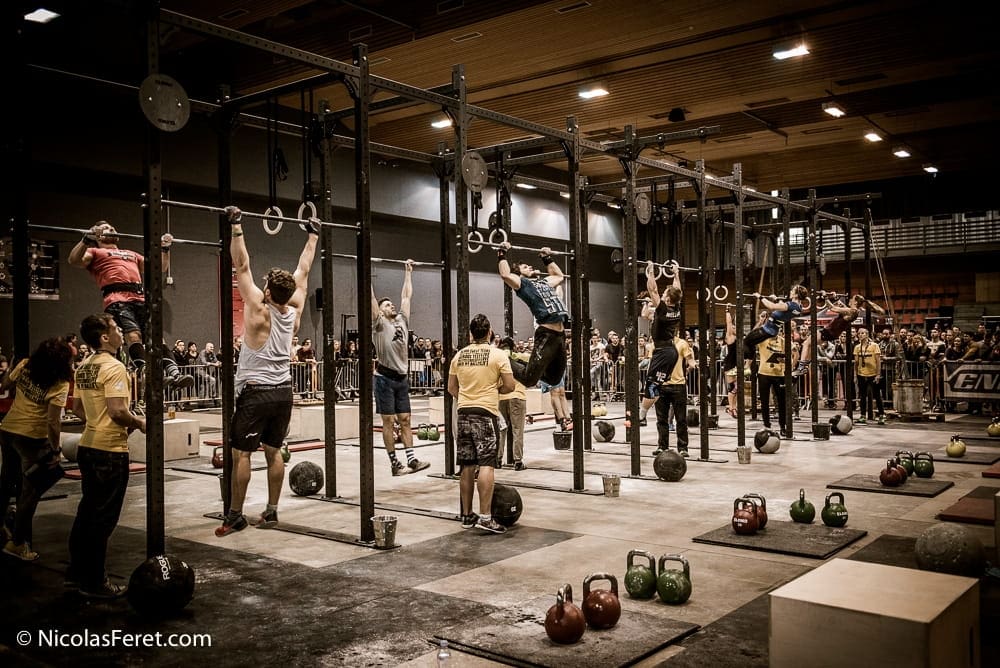 Friday started off traditionally with Olympic Weightlifting. Max Snatches and Max Clean&Jerks filled the box with the first screams and dropping barbells. Event 2 followed shortly after, the 'Boulevard of Skills' – which was pure entertainment to watch and clearly, the last calories on the Air Bike took the remaining reserves of energy for this day.
Event 2: PHKILLPH
1 min KB Overhead Squat (40kg/28kg)
1 min Handstand Hold
1 min Target Jump
1 min Double Rope Climbs Legless
1 min Airbike for Calories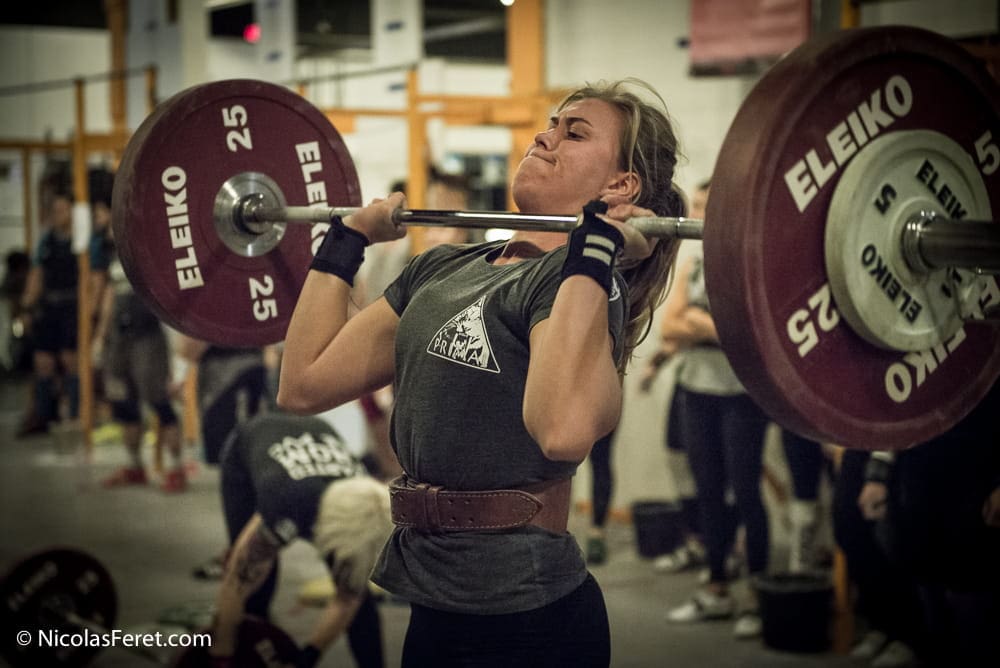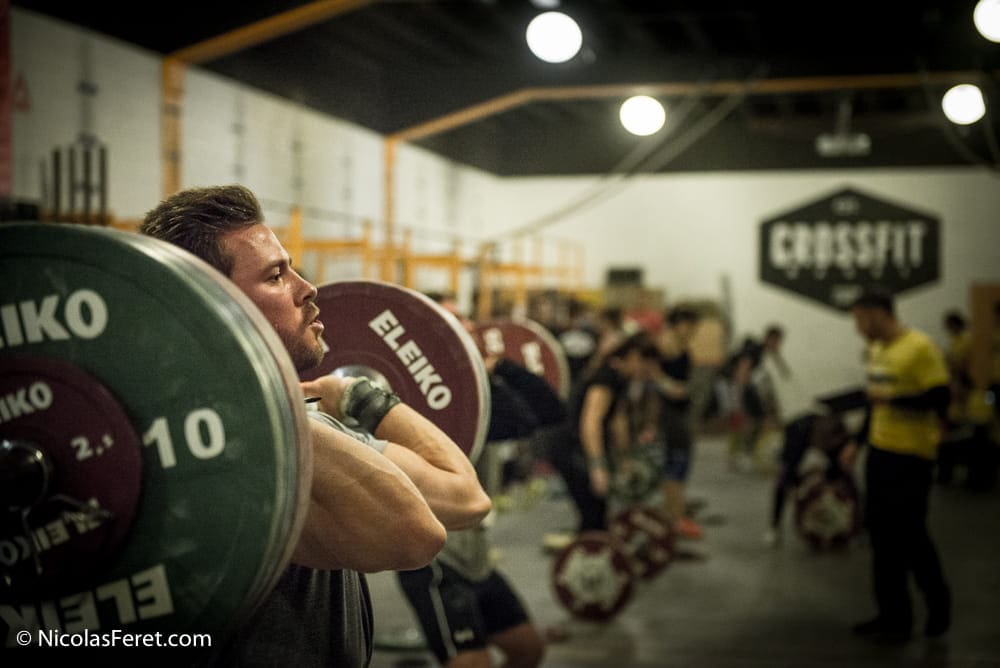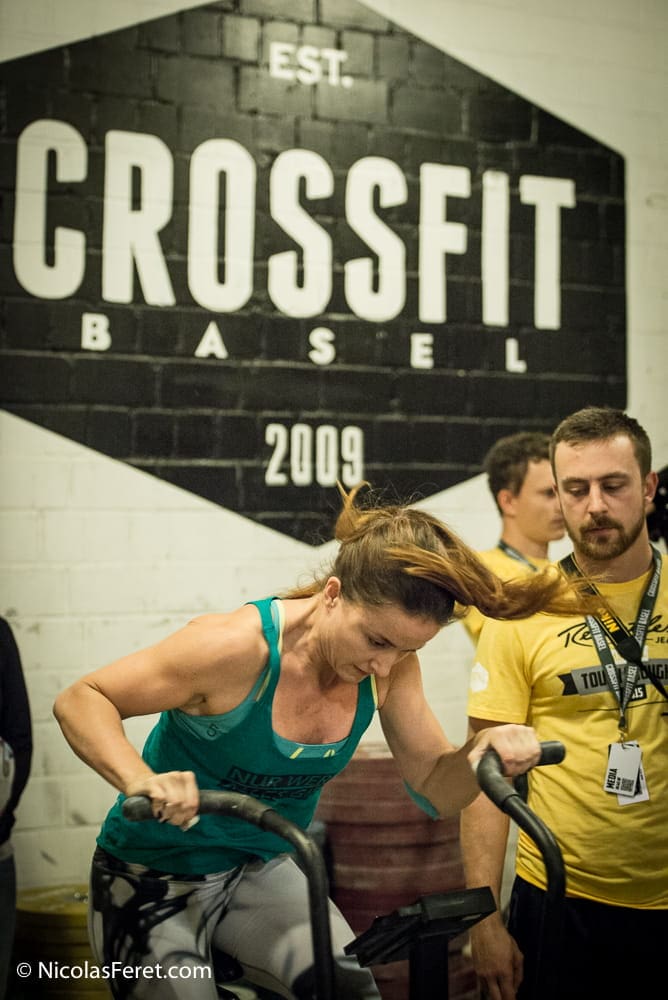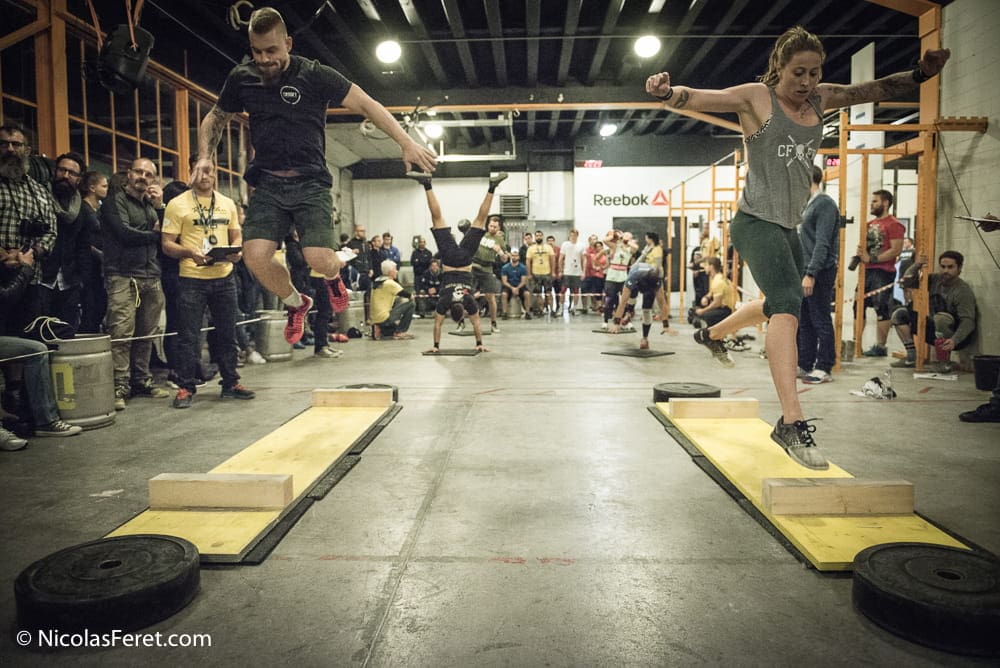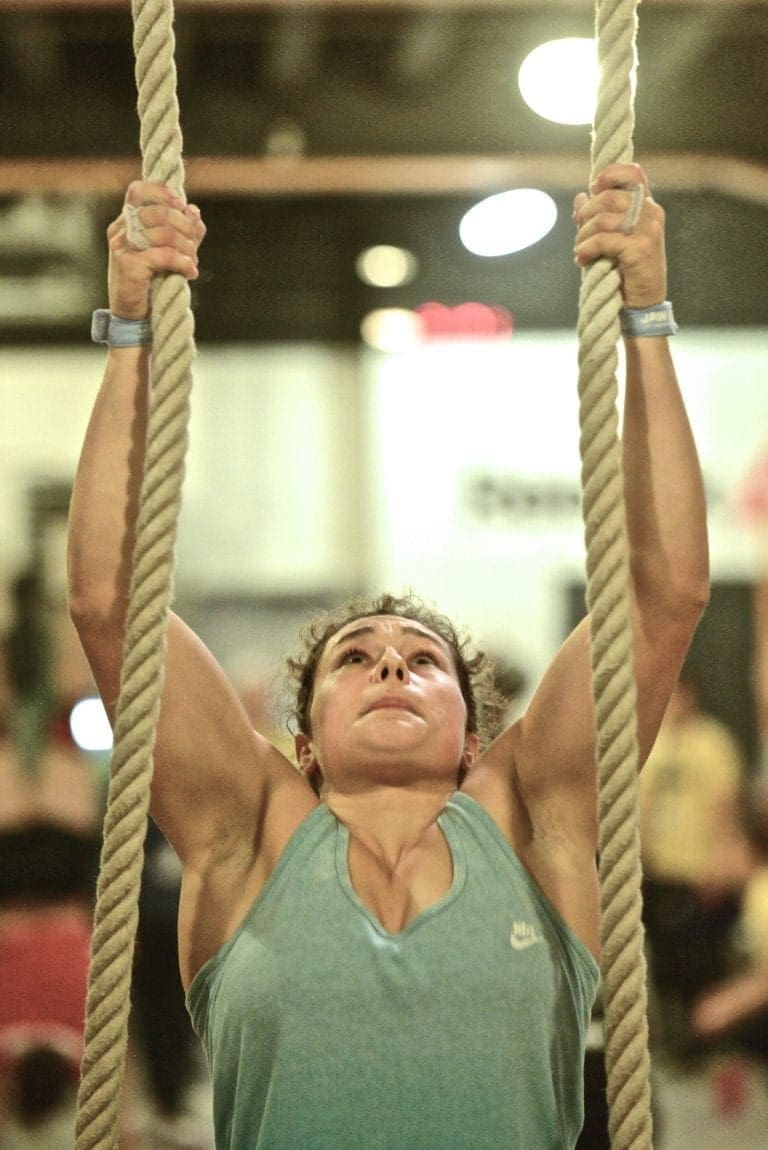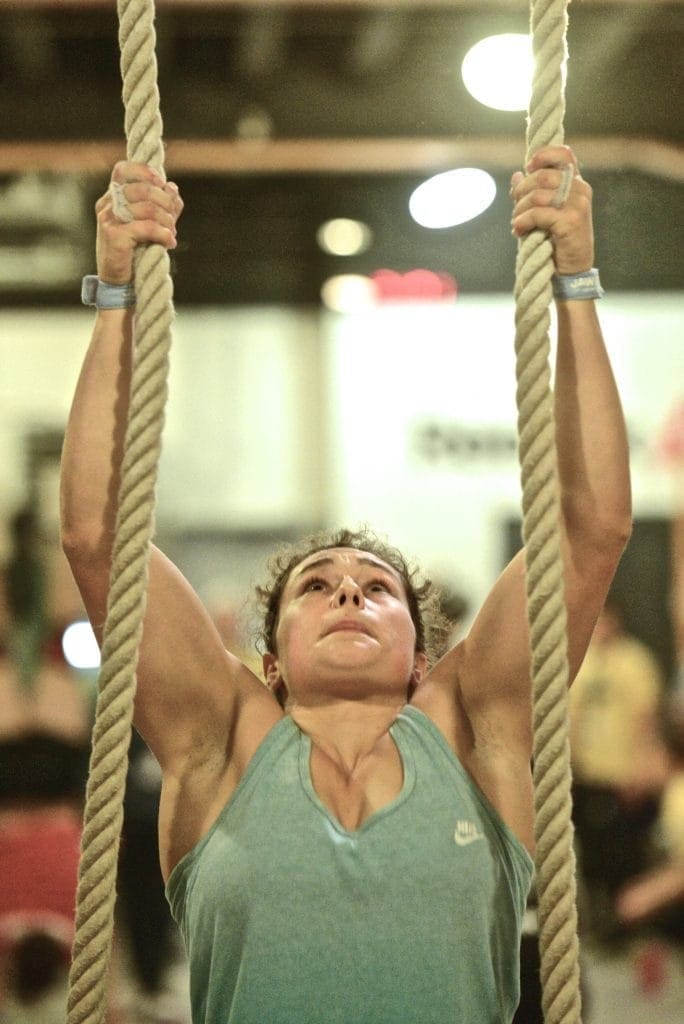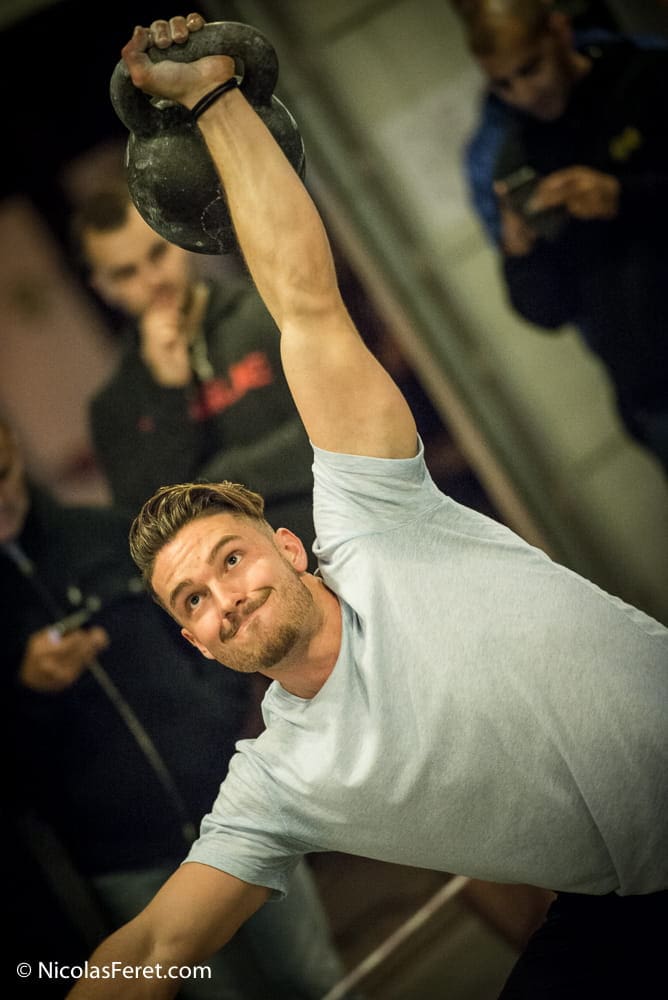 Saturday started off with Event 3, which was called 'Papperlappap':
In 3 minutes complete:
50 Double Unders
20 Toes to Bar
12 Overhead Squats (70kg/45kg)
In 3 minutes complete:
50 Double Unders
20 Toes to Bar
10 Thrusters (70kg/45kg)
In 3 minutes complete:
50 Double Unders
20 Toes to Bar
8 Snatches (70kg/45kg)
3 minutes AMRAP:
3 Bar Muscle Ups
4 Axle Deadlifts (150kg/110kg)
5 Burpee Box Jumps
No completion of one of the rounds meant that the athlete had to drop out. And indeed, only a few – the toughest – made it to the last round and lifted those Axle Deadlifts.
Event 4 seemed short – but obviously, these were the 7 longest minutes in many of those athletes lives.
Event 4 – In and Out 
3 rounds for time / time cap 7 minutes: 
3 rope climbs
4 Ground to Overhead (110kg/70kg)
5 deficit Handstand Push Ups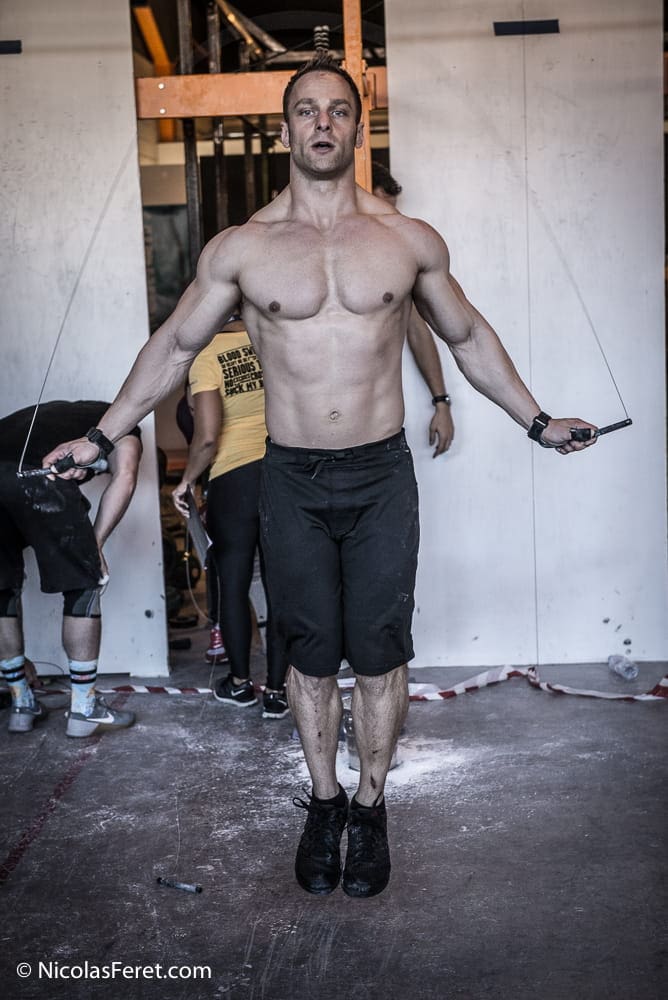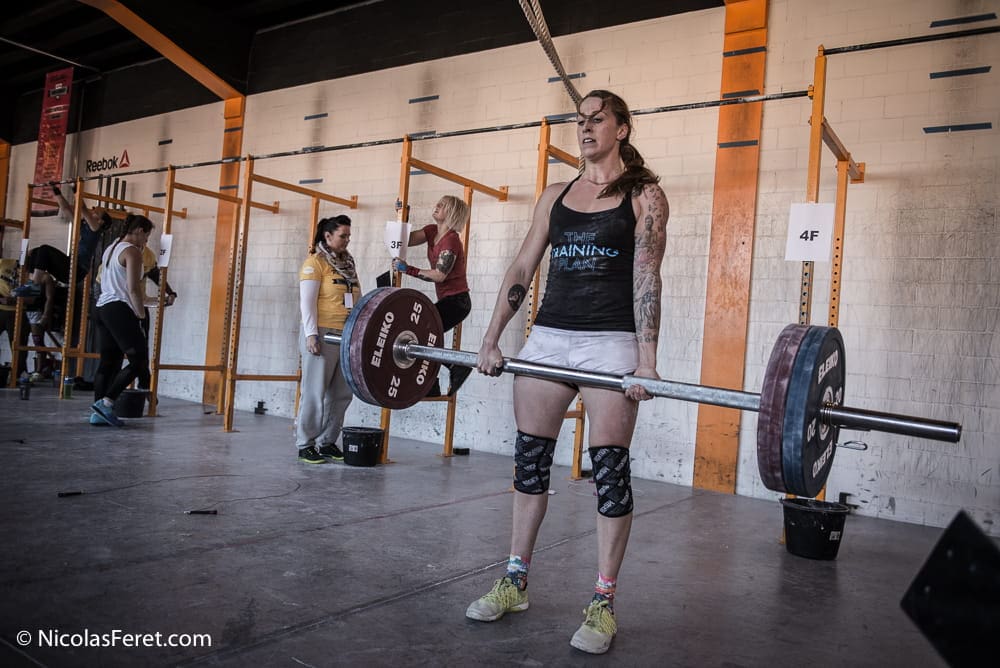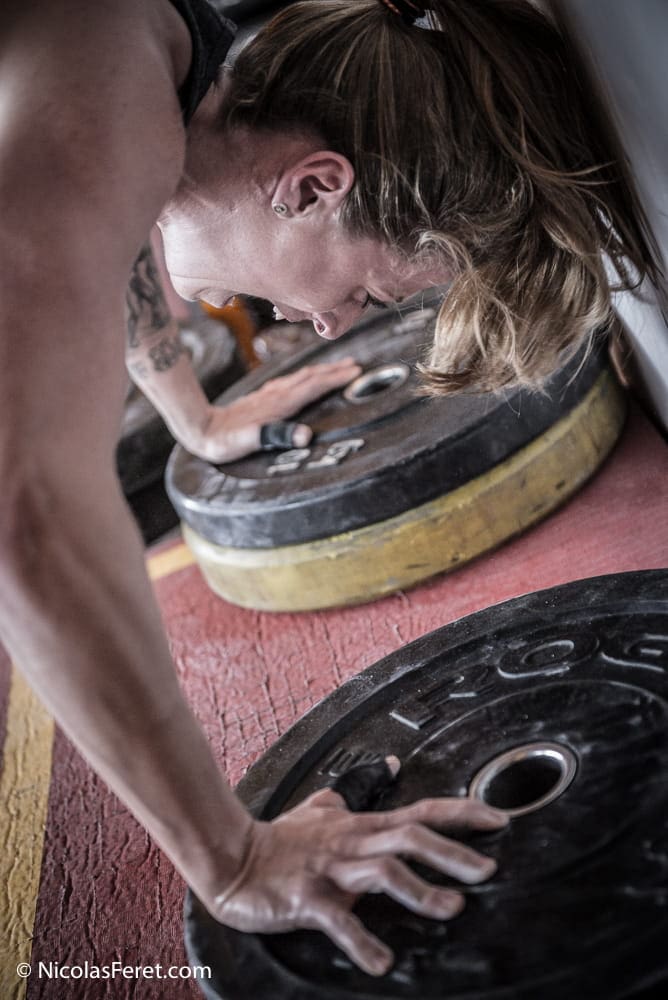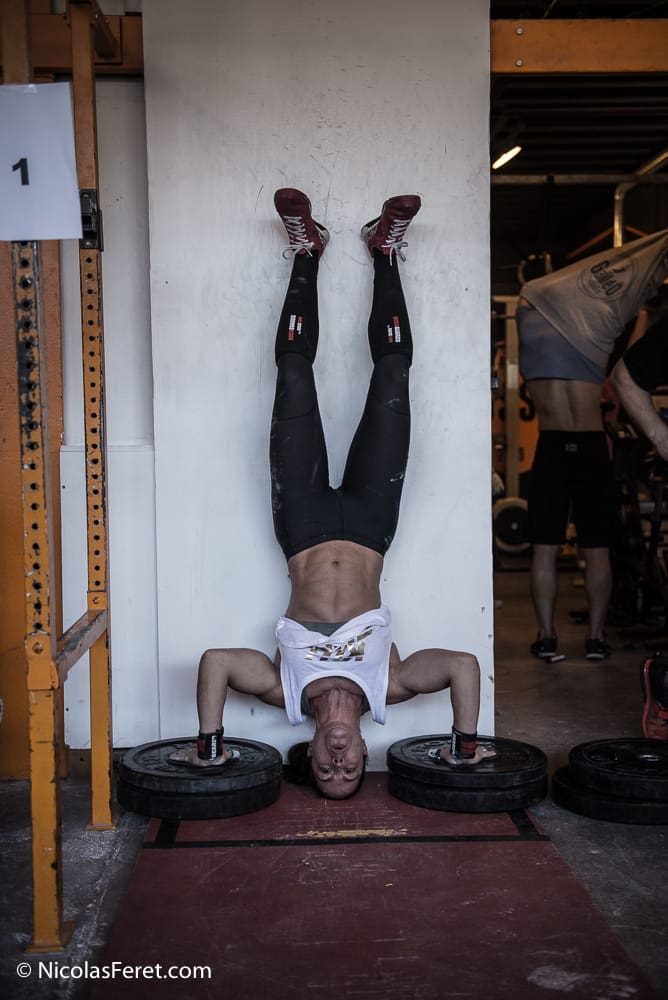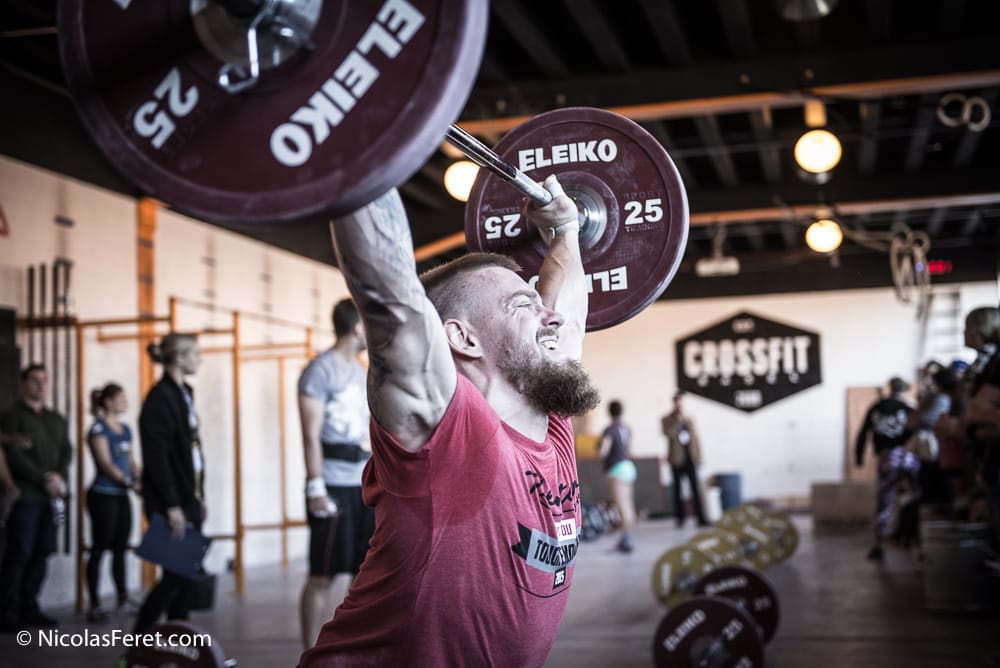 And when it started to get dark, Head judge Euan Robertson gave instructions for the Outdoor Event. Luminous vests were distributed, headlamps tested and kettlebells loaded onto the trucks. It was not clear yet what the task would be, until they were all thrown out somewhere in the dark forest with the advice to run uphill with the kettlebell until they see the big fire. Tough – after all they had been through already, let alone the thought that it was a cold and pitchblack night out there.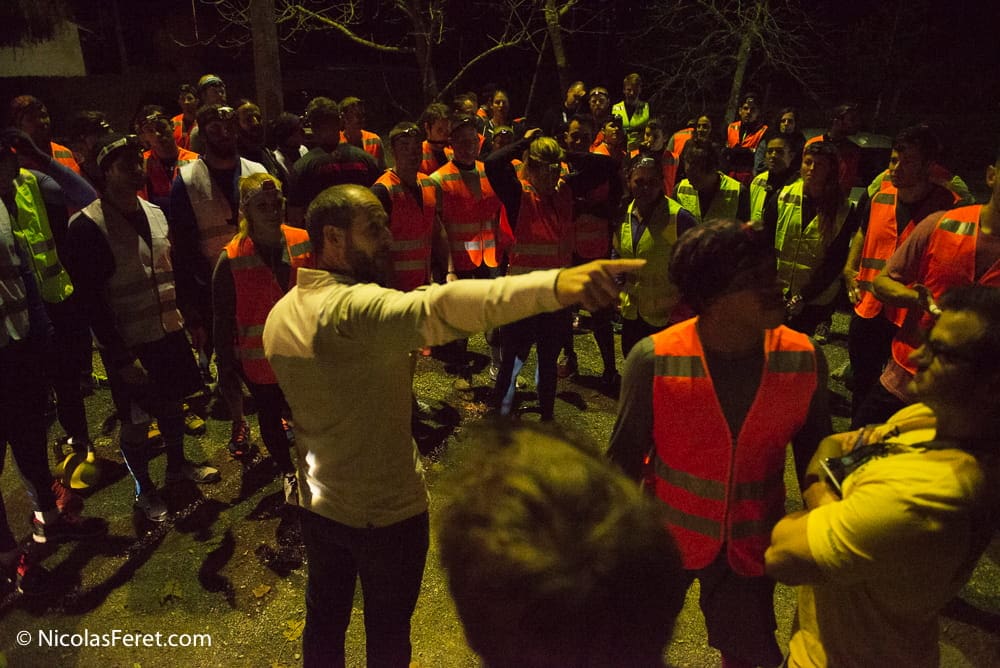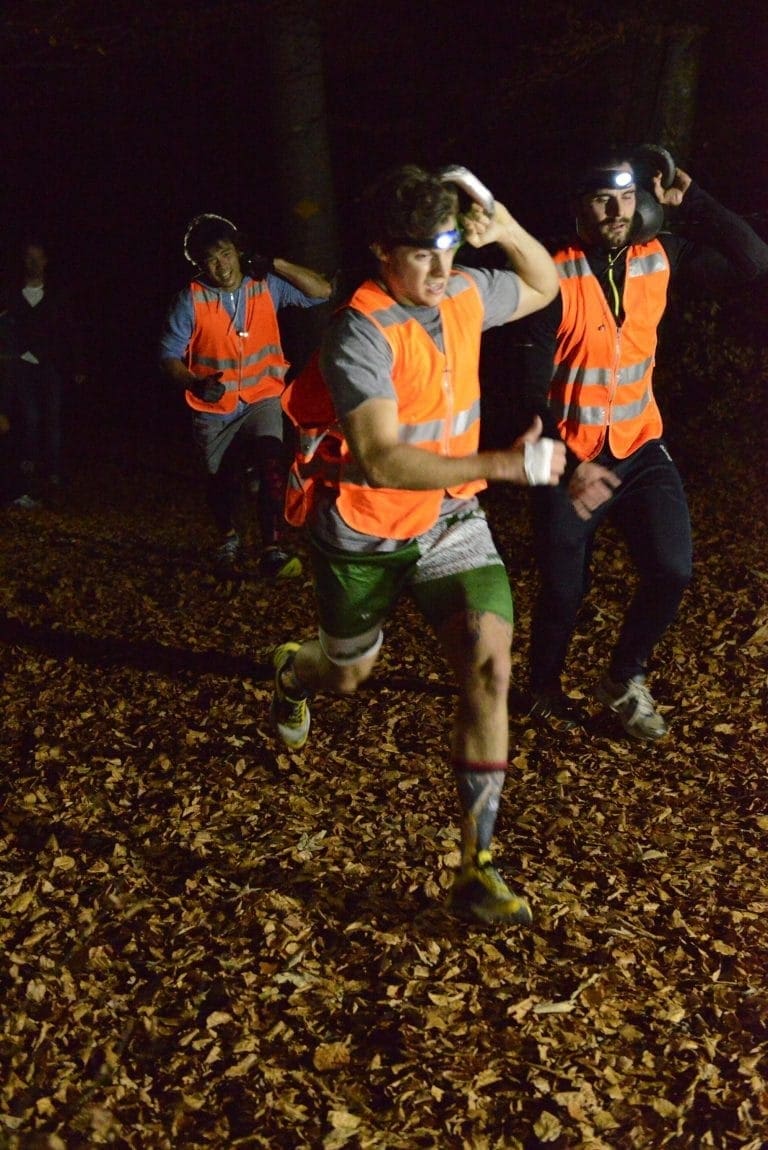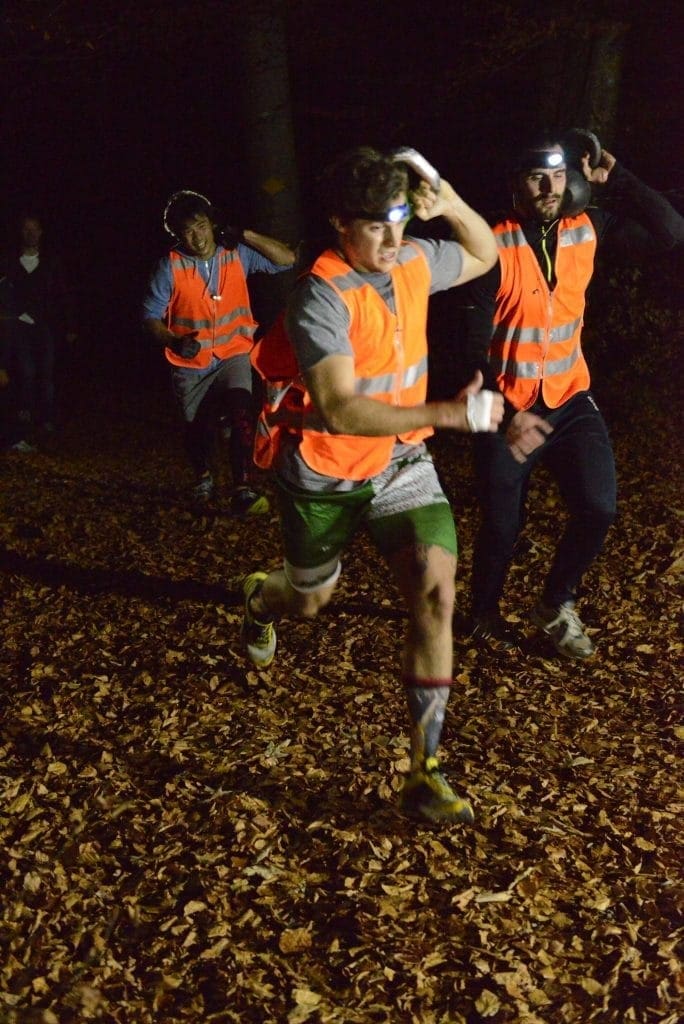 Returning to the box, everyone was served a delicious warm and homemade pumpkin soup and sausages – a traditional ritual at every AYTE so far. Athletes, Judges and Volunteers sat together, enjoying the well deserved and warm meal and chatted/laughed until the Briefing for the last day – the Sunday – started.
Well rested and ready for the last day and maybe the final, the athletes stepped into the hall on Sunday morning. Event 6 was the last one for some, and the longest workout of the competition for everyone. Suck my Ballz sucked in the best way possible:
Event 6: Suck my Ballz
10-15-20
Chest to Bar Pull Ups
Kettlebell Ground to Overhead
THEN
15 Atlas Stone to Shoulder
THEN
10-20-30
Wall Ball Shots (30lbs/20lbs)
Kettlebell Snatches (32kg/16kg)
THEN
15 Kettlebell Step Overs (61/51cm)
Timecap: 28 minutes
After these 28 minutes, some of the competitors sat in the cleavage to hope for a spot in the final event, or to hope for an end of the competition.
12 top females and 18 top males made it to the final event: AMANGEDDON – FUCKED UP.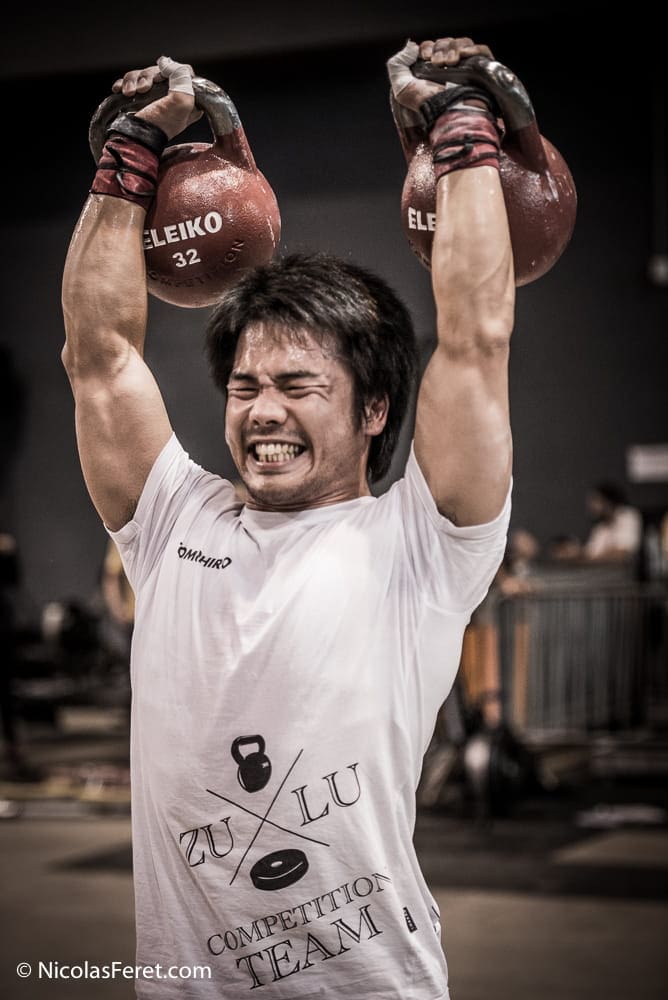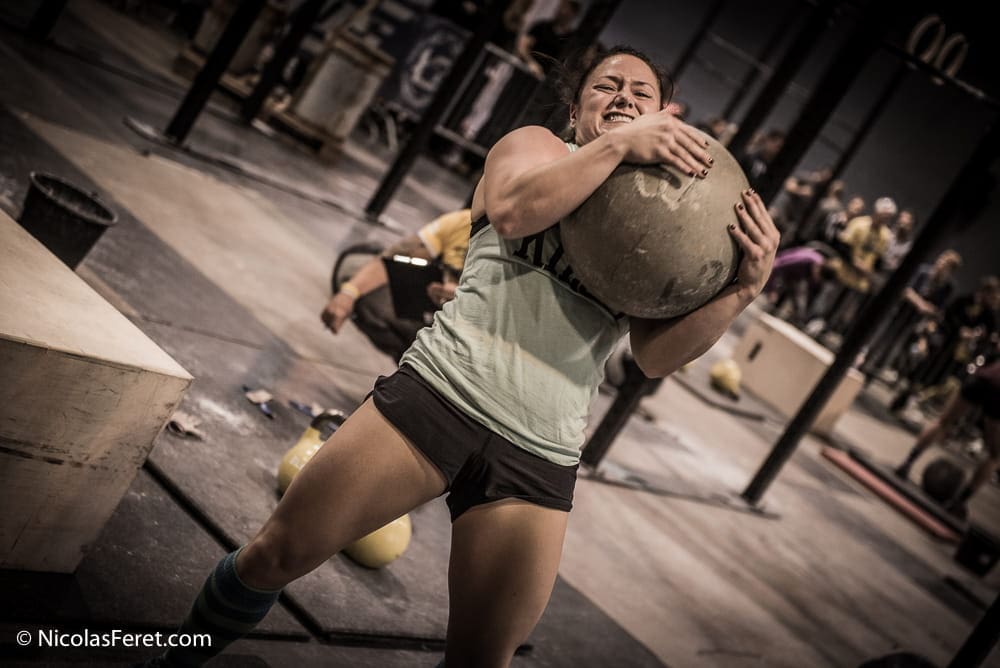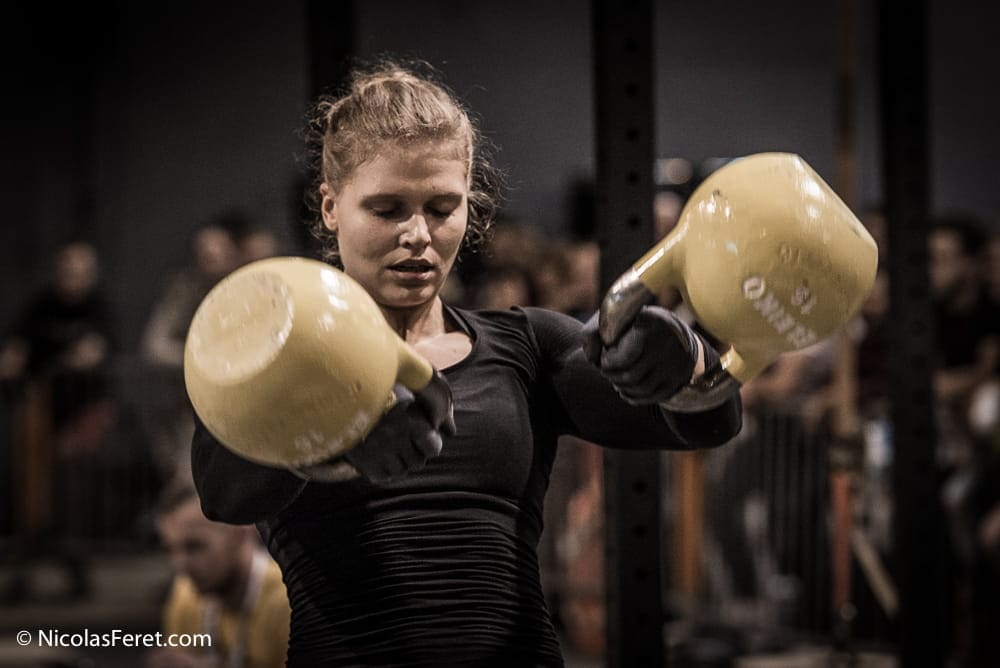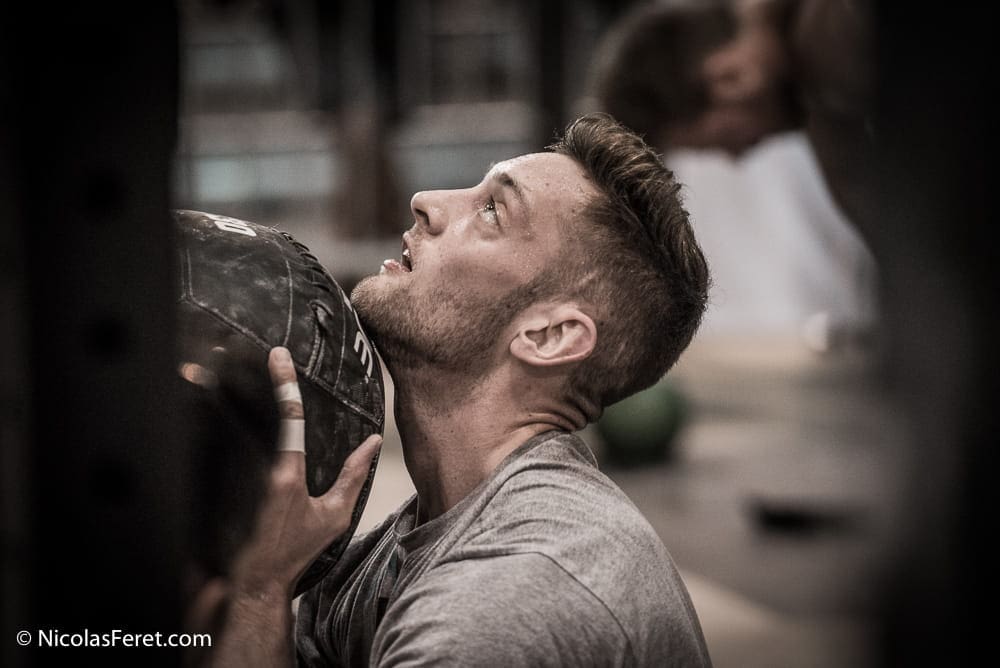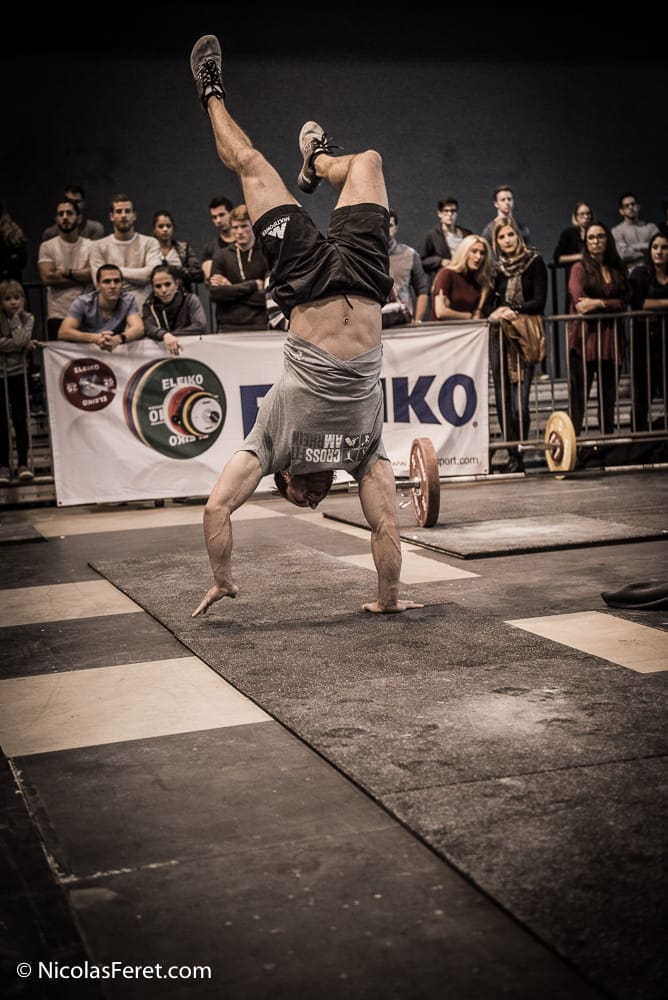 Finalists were:
12 top females: Manila Pennacchio, Lindsay Hurte, Ann-Katrin Weber, Lisa Lettner, Stephanie Haspel, Nora Jäggi, Elise Labrunie, Sarah Mentzen, Lena Prucher, Katrin Luethy, Vivi Viktorova, Renata Molliet, Anna-Carina Häusler, Emely Camara, Stephanie Haspel
18 top males: Jonas Müller, Henry Kulla, Rob Martin, Ramon Gysin, Markus Schmidt, Arnar Sigurdsson, Julian Reinhold, Christoph Büeler, Felix Egli, Yohann Gigord, Adrian Stetter, Tom Schwander, Manuel Strub, Bertrand Saugy, Goran Stefanovski, Dennis Hildebrandt, Joel Wächter, Gregory Hung
The last battle for the finalists started at 3:15pm and the atmosphere in the hall was amazing. The cheering audience, the blasting beats, the sweating and screaming athletes – it was huge. Once again, the CrossFit spirit made a clear appearance when some of the finalists were done with their workout and went to cheer on their rivals to help them make it to the finish line in the given time cap.
And then it was over.
Podium Places Females: 
Lindsay Hurte / CrossFit Turicum
Manila Pennacchio / CrossFit Team 059
Ann-Katrin Weber / CrossFit FRA
Podium Places Males: 
Jonas Müller / CrossFit Turicum 
Arnar Sigurdsson / Reebok CrossFit Valens
Henry Kulla / Reebok CrossFit Zürich 
Pictures by Nicolas Féret #nickferet
Teaser by Jan Degen and Florian Bertram
Relentless Jeans – Are You Tough Enough proudly supported by #EleikoSports and #Reebok
Find RJE – AYTE on Facebook!