The functional fitness running workouts in this Editorial will help you to enhance your conditioning, health and performance, whilst providing the right equipment to maximise results and aesthetics both in the Box and out on the track.
A HISTORY OF EXCELLENCE
Nike have a long history of designing products that break the mould when it comes to both style and performance. It was in their shoe – the Nike ZoomX Vaporfly 4% – that the Breaking2 project was realised…
"Eliud Kipchoge's dream to break the 2-hour marathon barrier once seemed crazy, but with a 1:59:40 finish on October 12, 2019, he proved that if you are relentless in pursuing a goal, anything is possible."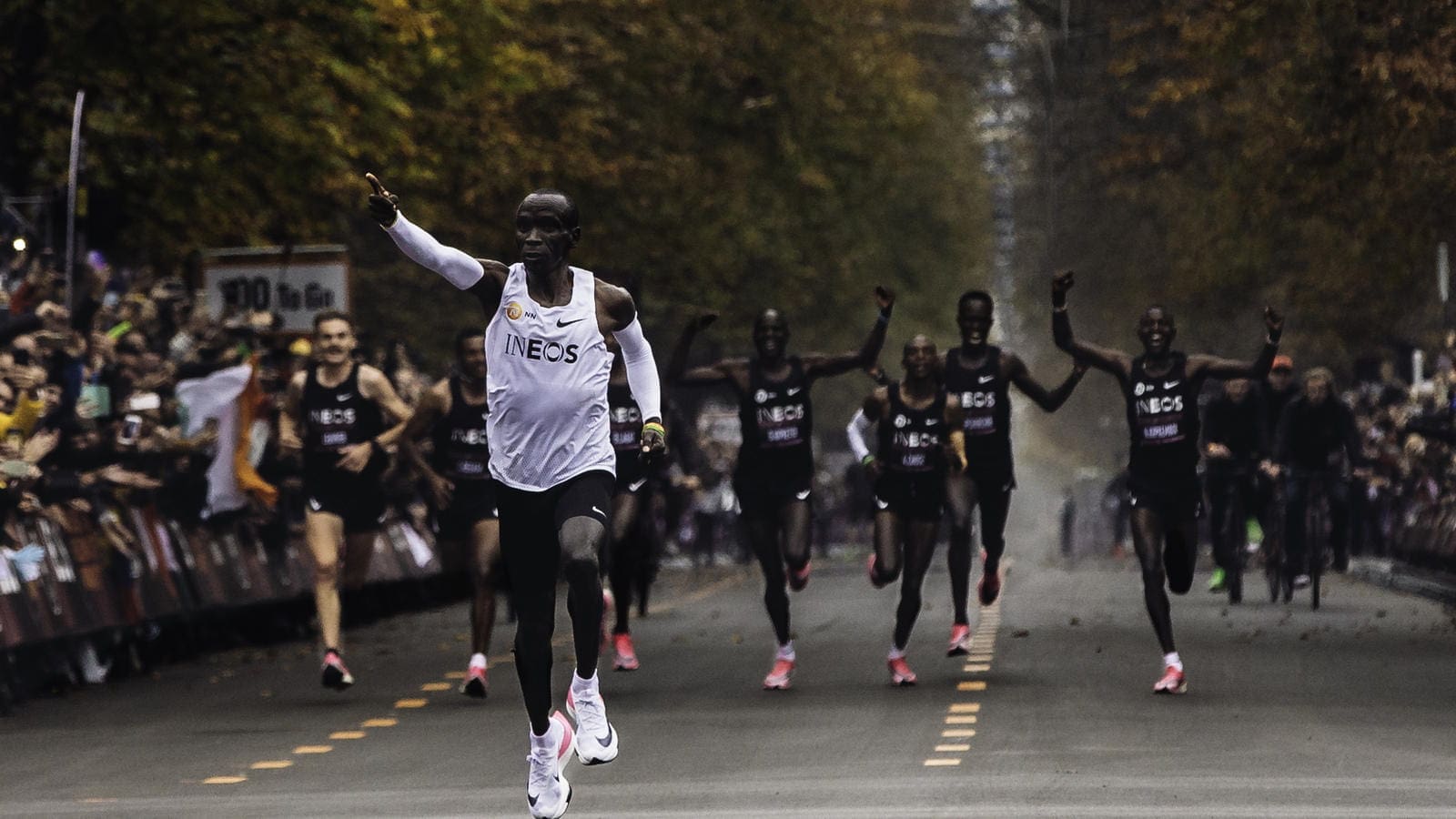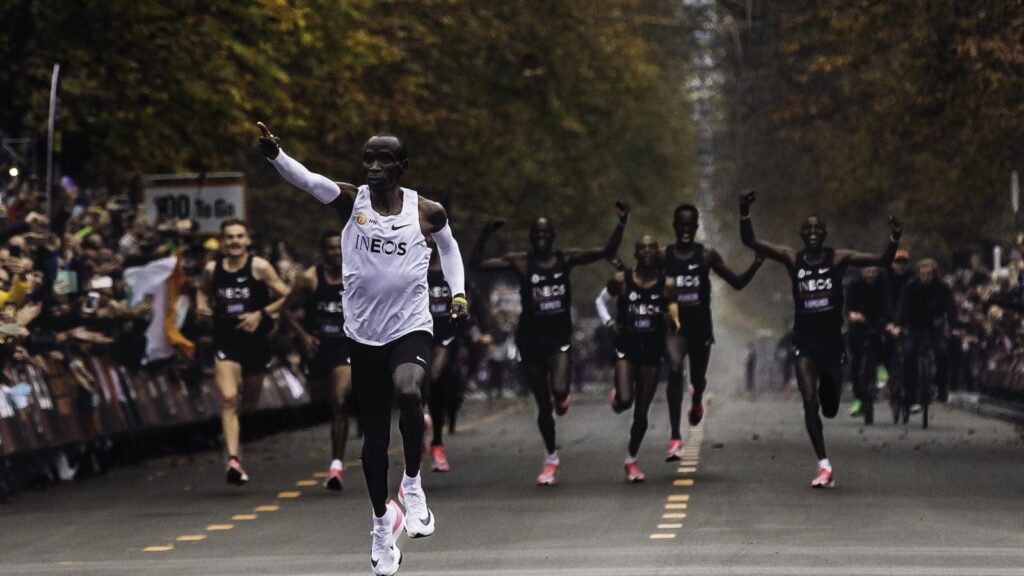 Eliud's 2019 success had been years in the making. In his teens and early 20s, he was a five-time World Champion at the 5,000m. In 2012, he switched to road running and subsequently became a four-time London marathon winner and the Olympic marathon champion in 2016.
In 2017, he teamed up with Nike for his first sub-two-hour attempt that was chronicled in the documentary Breaking2. Eliud missed his mark by 26 seconds that day, but that attempt and everything he learned from it helped Eliud realise his dream of running a marathon in under two hours two years later.
Add these functional fitness running workouts into your training and start achieving your goals and dreams.
RUNNING WORKOUT 1
6 Rounds For Time of:
800 meters run at 5K race pace
Jog 200-meters between reps.
This is a good benchmark workout that can be repeated throughout your training cycle. The workout breaks up your race pace into manageable chunks, and if you repeat the workout after a handful of training weeks you're bound to see progress. Remember to track your progress.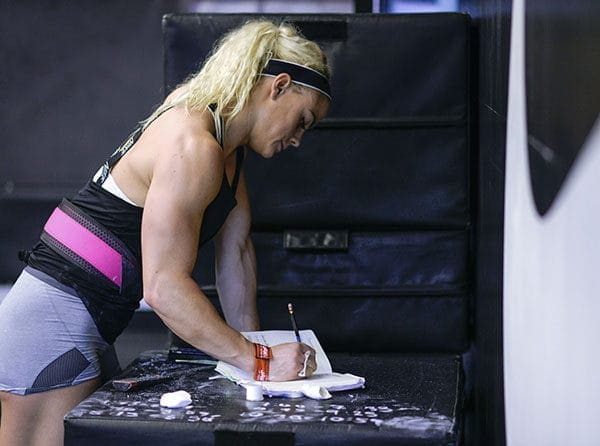 RUNNING WORKOUT 2
6 Rounds for Time of:
Sprint as fast as possible for the first 200m, then use the second 200m to recover; there should be a clear difference between the two efforts. Your heart rate will stay elevated throughout this session, but you should be able to control your breathing during the second part.
There's no built in rest as such in this session, you should keep moving until you finish the six reps. This is a tough workout but will work wonders for your endurance.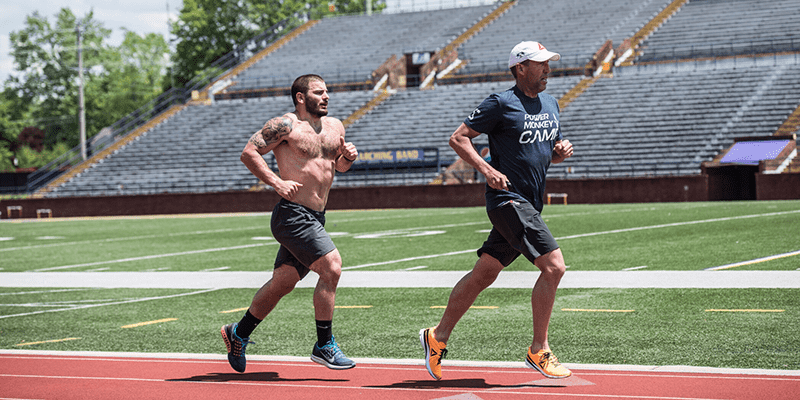 WORKOUT 3
For Time (and Quality) Run:
200m
400m
600m
800m
1000m
800m
600m
400m
200m
120 seconds rest between sets
Each of these reps should be run at the same intensity, so they should all feel similarly hard. This means both 200m reps should be the same pace, but faster than any other reps, and the 1000m rep should be the slowest rep but you should still work hard for it.
Nike Air Zoom Pegasus 37
The new and improved Nike Air Zoom Pegasus 37 is a bespoke running shoe designed to help runners of every level reach their goals.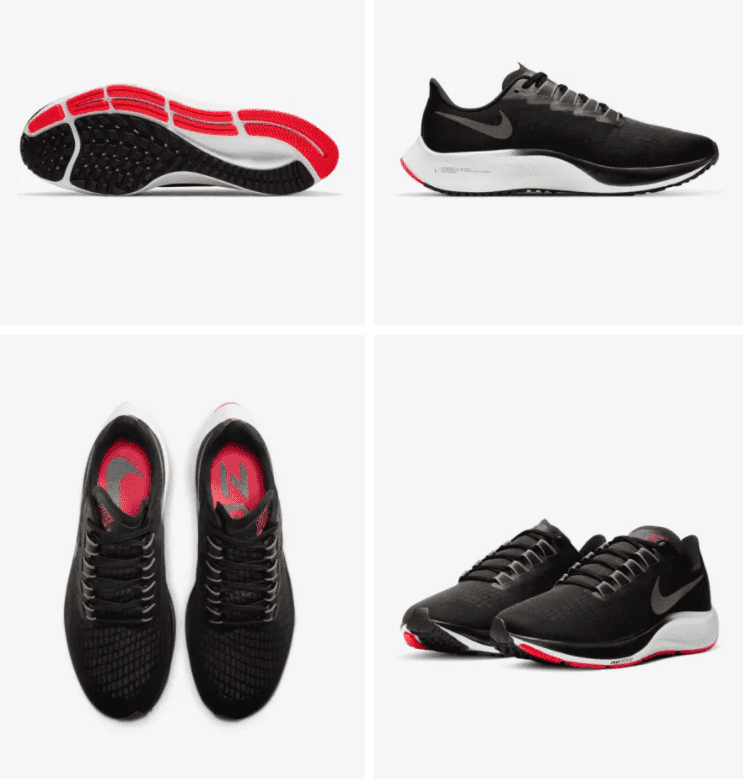 This is not only a claim, the Pegasus 37 features an all-new forefoot cushioning unit and foam for maximum responsiveness.
The Nike Air Zoom Pegasus 37 features a Zoom Air bag strategically placed in the forefoot. This airbag is thicker than the one in the previous version, providing more responsiveness with every stride.
The Zoom Air bag women's version of the Pegasus 37 has been tuned to about 15 PSI versus 20 PSI in the men's shoe. This means the reduced air pressure provides a milder stride for women – a feature long asked for – and a stiffer ride for men.
MEN'S PEGASUS 37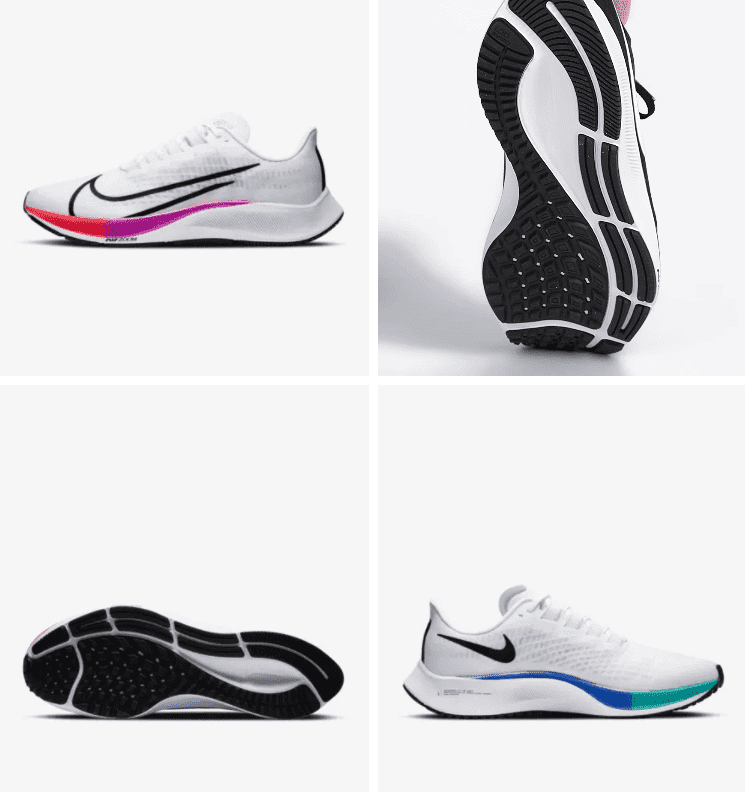 Nike is well-known for breaking the limits of what's been thought is possible within shoe technology.
For the first time in the Pegasus, Nike used React foam throughout. This foam is incredibly light and springy, and also Nike's most durable. The shoe is breathable, stretches in areas where your foot needs to bend and provides structure in the areas where runners need durability.
WOMEN'S PEGASUS 37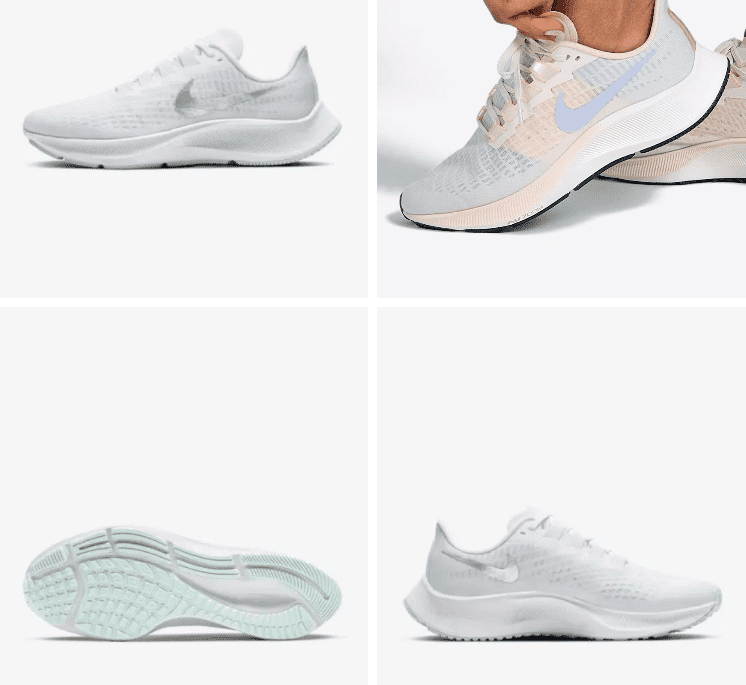 The Nike Pegasus, born around four decades ago, has been worn by everyday and elite runners alike. Athletes love the fit, durability, and responsiveness this shoe has delivered year after year.
Serious runners wear this shoe all the time, yet the Pegasus 37 is a great all-round sneaker. It is one of Nike's signature sneakers that's had a lot of crossover success into the lifestyle segment.
The Nike Air Zoom Pegasus 37 will last for miles.
Nike Air Zoom Pegasus for Women
NIKE – BLAZING THE TRAIL FOR ATHLEISURE WEAR
The rise of Athleisure wear has been nothing short of meteoric. Nike is leading the pack by designing clothes that give us more function without compromising style.
"I live in gym clothes. When you go out on the street, it's the uniform now." Alexander Wang
Designed to perform and look exceptional, Nike's women's leggings are at the forefront of both the fitness and lifestyle markets. From yoga crops to running tights to fashionable pants, the choice is almost limitless.
We all live busy lives and the ability to seamlessly transition between activities, between the street and the gym is essential for contemporary life.
The Nike range feels like a second skin you'll never want to take off. You can choose from casual summertime staples to tech-inspired updated classic joggers and anything in between.
Materials are designed with functionality, sport and comfort in mind, with the fabric keeping you cool when your training grind heats up. Designs vary from minimalist to bold, perfect for the toughest of workouts, a formal workday or a stride around the city.
Nike's women's leggings celebrate women's empowerment through sport.
Nike's leggings are intended to keep you covered for any workout – and the rest of your day.
NIKE AIR SHOP
The Air Max, a classic Nike shoe introduced to the market in 1987, is a fashion staple that has remained relevant throughout the decades.
The shoe revolutionised the market by cutting a hole into the sole and making the air in the midsole visible.
People were blown away by this, by the fact you could see through the shoe and the air bubbles didn't pop or explode with the pressure of one's body. Yet it's not only the air in them that's revolutionary, it's their designs which have evolved over the years and speak to people with its varied personalities.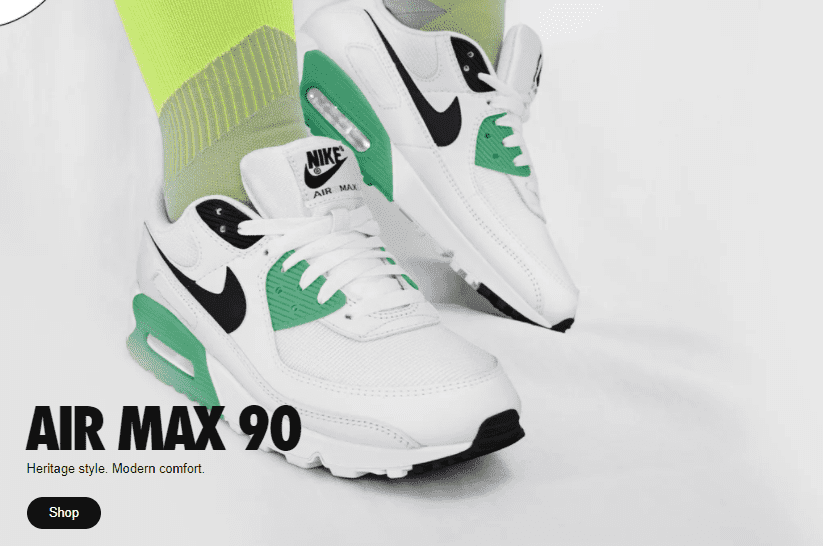 The Nike Air Max were originally designed for sports performance, but were quickly embraced as lifestyle shoes as well, worn by some of the most famous DJs, rappers and hip hop artists of the time.
Their legacy continues with the Nike Air Max 2090 and Nike Air VaporMax, a shoe where only a thin film separates your foot from the cushion, making it the closest you can get to walking on air.
Nike Air shoes are impossible to miss – get yours now!