-How are things going at Crossfit JST at the moment?
They're great! Having 2 teams compete at Strength in Depth, and with the first team winning the competition, the morale is buzzing and everyone is eager to improve!
-Do you have a personal Crossfit goal for 2016?
My goal for 2016 is to repeat 2015. I know it's doable, because obviously I did it last year. So make it to the CrossFit Games again and took what I learnt from last year to place higher this year! First things first though, I've got the Open to get through!
-You always seem to smash through your lifts. Do you have any particular PR targets that you are aiming for in the Clean & Jerk and Snatch next year?
I don't know about smash through, I had a good run with them last year. I've managed to maintain my PR's and add the odd Kilo here and there. I know I'm capable of 130kg Snatch and a 165kg Clean and Jerk; it's just whether I have enough time to hit these once the season comes around again!
-Class work winning the Crossfit Open earlier this year, how do you mentally prepare for big competitions?
I think The Open is a lot different to other competitions. In The Open you're in your own gym, you have everything set up and can prepare 100%. You are in control of a lot of factors, and if you mess up… you can do it again! So The Open is about knowing the best way that you can get the best out of your body for each particular workout! Competitions like Regional's are different.
'Whenever I feel like nerves are getting to me more than they should, I just strip it back and evaluate what it is I am actually doing.'
"It's just 75 snatches with a 35kg Bar, you can't mess that up" That went through my head a few times!
-Has your programming changed at all since winning the Crossfit Open?
Nope, I'm just repeating how I approached it last year. That seemed to work!
-Least favourite Exercise?
I would say Rowing sprints, but I've been doing quite a lot of them and I wouldn't say I enjoy them, but it's less of a weakness now!
-Who are your predictions for the 2016 CrossFit games winners in the Male and Female categories?
It's a tough one, the season hasn't even started yet! I think if Sam Briggs has another year in her, she's always going to be up there. I'll give my mate Bjorgvin (Bjorgvin Karl Gudmundsson) a plug too, he went from 26th in 2014 to 3rd in 2015!
-What is your biggest weakness in Crossfit, and how do you work on improving it?
As far as certain exercises go I'd say Deadlift, and it probably always will be due to my short levers. I'm working on it twice a week though to make it as small a weakness as possible!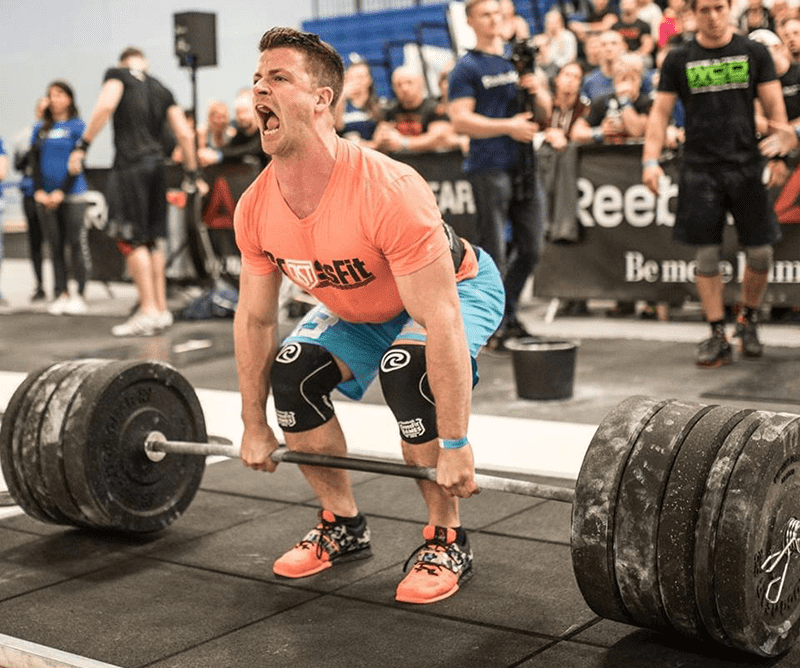 -Any young faces in the British scene that we need to look out for in the next few years?
The boy Jak Cornthwaite, a young coach from CrossFit JST is creeping on to the scene. He's a big strong guy who can also move for his size. Once I'm done slugging my guts out this year to get to the Games again, i'll be putting a lot of my time into getting him there too!
Diet
-Usain Bolt has his chicken Nuggets, how important is Nando's to your nutrition program?
No he doesn't, that a lie. I have Nandos on average once a week, it's classed as my cheat meal but I still don't go that mental. My diet through the week isn't a Chore to stick to so I don't feel the need to go mental at weekends! I have BuffBox Meals take care of all that for me.
Training Tips
-Can you give us 3 tips on how to improve physical conditioning in Crossfit?
1. Find the energy system that you suck at the most. Train that energy system specifically 3 times per week
2. Get plenty of sleep. Fitness can decrease just through fatigue of training, you need to sleep to recover and get the gains from your training!
3. Smash yourself in a workout once or twice a week. Not 7-10 times.
-What piece of advice would you offer to Crossfit beginners?
Get stuck in and ask your coaches as many questions as you can! They will know the answers and if they don't, then they'll find them out for you!
Others
-What Superhero power would you like to have?
Bernard's watch, not technically a superhero but stopping time would be class!
-What do you like to do when you aren´t in the Crossfit Box or competing?
I have a dog that keeps me on my toes; I take him out 60-90 mins a day. Other than that I like to go out at the weekends with my Fiancé, to the cinema or out for some good food!