Teen CrossFit Games athlete Jacob Morris recently passed away following complications with his heart surgery. Jacob was an excellent athlete, finishing 7th in the 16-17 year old teenage division earlier this year in Madison.
https://www.instagram.com/p/B0veNvLAEEB/
Cassidy Lance McWherter, owner of CrossFit Waterside, where Jacob trained, coached Jacob to achieve his dream of competing at The CrossFit Games. She and Jacob were close, training and often travelling to competitions together. She has set up a fundraiser to help his family. Posting the following message on Go Fund Me.
Dear Jacob,
We love you sweet boy. We hope you are resting in peace. We know you are watching over all of us. We want to thank you for all the life lessons you taught us – laugh often, don't work too seriously, love with all your heart, be there for others and always cheer for the last one standing. Thank you for always being the best Jacob you could have been. Thank you for your friendship. We will miss you.
For those who did not know him, Jacob had the purest of hearts. He was not corrupted by life or by bad experiences. He was always positive!! He stayed late in the gym, worked hard in his schooling, watched over his younger siblings and always loved his parents.
We are asking each of you who knew the Jacob we did to please donate to his family to help support them in this time of need. Thank you.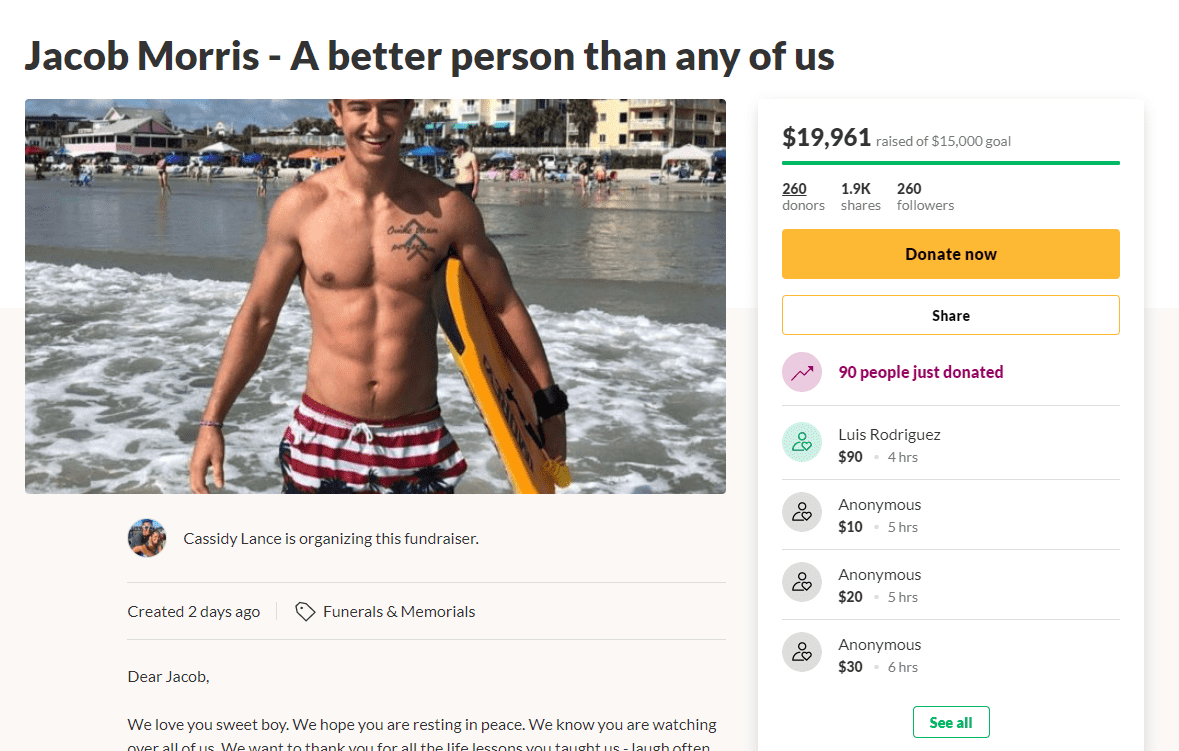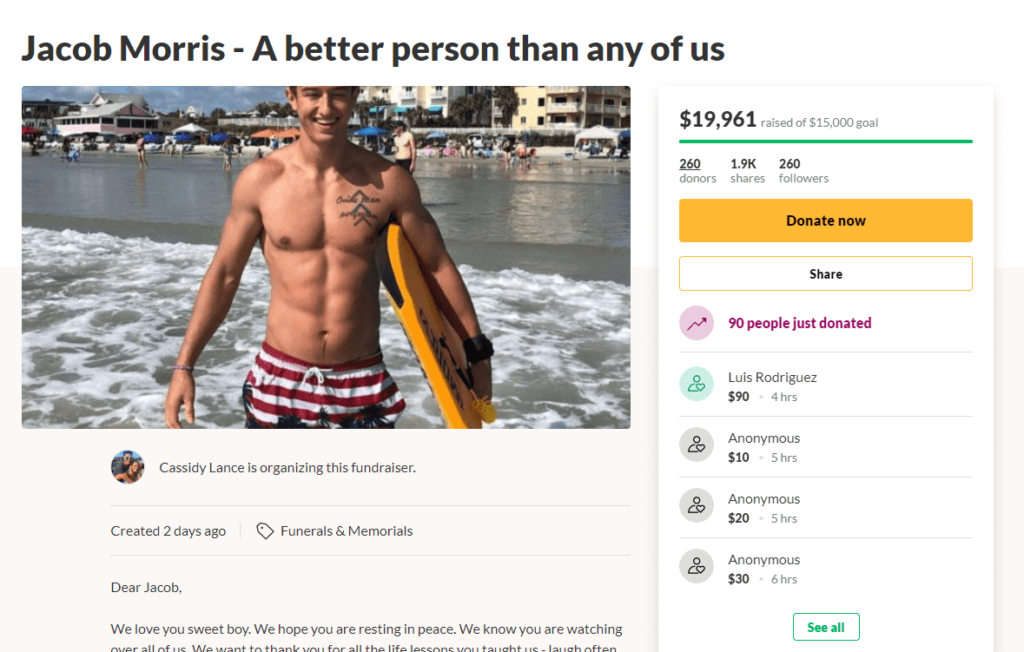 Cassidy Lance McWherter also wrote a moving post for Jacob about their time and work together.
Dear Jacob,
I still remember the 1st day you showed up at CrossFit WaterSide to take your athletic career to the next level. You were one of the smallest teenagers I had ever seen. I had to put you on a 5,000 calorie diet just to try and get some meat on those bones lol. We spent almost every day for the next 3 years training together from 9am-3pm. We laughed a lot, cried a lot and pushed each other to our limits but we made one hell of a great team.
I watched you develop and grow into a young man. You turned into one of the world's fittest young men right before our eyes. You were the best big brother your sister and 2 younger brothers that they could have asked for. Who doesn't love a pizza night when Jacob is babysitting and Mom and Dad are out of town right?! Traveling to those local competitions were the most fun. One time you slept on the floor of my hotel room for 4 days just to be a part of Wodapalooza. You traveled to Bacon Beatdown with us and performed better than most of the Elite Men that weekend. You were the best mermaid man tiger Daytona had ever seen.
When we finally achieved your Goal – The CrossFit Games, I think you and I had the most fun ever that week. You showed nothing but grit and determination. You had the greatest spirit of any competitor on the floor. You worked your tail off and then stayed on the floor and cheered for the final competitor to finish. That day you made me the most proud. I still remember crying because of the person you had become on that competition floor. I wish I could have hugged you longer that day. You were unbelievable and I wish everyone saw what I saw. You were a loyal and kind friend to everyone. You are one of the greatest additions to our CrossFit WaterSide family and we wouldn't be who we are today without having known you.
https://www.instagram.com/p/B0yqAOWgNC-/
My spirit is broken and I miss you but, there will always be a special place in my heart for you. Thank you for showing me the infinite acts of selfless love you displayed every day. I love you.
https://www.instagram.com/p/B33LuOMAdYG/
Jacob's little sister Riles also wrote a moving a heartfelt text for her brother.
My dearest Big Brother. My Best Friend. My Role Model.
An Inspiration to almost every person that crosses your path. And even though you're gone physically, it doesn't mean spiritually.
You have given me, and everyone here memories we will never forget.
You were definitely the most amazing human being I've ever met. You had the highest confidence in yourself, and others. You would light up every room you walked in. You're pot jokes were both hilarious and awkward. You had the best sense of humor.
And I don't know what I'm going to do without you, but I know you're probably yelling at me from Heaven. You're probably saying, stop being so over dramatic, I'm still here Riles. But I can't see you, you're not here physically. And I miss you, so so much. And I'm still gonna feel empty, and sad, and mad. But I'm also happy, I'm happy you're safe in His arms, I'm happy you eating all of your favorite food, doing all the handstand walks and muscle ups, and I'm happy that you're wearing your Jesus Crocs, but I'm mainly happy that you're happy. I know you're so happy, and your confidence is probably higher then ever. You're the best big brother any girl could ever ask for. You're my inspiration, I want to be just like you when I grow up, you're my Buba, my big brother, my best friend, my role model, and I have so many other ways I can explain what you meant to me.
Thank you for always being there.
For always making me laugh.
For always lifting sprits.
For all the inside jokes.
For always talking to me.
For telling me everything about you and Gabbi.
Thank you for everything.
I love you so so so much. "Bad things do happen; how I respond to them defines my character and the quality of life. I can choose to sit in perpetual sadness, immobilized by the gravity of my loss, or I can choose to rise from the pain and treasure the most precious gift I have – life itself."
"Whatever you do, work heartily, as for the Lord and not for men" ~ Colossians 3:23
– Love your little sister, your best friend, Riles.
https://www.instagram.com/p/B6E_G6bgdYw/