How to Watch the 2020 CrossFit Games
The 2020 CrossFit Games finales will run from Friday October 23 to Sunday 25. All three days of competition will be live streamed online and broadcast on US television.
Day 1 of the in-person finals begins at 8am (PT) and covers of four slots of competition. There are three slots scheduled for Saturday and another three for Sunday.
"Friday is going to be a giant day," Dave Castro said during an interview. "It's going to start with a bang, and more importantly it'll end with a bang."
CrossFit Games Finals: Day 1 to Include 2007 Games "And Then Some"
Find out how to watch the 2020 CrossFit Games:
Every event of the final stage of the Games will live stream across Pluto TV, games.crossfit.com and CrossFit's Facebook and YouTube channels.
The finals include the top 5 male and top 5 female athletes from Stage 1 of competition. They are led by Tia-Clair Toomey and Mat Fraser. Along with Australian Toomey, the finalists on the women's side who will be making the trip to Northern California include Brooke Wells, Haley Adams, and Kari Pearce, and Katrin Davidsdottir. On the men's side, Fraser is joined by Noah Ohlsen, Justin Medeiros, and Samuel Kwant, as well as Canadian Jeffrey Adler.
All points from stage 1 will reset coming into the finals.
2020 CrossFit Games Finals broadcast schedule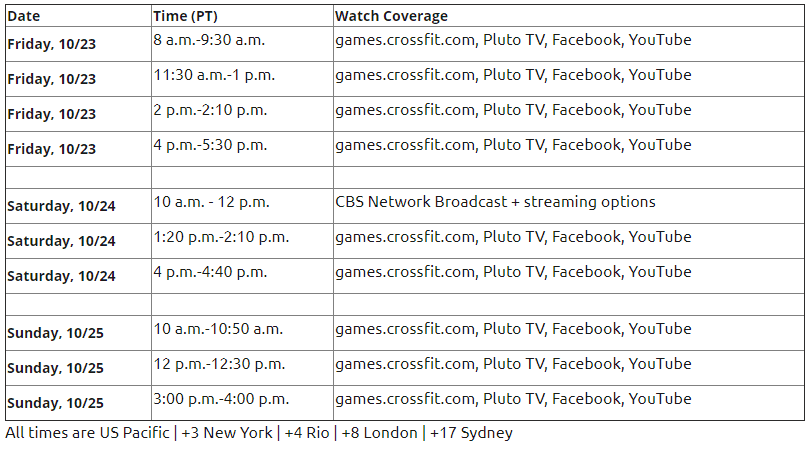 Viewers can sign up for calendar reminders and updates here.
According to CrossFit, the final stage will take place at multiple venues in Northern California.
Watch the 2020 CrossFit Games in your time zone
DAY 1
DAY 2
DAY 3
https://www.instagram.com/p/CGTeRTAHZNO/