Use these AMRAP Chest Workouts to build a better, stronger and more resilient upper body.
We have included full Scaled and Beginner 0ptions so that every workout is open to every athlete that wants to try it.
Firstly, brush up on your technique with two of the most common chest exercises.
BENCH PRESS TECHNIQUE
Why: The bench press is a powerlifting movement to increase upper body brute transverse (horizontal) pressing strength. It's an accessible movement because it's easy to learn (not highly complex) and requires minimal and affordable equipment. In the bench press, you primarily build the musculature in your chest, but you also increase strength in your shoulders and triceps. And as you build up your bench press your overhead press (strict press, push press, and jerk) numbers go up.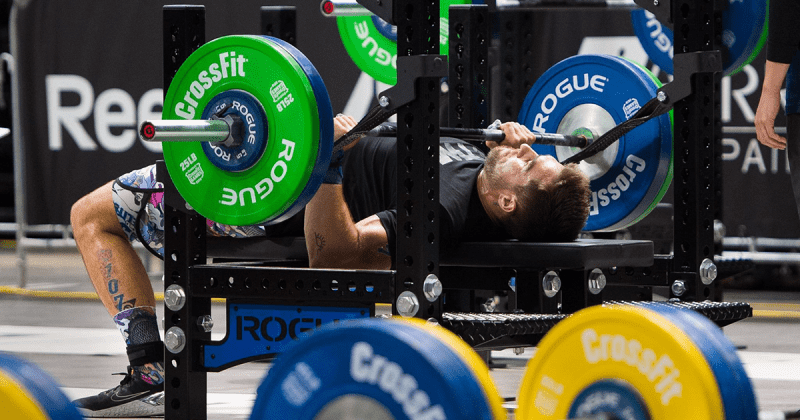 Source: Photo courtesy of CrossFit Inc.
Set-Up: Start with your hands slightly wider than shoulder-width. Begin the movement with your arms extended and the barbell over your chest. Shoulders are in contact with the bench.
Execution: Brace your core and tighten your glutes. Bring the bar down to your chest with control. The bar touches the bottom of your chest. Your elbows reach toward your hips as you lower the bar. Keep your forearms vertical. To complete the movement, press to full arm extension.
Points of Performance: To get a "good rep," ensure the following:
– You start and finish with full arm extension
– You touch the barbell to your chest
Pro-Tip: Your feet are the foundation of the bench press. Push your whole foot flat on the floor during the movement to create tension in the lower body. The more tension you can create, the more effective your bench press will be.
PUSH UP TECHNIQUE
Why: The push-up (along with the air squat, burpee, and sit-up) is one of the most effective, simplest bodyweight movements you can perform. You'll build upper body strength and core strength, and you'll also build the necessary strength and stability to perform more challenging pushing movements like handstand push-ups.
Set-Up: Start in a plank position with your arms fully extended. Your hands should be on the ground and shoulder-width apart. Your legs should be straight with only the balls of your feet on the ground. Brace the core and keep the body rigid.
Execution: Lower your chest and thighs to the ground. Keep your elbows in close to your body. To complete the movement, press to reach full arm extension.
Points of Performance: To get a "good rep," ensure the following:
– You start and finish the movement with both arms fully extended
– Your chest and thighs touch the ground at the same time—no "worming"
– If the workout calls for a hand-release push-up, both hands must leave the ground while at the bottom of each rep before pressing up
Pro-Tip: For WODs with high-volume push-ups (like the benchmark WOD "Angie") keep the sets small. Big sets of push-ups can make you hit a wall early, making it difficult to complete the reps.
1. LYNNE
As Many Repetitions as Possible in 5 Rounds of:
Max Bench Press (bodyweight)
Max Pull-Ups
Perform As Many Repetitions as Possible (AMRAP), unbroken, of Bench Press. Rest as needed before completing as many Pull-Ups as possible, unbroken. Continue in this manner for 5 rounds.
Score is the total cumulative number of repetitions of Bench Press and Pull-Ups across all 5 rounds of the workout.
Scaling
This workout offers five max-effort attempts at each exercise, regardless of how you modify the movements. Choose something that will allow you to get 10+ reps of each, even as you fatigue. Give yourself ample rest time after the pull-ups before beginning the next round of bench presses so you recover enough to get another big set.
Intermediate Option
5 rounds for max reps of:
¾-body-weight bench presses
Pull-ups
Beginner Option
5 rounds for max reps of:
Push-ups
Ring rows
Good Scores for "Lynne"
– Beginner: <100 reps
– Intermediate: 125-225 reps
– Advanced: 250-350 reps
– Elite: 400+ reps