If CrossFit Tourism is a thing then Dr. Davina Durgana is the International Champion. Having completed at least one workout in 50 countries around the world, she has got countless stories to share.
She's made friends with locals wherever she goes, gotten to know places on a personal level thanks to their suggestions and kindness, has been captivated by many a culture and, above all, has experienced first-hand how real the CrossFit global community is.
"Sometimes I'm in a country for 12 hours or one day and I don't really get to learn much about it," Davina said on an interview with BOXROX, "but every time I go to a Box it feels just like it could be my Box at home. I've never been somewhere where I didn't feel super welcome and really excited to see the lives of people just like us.
"We all have this common thread and it's been amazing."
Fittingly, Davina is packing up for another trip as we start our interview, I can hear bags zipping and unzipping in the background as she tells me, sometimes with disbelief and others with hilarity, about the experiences she's had all around the world.
From achieving her first set of double unders in Ireland to getting over 17 calories in a minute on the rower for the first time in the Netherlands, Davina says her personal milestones are overshadowed by the wonderfully hospitable Boxes she's been to, and the people and coaches she's met there.
Davina has visited and worked out in CrossFit Boxes in 50 countries around the world. She has visited many more Boxes in the US than represented on the map.
"I love our community and have grown to appreciate it even more in the many countries and boxes I have been to," Davina said. "One night I was in Serbia and it was their Christmas Eve, the Orthodox Christmas Eve.
"I was like 'if it doesn't work out, I totally get it.' But one of the coaches was so interested to meet someone from the US and he was amazing. He was just so intrigued and honoured to be able to talk about his country and how his gym has evolved.
"We worked out together, it was just the two of us. It was really inspiring because there was a snowstorm and it was beautiful and so much fun.
"I just kept thinking 'this is an incredible community that would do something like this.' I'm really hard-pressed to think of any other environment where someone would do it for anything beyond the love for the culture and the sport."
A similar thing happened to her when she visited Cyprus, where the coach at the Box she planned to visit picked her up from the airport and took her to the gym. He was incredibly proud of his group, their techniques and the work he had done.
"That comes through to me more than anything," Davina said. "A lot of coaches, they want to show what they bring to [CrossFit]."
WODS ADAPT TO THEIR LOCATION
And so do people.
A lot of the coaches Davina has met have done their own things with CrossFit and adapted to their location. "Especially small islands, they tend to incorporate beaches in their workouts regularly," she said with a slight hint of disbelief.
"I always think 'wow, what a blessing to be able to do that' and then I actually do the workout and I'm like 'I can't breathe, it's too hot!'"
That's exactly what happened in Puerto Rico.
But Davina also remembers working out in Bogota, Colombia, which sits quite high above sea level. "I remember sucking wind behind all these people because I just wasn't ready for the altitude. I wasn't training in the same conditions and it's funny to see how different it can be in other places," she said.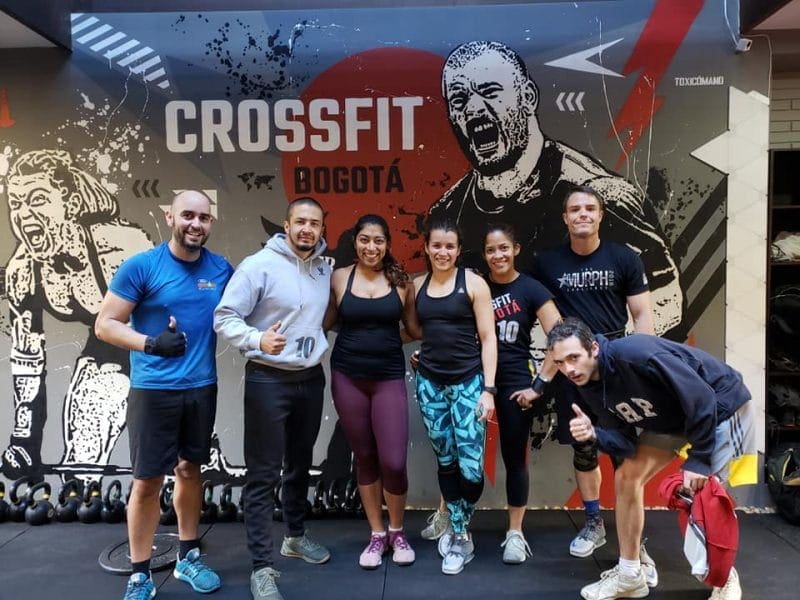 Davina drops names of countries and recounts experiences from around the world as if you were listing the days of the week. She tells me about the workouts she's done in the UAE, where they sometimes have women classes separate from the men classes.
"A huge part of this for me is have a mixed group to socialise, but it was really cool to have females in full body coverings do these workouts in like 100 plus degrees. My partner, she was super committed and I was like 'I can't do this, I can't keep up with her.'
"People are so resilient."
BEING GOOD IS RELATIVE
There was this one workout in Romania that involved relatively light snatches, so Davina was trying to get through them quickly when, at some point, she realised no one else was moving their weight; they were just watching her, amazed.
"Everywhere I go, people have an interesting reaction, especially in countries where CrossFit hasn't been as popular or around this long," she said.
A similar thing happened in Thailand, where Davina dropped in for a workout that involved rope climbs. No one at the Box had learnt how to apply rope climbing techniques at the point and Davina had just learnt to master that skill at her Box in New York. So there she was, showing the Box in Bangkok the tricks and techniques of rope climbing.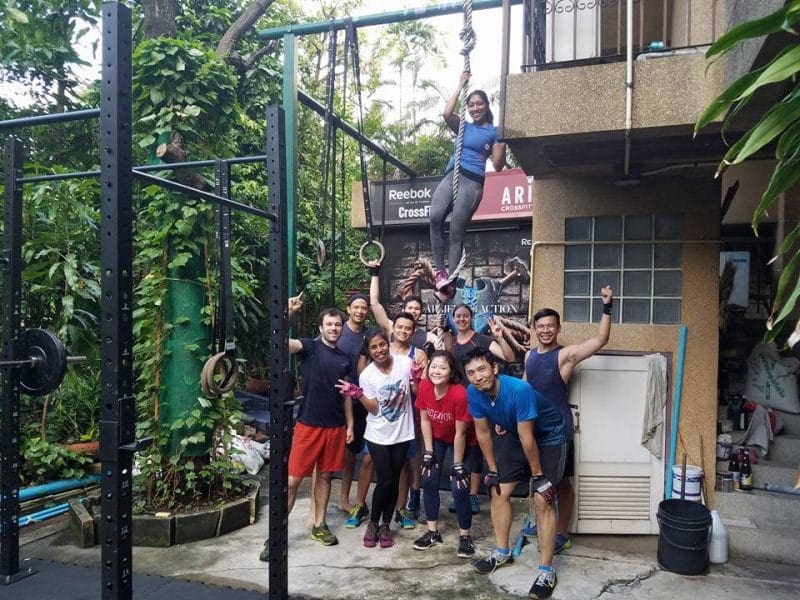 "I don't know if they look up to me," Davina said later in our conversation, "I wonder if it's more like curiosity; to see how they would stack up against an average American CrossFit girl."
Having started training four years ago, Davina has been steadily improving by attending classes daily. However, she's not used to fellow athletes stopping their training and watching her go, that definitely doesn't happen at her home Box in the US. And it doesn't always happen abroad either; Davina remembers the incredibly fit people in Denmark and Norway with awe.
"It's weird to come out of a context where I'm so pathetically average and go places where my skills…" she trails off. "I think this is probably the case just because of how long it takes you to learn, things people just don't get right away. It's not necessarily that someone is fitter or not, it's just a skill thing."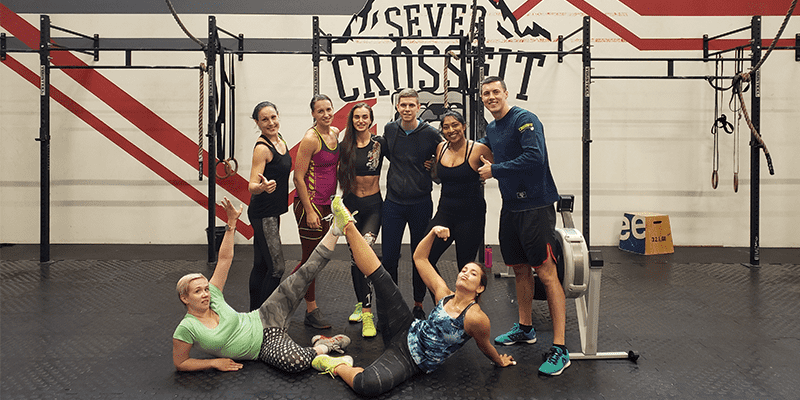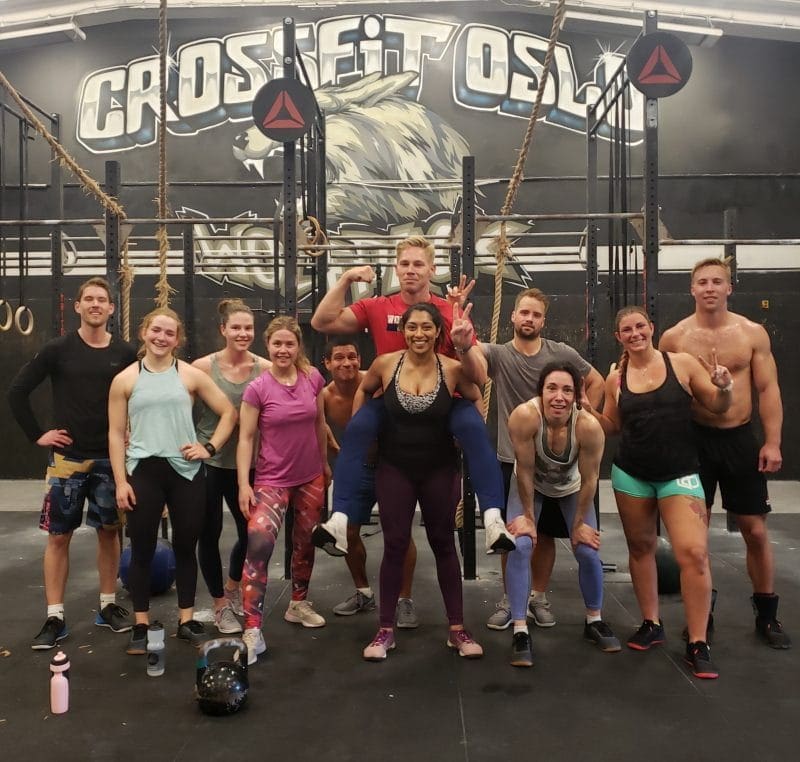 Sometimes however, working out abroad is not only about skill sets. Wherever Davina has travelled, she has found CrossFit can be influenced by cultural priorities. "There was a girl in Singapore who wanted to lift with me and was shocked that I lift what I was lifting, but she wasn't training the same way, her priorities were speed and agility."
Some people do CrossFit to be lean, some to stay healthy, some to see progress; there's a clear difference between how people see the purpose of the sport sometimes, Davina has discovered.
REACHING 50 COUNTRIES
The idea came because Davina was already travelling a lot for work and getting a fair number of Boxes in, so she thought she'd make something of it. She made 50 her target.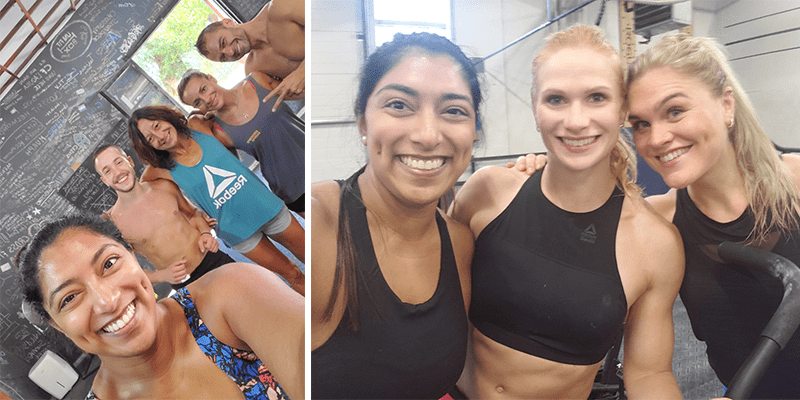 As a female (many times solo) traveler who likes to attend the early morning classes (they're the ones that fit with her work schedule), finding CrossFit Boxes can sometimes turn into an adventure. Davina remembers how her Uber driver in the Czech Republic refused to leave until she had found the right warehouse somewhere behind an abandoned railroad track.
Davina has done Open workouts in Switzerland, Poland, Italy, Indonesia, Australia, Scotland and the US. She was worked out in French (Tahiti, France, Belgium, Switzerland, Morocco), Spanish (Argentina, Colombia, Mexico, Dominican Republic, Panama, Puerto Rico, Spain), Portuguese (Brazil, Portugal), Italian, Polish, Thai, Khmer, Arabic, Malay, Indonesian, Icelandic, Dutch, Chinese, Korean, German (Austria, Germany), Romanian, Bulgarian, and more.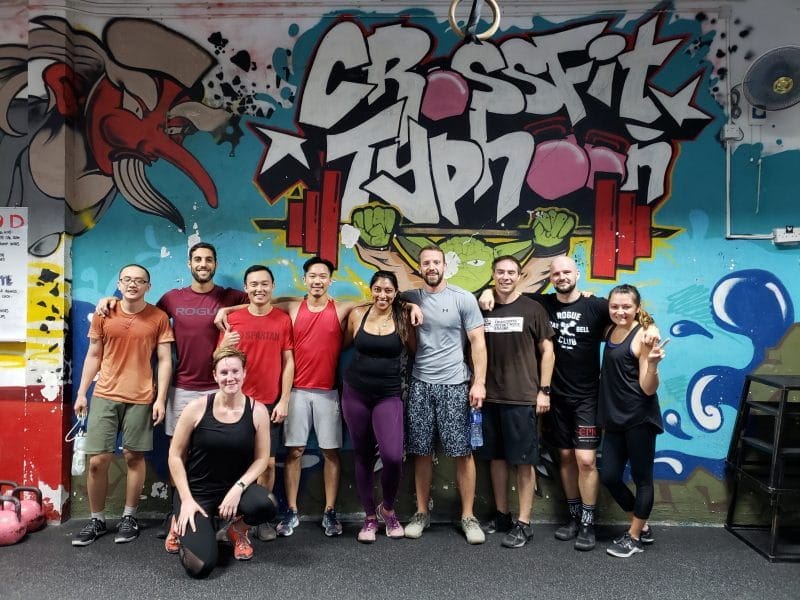 THE LOVE FOR CROSSFIT AND THE COMMUNITY
"If it came down to it," Davina said with certainty, "and I had to choose between going to a CrossFit gym or something like a tour, I would always choose going to a CrossFit gym. Just because it's something that speaks to us as part of the community and it's something that actually makes me feel like I can understand what a day in the life of someone who actually lives here is like."
Wherever she goes, with all the interesting and rich cultures, she knows at a Box she has this one thing that brings us together.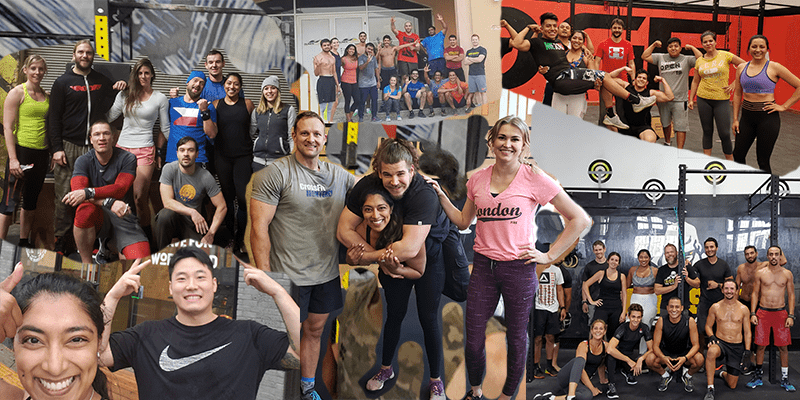 On a personal level, CrossFit has helped Davina develop a strong mindset; she discovered that when running a marathon. "What really impressed me was the killer instinct that I just honestly never believed I had, that whole tolerance to pain and working through it and still accomplishing your goals.
"CrossFit taught me that it was going to hurt but I could get through it. It just gave me the sense that something like this couldn't defeat me."
The benefits of CrossFit transcend beyond that for Davina, who is an ward-winning international human rights statistician and works on modern slavery and human trafficking.
"It's a tough job, so having the mental health of the community like this whenever I go can't be understated. It's just the best form of stress management.
"It makes me kind of feel grounded and like no matter how tumultuous things are where I am, I remember that there's a community at home and here that's full of people just trying to do their best. That's a really encouraging thing that helps me, even in my broader work on slavery."
In a smaller or broader sense, that's a shared experienced wherever you CrossFit.