In an internal e-mail, CrossFit has announced that Justin Bergh will be leaving the organisation and that Dave Castro will be the new leader of Sport team with a little over a month before the 2023 CrossFit Games.
There were two e-mails circulating yesterday to announce Bergh's departure. One was signed by CrossFit CEO Don Faul in an internal e-mail, and another was sent to affiliate owners signed by Austin Malleolo, the current general manager of affiliates.
In the email by Don Faul, the CEO wrote that Bergh "has done so much for our community and we're incredibly grateful for the role he's played in making CrossFit what it is today."
In the affiliate e-mail, Malleolo said "Dave Castro will step in to lead our Sport Team as we prepare to have an amazing 2023 Games."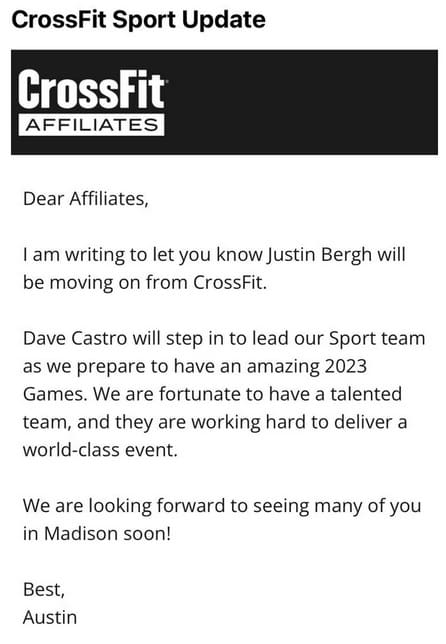 Until the beginning of 2022, Castro was the general manager of Sport for CrossFit Inc. and was responsible for creating and expanding what we know as the CrossFit Games. He was fired in the first week of January from his post. Five months later, in June, Castro was officially back holding an advisory role for CrossFit's CEO.
When Castro was fired, Justin Bergh took over the responsibilities. Although now that Bergh is moving on and Castro is stepping in, Dave Castro is not returning to his previous position as Director of Competition, as Adrian Bozman still holds that rank.
At the time of writing, neither Dave Castro nor CrossFit Inc. made an official statement to the public.
Read More: 7 Highlights of Dave Castro's First Interview Back in CrossFit HQ with Sevan Matossian