CrossFit Games champion Camille Leblanc-Bazinet has challenged her followers to try her ultimate squat challenge.
How to do the squat challenge?
Facing the wall with your arms raised, squat as close to the wall as possible until your hips go below parallel.
Other pointers:
Your squat will only be valid so long as you keep your heels down and back arched.
Watch Camille Leblanc-Bazinet crush the squat challenge
Air squat tips
Read more: 5 Training Techniques to Improve your Overhead Squat Skills
You can also improve your mechanics and strength with these 8 squat secrets:
Squat everyday
Squat barefoot
Squat raw and assisted
Squat fluently across all rep ranges
Squat with tempo
Squat with variance
Squat with balance
Squat on one leg
Read more: 10 Best Air Squat WODs for Complete Conditioning and Great Gains
Who is Camille Leblanc-Bazinet
Camille Leblanc-Bazinet is a nine-time CrossFit Games athlete and became the Fittest Woman on Earth in 2014.
Since then, Camille competed as part of team CrossFit Krypton in the 2019 CrossFit Games, finishing second behind team Mayhem Freedom.
The CrossFit Games veteran has finished in the top 10 in four of her Games appearances and won five CrossFit Regionals outright. A former gymnast, Leblanc-Bazinet also has a degree in chemical engineering.
Taking a break from her professional athletic life, the Canadian native became a mother in 2020.
She is now taking on a new challenge and training to compete in bodybuilding. Camille's first Bodybuilding show will fall exactly a year and a day after her giving birth.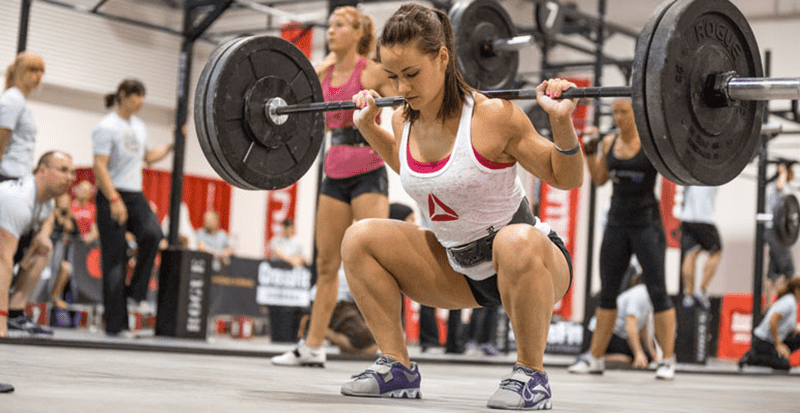 Read more: Top Home Workouts from Camille Leblanc Bazinet to Build Conditioning, Fitness and Muscle