CrossFit has updated the worldwide ranking system after the end of all Semifinal events across the globe. Although there was a lot of movement in the top 100 for both men and women, Laura Horvath and Justin Medeiros retained the top spot.
The introduction of the new worldwide ranking system is what determined how many each of the Semifinals would have Games-qualifying spots – the more athletes in the top 100 of the new ranking were competing in the same tournament, the higher chances it would get an additional invitation to the CrossFit Games.
OPINION: CrossFit's New Worldwide Ranking Has Potential, But Is Problematic
CrossFit previously updated the rankings after Quarterfinals to come up with the Games-qualifying spot for Semifinals. This time, the updated rankings will not any effect on the CrossFit season, but it is still interesting to see who made the top 100 after Semifinals.
Updated Worldwide Ranking System After CrossFit Semifinals
Men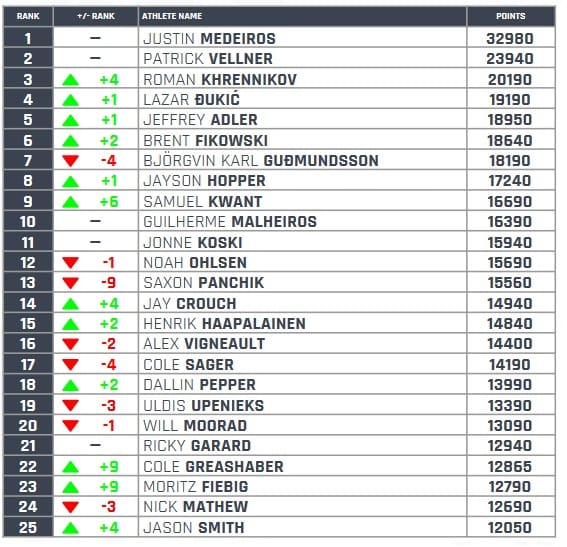 Check out the top 100 men worldwide here.
In the men's division, the top 2 spots remained unchanged. Justin Medeiros retained the 1st position with Pat Vellner following second. Medeiros finished 5th at the West Semifinal while Vellner won the same competition.
Of all names, newcomer Jesse Hoste made the biggest impact on the ranking among the top 100. He jumped 322 places to end up in 56th. David Shorunke, another athlete who will debut at the Games this year, gained 1258 places to be ranked 110th. Similar is the case of newcomer Luke Parker who gained 1313 places to finish 192nd worldwide.
Women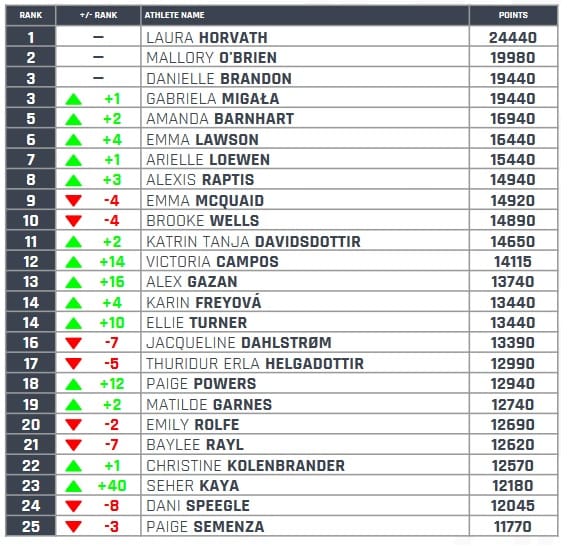 Check out the top 100 women worldwide here.
On the women's side, the top 3 athletes remained the same. Laura Horvath came in 3rd at the European Semifinal and is still the highest on the ranking. Followed is Mal O'Brien who couldn't compete at Semifinals for personal reasons. Third place is still Danielle Brandon after finishing 2nd at the East CrossFit Semifinal.
Among the top 100 athletes, Olivia Kerstetter made the biggest jump (+118) to be ranked 63rd. Overall, Mariska Smit and Kelly Baker got the biggest advancement in the rankings, 1278 and 1231 respectively. Smit is now ranked 281st and Baker 279th. Baker is going to the Games for the first time as an individual, while Smit finished 2nd at the African CrossFit Semifinal.
You can find all athletes who participated in the 2023 Semifinals ranked in this link.
Read More: Who Are the Individual Athletes Going to the CrossFit Games for the First Time