Hey Emma, can you tell us about your other Crossfit achievements so far:
UKs Fittest Female 2015
17th place Meridian Regionals 2015
This will be my 3rd year doing the CrossFit Open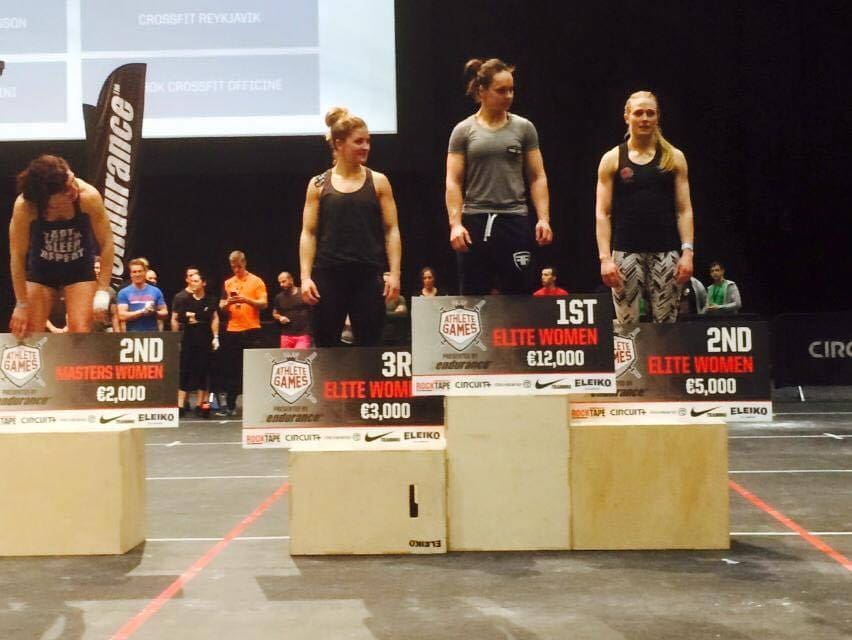 Favourite exercises?
Wall balls, box jumps, deadlifts, bar muscle ups
Least favourite Exercises?
Assault bike, squats
105 Clean and Jerk
What is your biggest weakness in CrossFit?
It used to be my recovery and listening to my body, but I've realised after a few injuries that this is something I have to take care of, and is a vital part of CrossFit.
Who do you think will win the 2016 CrossFit games in the Male and Female categories?
Sara Sigmundsdóttir and Matt Fraser
Has your background in Quad Biking been helpful to Crossfit in any way?
You need a great grip to be good on the quad, so that's transferred great to CrossFit.
TRAINING TIPS
Can you give us 3 tips for people looking to improve their Olympics lifts?
1 Technical Coaching: find a great coach that can help you move the barbell correctly. I highly recommend Erik Lau Kelner from Weightlifting 101, he has changed my barbell game massively.
2 be consistent in your training, it's vital you continually train all the lifts, not just the ones you like. I used to hate the full snatch and always power snatched everything. Recently though its become the opposite, I love full snatch and need to focus again on my power snatch. Always attack your weaknesses.
3 Get a coach to assess your weaknesses and develop a program of accessory work to ensure you have no weakness in your system that the lifts can expose.
What advice would give people looking to improve their gymnastic skills?
Sometimes is not just learning the skill, it's having the mobility to be able to do it. I have struggled with handstand walks for over a year now and have practised more than people realise, but recently found out it's my thoracic and shoulder mobility holding me back. So I have worked on my mobility and I've already seen improvements in my handstand walks. I'd also say people need to work the basics more, develop a strong foundation to build the high level movements on.
How do you develop and train your mind to be strong for Crossfit events?
My coach is pretty amazing for getting me ready for events he doesn't allow me to sit down on my rest periods while training, that doesn't sound like much, but after a nasty max effort wod all you want to do is lie down and feel sorry for yourself until you have to start again. That really gets your head right knowing you can stand up and be ready for the next set.
'Snatching used to be my worst and most inconsistent lift, now it's one my favourites.
24min emom
35 Double unders
3 snatch 75% 1rm
My last set at 62.5kg'
DIET
Do you have a specific diet?
All my food is supplied from a local company called Fuel Farm I usually eat 4-5 times a day just depends what my training volume is like that day, I also live on Battle Oats bars between sessions, a great snack that keeps me going and doesn't fill me up. I'm always watching my hydration too.
What is your favourite cheat meal?
I don't really have cheat meals because I eat a little junk food basically everyday.
What 3 foods would you recommend that every athlete should eat?
I personally think a lot of athletes in CrossFit under eat. Avoiding carbs or limiting them isn't a good idea when you train at high intensity. I eat some junk everyday because I find it helps my performance, a 6 pack isn't going to help me win so it doesn't bother me, fuelling my body and maintaining the intensity in training is what will help me win. I've focused on timing my intake of sugar and it's only made me better. So the 3 foods I recommend are:
1 – a slice of cake
2 – a second slice of cake
3 – probably just finish the cake
…AND FINALLY
What Superhero power would you like to have?
I would love to know what my dog Henry is thinking
If you were stuck on a desert island and could take only one luxury item, what would it be?
Chocolate cake!
Many thanks,
Emma