Davídsdóttir spent her childhood in competitive gymnastics, training everyday for 10 years. As a teenager, she took a year out to pursue a path in athletics.
She was driven by competition and yearned for something more challenging. In September 2011, at the tender age of 17, Davídsdóttir found Crossfit.
A year later, Davidsdottir came 2nd at the 2012 European Regional. At just 19 years old, she clearly intended to become a champion like her fellow country woman, competitor and friend Annie Thorisdottir.
Following her regionals success, Katrin had her Games debut in 2012. The rookie could afford to this trip to Carson as a learning experience, finishing in 30th.
With Annie out of the 2013 Games, Katrin was the only individual Icelandic female to compete. Representing her country, the 19 year old finished in 24th.
With age, comes maturity and experience. At only 21 years old, Davidsdottir had both. Her performances, skills and mentality had excelled over the years and 2014 was looking to be her best year yet.
Day two of the European Regional, 2014. Sitting in first place, Davidsdottir was leading the pack going into Event 5. Unbeknown at the time, event 5 would expose a serious flaw in her training that cost her a ticket to Carson.
The setback at Regionals fired Davidsdottir up. In June 2014, she competed in the Nordic Olympic Weightlifting Champions. She took 2nd place in the -69kg weight category and set a new Icelandic record on the snatch, hitting 81kg.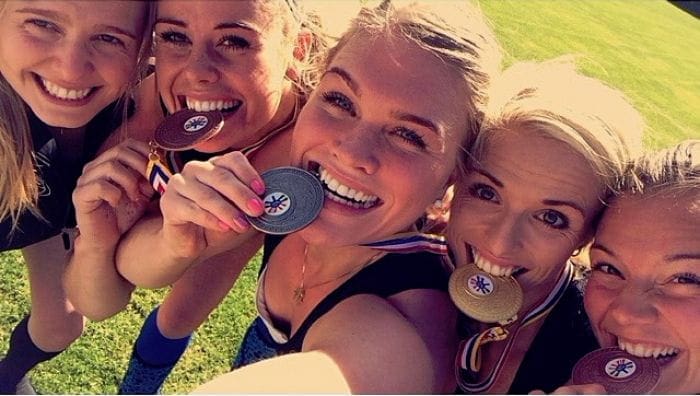 Source: Katrin Davidsdottir
Þuríður Erla, Ragnheiður Sara, Katrín Tanja, Anna Hulda and Björk – Photo: Katrín Tanja
"Not making it last year affected me a lot" says Davidsdottir. In the lead up to the 2015 CrossFit Games, Davidsdottir ramped up her training. She began to work closely with her coach Ben Bergeron, of CrossFit New England.
https://instagram.com/p/2mXtqJhqkx/?taken-by=katrintanja
With Coach Bergeron, she learnt to tackle her mental game and focused on herself. Her athleticism was unquestionable. "We can all work out and we're all fit, but this year I've been working so much on my mental approach", explains Davidsdottir.
The hype around rookie Sara Sigmunsdottir, also from Iceland, was palpable across Europe. Yet, as she promised, Davidsdottir stuck to worrying just about herself. She took 2nd at the Meridian Regional, just ahead of Annie and just behind Sara.

Leading into the Games, Katrin was not one of the many girls expected to make the podium. She did not feature in any "Top 5 Predicitions" lists. She did not listen to others.
Instead, Katrín Tanja Davídsdóttir stuck to her mental game and in doing so, proved herself to be the Fittest Woman on Earth.

Iceland is shaking the sport of Crossfit and we all want to drink the water.
Image Sources
Katrinandco: Katrin Davidsdottir
Katrin-Tanja-CrossFit-Games: CrossFit Games