Lazar Đukić is the newest Mayhem Athlete. The announcement was made official during the Rogue Invitational.
Đukić finished the 2021 CrossFit Games in 9th place as a rookie and 12th at Rogue Invitational.
He is the second elite athlete to officially sign with Mayhem Nation after friend and CrossFit new star Guilherme Malheiros announced he was joining Rich Froning's fitness program at the end of September.
According to Lazar, he signed with Mayhem Athlete because he needed to "make a big transition from one side of fitness spectrum (aerobic) to being more all-around athlete."
In his Instagram stories, Lazar was kept as a secret Mayhem Athlete for two months.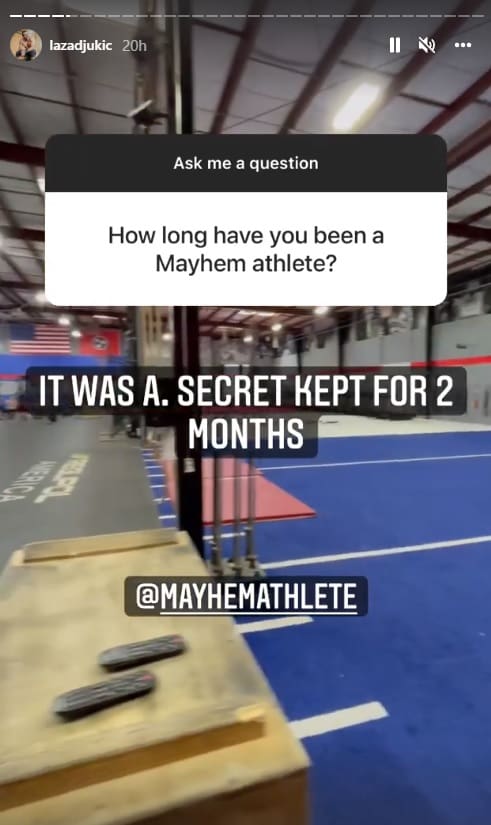 You can check out our interview with Lazar Đukić and his path to becoming the 9th Fittest on Earth.
Lazar Đukić, Malheiros and Possibly More From Mayhem
Đukić and Malheiros might not be the only elite CrossFitter becoming a Mayhem Athlete. It has been reported that Argentinian Richelme Agustin and Chilean Piero Gorichon has made a move to Rich Froning's training program although neither has been confirmed as of yet.
In the photo above is Mayhem coach Fecundo Etchecolatz together with Đukić, Saxon Panchik, and Gui Malheiros. Lazar has revealed that Etchecolatz is his personal remote coach as he does not plan on moving to the United States, but will train in Cookeville with Froning and the team before competitions that take place in North America.
Etchecolatz is also the coach of Saxon Panchik although Panchik is not affiliated with Mayhem: "Thankful for the trust these guys put on me." The photo was shared just before the Rogue Invitational started.
Read More: Lazar Đukić Plans for 2021, Serbia and After Retirement