The 2021 Rogue Invitational winners were crowned on Sunday, with Tia-Clair Toomey and Justin Medeiros taking the top spots.
The Rogue Invitational, a prestigious CrossFit and Strongman competition with a huge prize purse, took place from Oct. 29 to Oct. 31 at the Dell Diamond stadium in Texas.
A strong field of 20 top female and 20 top male athletes competed throughout seven events over the three days, with a total of $1,490,583 prize purse on the line.
Rogue Invitational Winners
| Women | Men |
| --- | --- |
| 1. Tia-Clair Toomey | 1. Justin Medeiros |
| 2. Annie Thorisdottir | 2. Pat Vellner |
| 3. Gabriela Migala | 3. Jeffrey Adler |
Toomey finished every single event within the top 7 and finished the weekend with two event wins. Second place Thorisdottir also won two events and headed into the final day of competition ranked first, she finished all workouts within the top 6 except for the last, where she finished 13th.
Rising star Gabriela Migała also had an incredibly strong weekend, edging out this year's 2nd Fittest Woman on Earth, Laura Horváth, to finish third. She finished all workouts within the top 10, except for event 6, where she took 14th place.
Medeiros showed the world he's still the dominant force, finishing every single workout within the top 5 and taking one event win. Vellner was unable to defend his crown, having won the virtual Rogue Invitational edition in 2020, but secured second place. The Canadian athlete won two events and finished all workouts inside the top 10 with the exception of the last, where he ranked 13th.
After a 12th place finish on event 1, Adler pushed the gas pedal and completed the rest of the competition with top 10 finishes throughout, securing so a podium spot.
Rogue Invitational Full Leaderboard
Women
Tia-Clair Toomey (625)
Annie Thorisdottir (560)
Gabriela Migała (490)
Laura Horváth (470)
Haley Adams (455)
Kristin Holte (440)
Kari Pearce (395)
Mal O'Brien (395)
Emma McQuaid (385)
Amanda Barnhart (380)
Danielle Brandon (370)
Emma Cary (355)
Arielle Loewen (355)
Kristi O'Connell (305)
Katrin Tanja Davidsdottir (300)
Emily Rolfe (260)
Thuridur Erla Helgadottir (220)
Carolyne Prevost (210)
Sam Briggs (195)
Jacqueline Dahlstrøm (195)
Men
Justin Medeiros (645)
Pat Vellner (565)
Jeffrey Adler (525)
Björgvin Karl Guðmundsson (480)
Guilherme Malheiros (465)
Travis Mayer (445)
Jayson Hopper (425)
Chandler Smith (420)
Alex Caron (420)
Saxon Panchik (395)
Cole Sager (345)
Lazar Đukić (325)
Samuel Kwant (295)
Will Moorad (280)
Uldis Upenieks (275)
Alex Vigneault (270)
Henrik Haapalainen (255)
Ben Smith (245)
Jason Smith (130)
André Houdet (WD)
Retired athletes made an appearance in the Individual fields, with Kristin Holte taking 6th place and Kari Pearce finishing 7th.
View the full leaderboard here.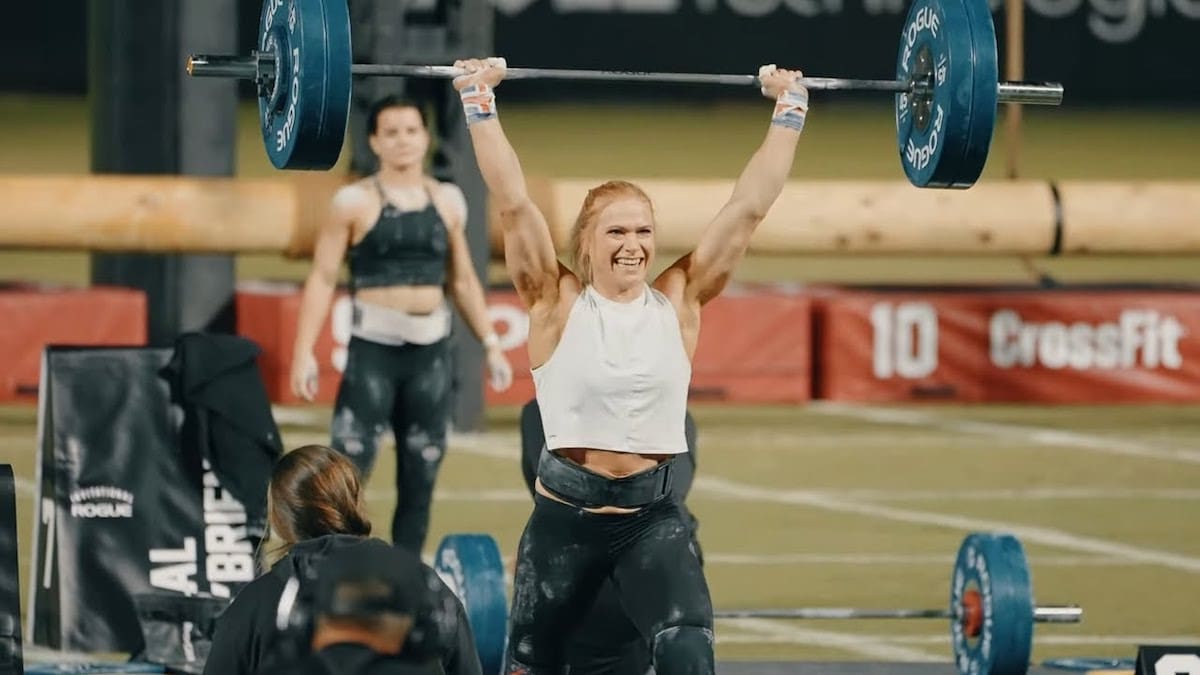 Workouts
EVENT 1 – GORUCK
Wheelbarrow pull to Zeus
10 Over under log on Zeus
5 Rope Climb
3 Sandbags to top of hill (50/35)
5 Rope Climb
10 Over under log on Zeus
Wheelbarrow push to finish  

With GORUCK pack 30lb/20lb
EVENT 2 – BELLA COMPLEX
1 Clean
1 Shoulder to Overhead
1 Front Squat
1 Shoulder to Overhead  

For Max Load
EVENT 3 – ECHO BURNER
20 Thrusters (115/75)
40/32 Cal Echo Bike
20 Thrusters (115/75)
EVENT 4 – CONCEPT2
4 Rounds For Time
21 Cal SkiErg
21 Med Ball GHD Sit-Ups (14/10)
Hill Run
EVENT 5 – THE MULE
21-15-9
Deadlift (315/225)
Burpee Pull Up
EVENT 6 – CHIPPER
45/40 Cal Row
35 Box Step-ups w/Feed Bag (24/20 and 70/50)
30 Strict HSPU
15 Ring Muscle Ups
Jerry Can Carry (100/70)
15 Ring Muscle Ups
30 Strict HSPU
35 Box Step-ups w/Feed Bag (24/20 and 70/50)
45/40 Cal Row
EVENT 7 – THE DUEL
For Time (90 second Time Cap)
60 Heavy Double Unders
3 Squat Snatch (205/145)
1 Sand Bag Load to 48"/44" Platform (250/165)
Prize money
All athletes walked away with prize money. The purse was distributed as follows:
| | | |
| --- | --- | --- |
| PLACE | % OF PURSE | PAYOUT |
| 1. | 17.20% | $256,380 |
| 2. | 6.00% | $89,435 |
| 3. | 3.20% | $47,699 |
| 4. | 2.40% | $35,774 |
| 5. | 1.80% | $26,830 |
| 6. | 1.60% | $23,849 |
| 7. | 1.40% | $20,868 |
| 8. | 1.20% | $17,887 |
| 9. | 0.80% | $11,925 |
| 10. – 20. | 0.40% | $5,962 |
Catch up on the action
Full Live Stream Day 1 | 2021 Rogue Invitational
Full Live Stream Day 2 | 2021 Rogue Invitational
Full Live Stream Day 3 | 2021 Rogue Invitational