Noah Ohlsen is a seven-time CrossFit Games athlete. The American Native stacks six top-ten finishes on the highest competitive stage, with a personal best of 2nd at the 2019 CrossFit Games.
He is known for his charisma, good humour and his "happy, but hungry" attitude.
The 29-year-old qualified for the 2020 CrossFit Games with a 6th place finish in the worldwide Open and finished Stage 1 of the Games ranked second. Alongside four other male athletes – Mat Fraser, Samuel Kwant, Justin Medeiros and Jeffrey Adler – Ohlsen qualified to compete in Aromas, California, in the 2020 CrossFit Games Finals.
After 12 events – which included "the most difficult event, to date" – Ohlsen would finish the 2020 season as the fourth Fittest Man on Earth, missing out on a second CrossFit Games podium by one position in any given event during the finals.
In a series of Instagram posts, Ohlsen shared his reflections before, during and after every event. His honest, personal account of the weekend is well worth a read.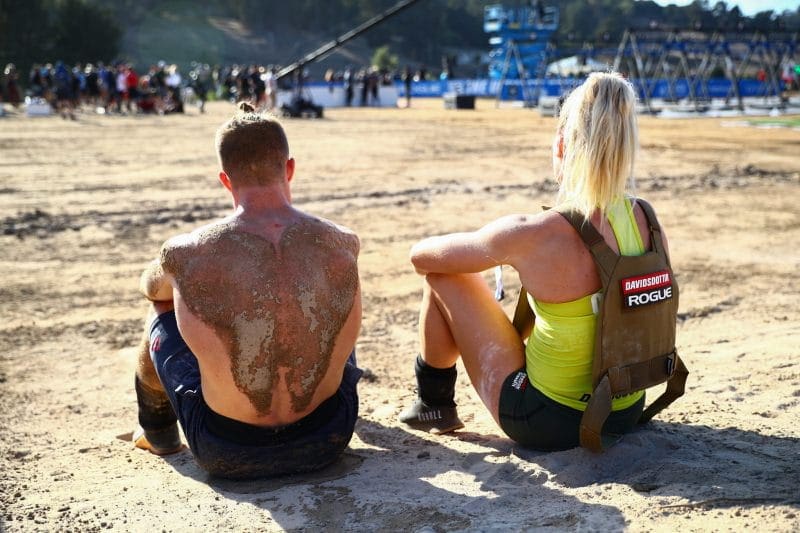 Source: Photo courtesy of CrossFit Inc.
Text by Noah Ohlsen.
Event 1
Sheesh. I did NOT expect to start the @crossfitgames off with a fifth place finish! When this workout was first announced, I was excited by the prospect of high volume gymnastics. When the weight was announced to be 235# however, my excitement was dampened a bit because I knew it'd be all about that.
Simply put, it just got real heavy for me! I was holding my own until round three when I missed a rep that seemed to be the beginning of the end. Push jerks are not one of my stronger movements and the pressing fatigue from the 50 bar muscle ups made them even tougher to lock out. I had a backup plan of resorting to split jerks on the last few reps of each set if I needed to, but the turf strip we were required to complete the reps on was too narrow for that to be possible.
On the final round it occurred to me that "I'm about to start my Games off in last place", but I tried to push that thought aside because I needed to finish it either way. Once that'd become a reality, I took a second to hang my head but quickly forced myself to let it go and move on to the next one. It was going to be a long weekend that'd only just begun.
Event 2
Ouch.
Didn't hurt so much during. My legs were kind of numb about half way up, but as soon as I got to the top of that steep hill, crossed the finish line and dropped the corn sack, my hamstrings were in PAIN. I'm not talking a little bit of muscle burn. It was a full on this feels like something is wrong, will my legs ever be the same again, searing burn!
In contrast, it felt good to have made it through an intimidating event like that. The only "hill" we have in Miami is the Key Biscayne bridge and I'd done plenty of sprints up that thing to prepare for this moment.
A 3rd place finish was better than the 5th that I'd started with, so things were trending in the right direction.
Event 3
This event went just about as well as it possibly could've. I ended up squatting and pressing about 10lbs under my best lifts ever and managed to PR my deadlift by the same amount!
What made this one special, was that our coaches were allowed to take the floor with us and we had time between lifts to consult with them. When we made it to the deadlift, it was a numbers game and I felt so fortunate to have @maxelhag in my lane doing the calculations for me. I hit 532lbs (a 2lb PR) on my second lift and when the third and final attempt rolled around, he said I'd need to pull 540# to put the pressure on two of the other guys to pull big to beat me. It ended up being just enough to edge them out!
I don't think I could've really squeezed any more weight out of myself there and I was proud of the effort I had to dig into to fight for that last lift!
Historically, deadlifts were a glaring weakness of mine, that actually kept me from qualifying for the @crossfitgames for the first time in 2013. It feels very rewarding to have worked hard enough to turn them into a bit of a strength!