Words from Sam Briggs after her unfortunate injury.
"So unfortunately I have had to withdraw my invitation for the CrossFit games European Regionals
•••
Last Monday my right elbow gave way fracturing the joint and rupturing the medial ligament
•••
I was very fortunate to have an amazing team around me and I've just come out of surgery … they got me in within the week to ensure I'm back in action ASAP
•••
Not wanting my season to be over I managed to strap the elbow up and complete the age group qualifiers so now the goal is get fit for August ??
•••
I'll still be in Berlin cheering on my @jamesjowseytraining team mate (and my current nurse) Emma McQuaid who's gonna be flying the Union Jack ?? so make sure to say hi."
https://www.instagram.com/p/Bh7LU2JBmzv/?hl=en&taken-by=bicepslikebriggs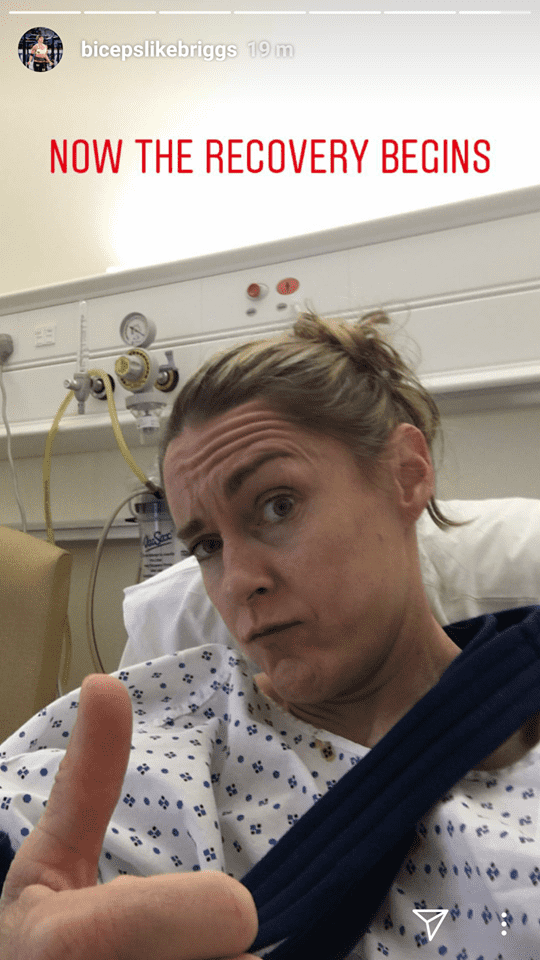 Demonstrating her toughness, Sam Briggs even completed the workout she was doing before going to the doctor to get everything fixed up.
Sam Briggs was injured before in 2012 with a knee injury. In 2013, Briggs returned to competition with the drive of an athlete who had been forced onto the sidelines for a year. She won the worldwide Open, the Europe Regional, and CrossFit Games in Carson.
At the 2013 Games, Briggs put in performances that would help bolster her nickname of "The Engine." On Wednesday, athletes completed a half-marathon row of 21,097 meters on an indoor Concept 2 rower. Briggs finished in one hour and 27 minutes (1:27:47.9).
In 2016 she won the Trail Run event, beating the huge majority of all the male athletes as well.