This past weekend we got to the last Semifinals taking place. The top athletes from Europe and Asia tested their fitness on the competition floor and a total of 26 individual athletes and 12 teams received their invitation to the CrossFit Games taking place in Madison, USA, on August 1-6.
Thursday through Friday, lovers of CrossFit got to see some of the best athletes in action in Europe and Asia. With CrossFit Games invitations on the line, they gave their all to continue their journey to fight for the title of Fittest on Earth.
Did you miss out on the action? Watch the Livestream for all days from Europe and Asia CrossFit Semifinals here.
BOXROX previously wrote their predictions for who would win and who could be dark horses coming into the weekend. Before we tell you about those who got their wish granted, let's take a look at some surprises this past weekend.
8 Men Withdrew During Competition in Europe
A total of 8 men withdrew from competition during the European CrossFit Semifinals.
Most notably, Serbian athlete Luka Dukic and English powerhouse Reggie Fasa had to withdraw from competition during the weekend. Both were not considered among the favourites to win the competition, but have previous Games experience and were touted to get an invitation.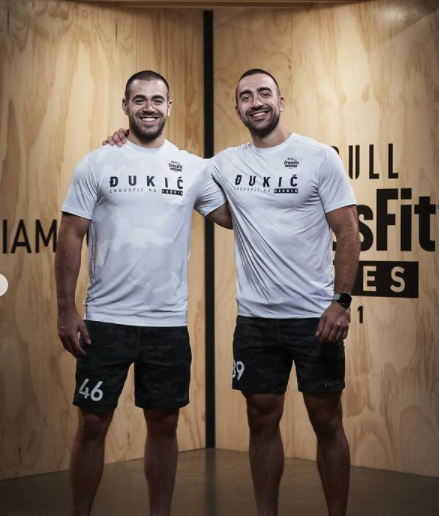 Luka Dukic said he was dealing with "wild flu for the past days" explaining that, even though his mind was on the floor for the first two events, his body wasn't. He withdrew during the first day of competition before workout 3.
Reggie Fasa began workout 6, but appeared to have injured his upper body during the seated legless rope climb.
Other athletes who also withdrew during the weekend event were Anestis Artemis, Mats Cibis, Nikita Yundov, Daniel Camacho, Alexandre Pinsolle and Giorgos Karavis.
Iurii Marincenco also did not finish the last workout at Semifinals, but CrossFit's official leaderboard does not compute him as a withdrawal.
Another Year for Sara Sigmundsdottir
Sara Sigmundsdottir was, more than once, the favourite to win the CrossFit Games in the past. After a few injuries that took her out the past couple of years from competing, she promised an epic comeback in 2022, which didn't happen.
This was her Semifinals, her chance to prove herself to everyone that she still got what it takes. Ntil event 6 with seated legless rope climbs came on board and killed her chances. With only one spot from qualifying, she was time-capped in test 6 and slipped to 18th overall.
"Finishing event 6 in sub 12 minutes in training and then this happens," she wrote on Instagram.
Other notable athletes in the female category in Europe who couldn't pass the cut line to go to Madison include Jacqueline Dahlstrom, Oihana Moya, Thuridur Erla Helgadottir, Andrea Solberg, Aimee Cringle, and Elena Carratala Sanahuja.
Who Qualified for the CrossFit Games?
Europe
Men
Lazar Dukic – 607 points
Henrik Haapalainen – 565
Moritz Fiebig – 531
Jelle Hoste – 524
Jonne Koski – 520
Uldis Upenieks – 483
David Shorunke – 481
Bjorgvin Karl Gudmundsson – 481
Bronislaw Olenkowicz – 449
Michal Wesolowski – 426
Fabian Beneito – 420
Women
Gabriela Migala – 629 points
Annie Thorisdottir – 604
Laura Horvath – 577
Emma Tall – 556
Karin Freyova – 544
Matilde Garnes – 494
Manon Angonese – 483
Ella Wunger – 476
Elisa Fuliano – 441
Emma McQuaid – 429
Rebecka Vitesson – 424
Teams
No Shortcuts CrossFit – 546
CrossFit Oslo Navy Blue – 534
CrossFit Walleye Athlete – 519
CrossFit Oslo Blackout – 516
CrossFit Genas – 492
CrossFit Prestanda – 492
CrossFit Portii – 435
CrossFit Trondheim – 420
CrossFit Oslo Najs – 399
CrossFit Rotherham – 396
Far East Throwdown (Asia)
Men
Arthur Semenov – 612 points
Morteza Sedaghat – 573
Women
Seher Kaya – 664 points
Shahad Budebs – 535
Teams
CrossFit Fly High Kolesnikov Team – 590 points
CrossFit Marvel Black – 525
2023 CrossFit Games
The 2023 CrossFit Games is taking shape with no more Semifinals to decide who are the fittest athletes who will get to compete in the ultimate test of fitness.
When: August 1-6
Where: Madison, Wisconsin (USA)
Athletes from all age groups (teens, masters) and adaptive athletes will be joining the teams and individual athletes who received an invitation to compete in Madison this summer.
You can check out the overall schedule of events of the 2023 CrossFit Games here.