Jessica Griffith and Travis Williams were recently let go from Misfit Athletics following a series of racist group texts.
The Misfit Athletics Athletes have a group chat where many of their top athletes share scores. One female athlete shared their score and Griffith responded with something along the lines of "my n****".
When another athlete rightly objected to the use of the word, Williams' and Griffith's responded with the following.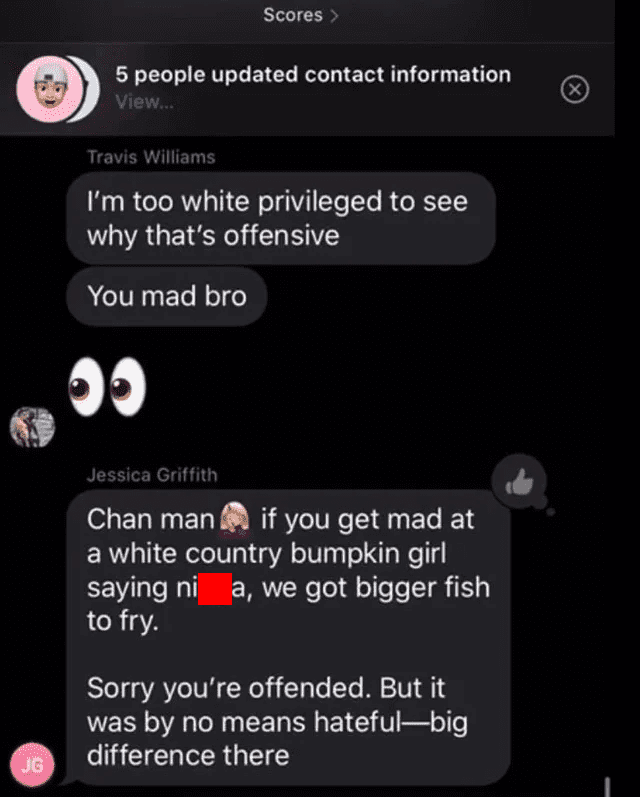 After the information went public, Misfit Athletics responded professionally and appropriately (find their video below – please listen to the thoughtful response from Drew below for the full context and story from Misfit Athletics themselves).
THE RESPONSE FROM TRAVIS WILLIAMS
"I offended a lot of people by defending a phrase. A phrase I will not repeat. I did not mean any harm by defending this phrase, but I've realized now that it was harmful and very insensitive.
I apologize for the insensitivity of my comments. I am completely devastated over the many great people I have lost as friends over these texts. I hope in time you can see by my actions that I can change for the better.
Thank you to all the people that have been brutally honest with me. I respect people that are honest with me & I hope everyone can continue being honest with me. I'm not someone who ever sugarcoats and I don't expect that from you. It'd be easier for me to try to hide from everything coming my way right now but that's not what I want to do. It shouldn't be easy.
I definitely made a mistake which you've all seen. It is the result of a larger issue, and that's my lack of sensitivity and understanding which I plan on improving. I want an opportunity to prove I can be better. I hope you can forgive me for this, or at least I can earn your forgiveness in time as i become a better man.
I know this typed up apology doesn't really do much, but its a start. From here I need to get better. I'm talking to the smartest people I know, doing research, listening and starting with myself to become more informed and just an all-round better guy.
Kinda like training, if you want change its going to take a lot of time and practice, but I'm willing to put in the work.
Sorry for the awful comparison, but fitness is what I understand best. Much love, Travis"
https://www.instagram.com/p/CBG-0HhpGYR/
MISFITS ATHLETICS VIDEO RESPONSE
"Drew sits down to address what transpired in the decision to remove Jessica and Travis from our team, and the current state of affairs in our country."
https://www.instagram.com/tv/CBG0cRVgRw6/?igshid=1l08kvy1g7pyv
Chandler Smith, Noah Olsen and Kristi Eramo O'Connell Boycott 2020 CrossFit Games