Do not run away from squats and never skip leg day. The benefits of front squats are many, and we list seven here to get you ready to pump your lower body.
Front squats are a staple exercise in Olympic weightlifting programs as they serve as the base for the catch position in the clean.
Generally, people tend to lift more weight with the back squat and often find holding the bar in the front rack position difficult.
As a result, this exercise is often neglected. Find out the benefits of front squats and add this movement to your training routine.
FRONT SQUAT TECHNIQUE
1. BENEFITS OF FRONT SQUATS – EXPOSE WEAKNESSES
With the back squat you can hide weaknesses, with the front squat you cannot. Any imbalances, strength deficiencies and mobility issues will be promptly brought to the light with the front squat. It is a great exercise for identifying the following issues:
Problems with thoracic extension (the ability to keep your chest up)
Overdeveloped pic minor, biceps or triceps that can lead to a hunched forward position
Imbalances in the shoulder girdle
Weaknesses in the core
Front rack mobility issues
Poor strength in the glutes and quads
Hip mobility issues
Lack of ankle flexibility
The exercise requires good strength to carry the weight and great mobility to coordinate it through the full range of motion. Having a well-developed chest, biceps and shoulder can often lead to a natural medial rotation of the upper arms (think shoulders hunched forwards, arms turned inwards) if this part of the body is not balanced out by a well-developed back as well. If this sounds familiar, the front squat will force you to remedy this posture, improve your movement and start to address this issue.
For more information on muscular imbalances, check out this article with the strength and movement coach from CrossFit Invictus.
Identifying Muscular and Movement Imbalances with Julien Pineau
2. TARGET THOSE QUADS AND GLUTES IN NEW WAYS
Front Squats allow you to achieve great depth and an extensive range of motion. This targets the glutes and quads in differents ways from the back squat, which in turn will make you a more well-rounded and functional athlete.
When a barbell is loaded onto the front of the body, the pelvis tilts backwards somewhat, which makes the hamstrings less taut. This gives them the freedom to allow a greater range of motion at the bottom of the lift. This pelvic tilt also allows the lower abs to contribute to the lift more, and takes the hip flexors away from "blocking" the movement.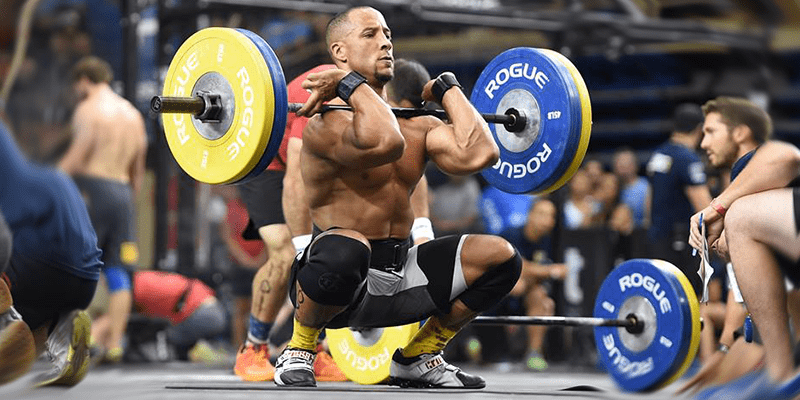 3. BENEFITS OF FRONT SQUATS – HELP TO MAINTAIN A STRONG UPRIGHT POSITION
Front Squats need strength in the upper middle back to support the weight during the eccentric portion of the squat (as you lower the weight down). Without this you will tip forwards and drop the weight.
Because of the bar path, the front squat forces you to bend at the ankles and knees way more than at the hips. Your hips and ass need to be underneath the bar in order to provide a stable position to move the weight and complete the reps.
Developing a strong upright position on the front squat will also help to strengthen and promote an upright position for the back squat. It's common to see athletes bending too far forward (once back squats get too heavy) into something that resembles a good morning in order to try and compensate for the lack of strength or mobility that is forcing them into this position. The front squat can be a good way to reinforce an upright position and build strength, confidence and mobility to improve it for the back squat as well.
4. BENEFITS OF FRONT SQUATS – DEVELOP BETTER FRONT RACK MOBILITY
A common problem we see with athletes is that their back is rounded when coming up from the front squat.
This can be an indication that they are missing mobility in the thoracic region. By loosening up this area, athletes will be able to rise in a more upright position, thereby allowing them to keep their elbows high and prevent the bar from falling forwards.
A great way to improve thoracic extension mobility is to use a foam roller.
Place the foam roller on the floor and lie on it with it just sitting under your middle back.
Relax your breath and extend your body until it arches over the foam roller and your arms are touching the floor.
Hold this position for 30 seconds before moving the roller up your body.
Keep repeating this all the way up to your shoulders.
Thoracic extension mobility Exercises


5. EASILY TRANSFERS TO OTHER CROSSFIT EXERCISES
The improvements that you make in strength, mobility and movement by doing this exercise should be the icing on the cake of benefits of front squats.
Improving your front squat will have impressive results on other exercises in CrossFit. The following will be directly improved.
Thrusters
Wall Balls
Cleans
The increased core strength, ability to stabilise weight and better front rack positioning will also indirectly have a positive effect on many other exercises, and of course for your back squats.
6. FRONT SQUATS BUILD ROCK HARD CORE STRENGTH
Heavier front squats can develop impressive core strength. Put simply, your core is the base for almost all the functional movements you will ever perform. It allows you to:
Stabilise movement
Transfer and control force throughout your body
Protect your spine
Support your other limbs
The collection of muscles that make up this trunk of your body help to control and transform the force that you create into the movements you want to perform. From throwing a stone into a lake, picking up vegetables from the bottom of the fridge, or hitting a new Deadlift PR, core stability and strength is vital for enabling you to complete a huge array of activities.
During the front squat, a great part of the stabilisation comes from your core, and this stress will strengthen its abilities to support your body and the weight.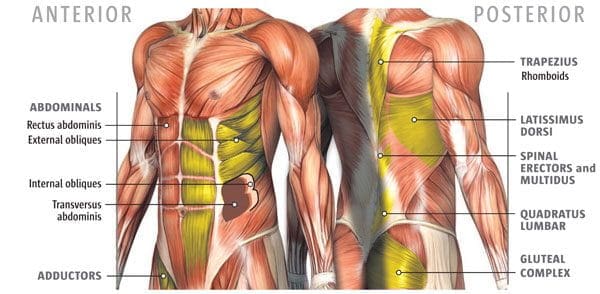 7. PERFECT SKILL TRANSFERENCE FOR OLYMPIC LIFTING
To be a good Crossfit athlete you need to be a decent Olympic lifter. If you have a poor front squat, then the clean will become much harder and as a result your lifts will suffer. Front squats are a staple ingredient for all top Olympic lifters, so make them a big part of your training program as well.

Learn how to improve your back squat
Learn more
Check out these amazing Barbell Complexes and try some Thruster Workouts or include these Snatch Accessory Exercises in your training. Or why not try these Creative Barbell Exercises, strengthen your core with these Unusual Barbell Abs Exercises and perfect your lifting with these Squat Clean Technique Tips.